Our Balance pedestal provided a fantastic solution for laying superior quality suspended paving systems on rooftops.
This residential development consists of 201 luxury apartments in adjacent to the Royal Courts of Justice in London.
Our Balance pedestals were installed to support premium 50mm thick limestone paving slabs as part of a suspended system.
The Balance pedestals were specifically chosen because they are self-levelling. These units are designed to tilt at the head in all directions, to accommodate differences in the deck surface below, such as laps and joints or imperfections in the concrete slab.
The positioning lugs fit around the corner of each slab to create uniform spacing and tight, secure positioning. When tiling up to the parapet the lugs can be removed easily so the slab is properly supported at the edge.
The pedestals allow drainage between and under each slab, so free fall of water passes beneath the surface, significantly reducing slip hazards and improving the performance of the roof deck. As the deck falls towards the roof outlet the pedestals can be twisted to increase the height. The angle of the headpiece changes to ensure the flat upper surface. The cavity below is ideal for hiding pipes and services without interrupting drainage or spoiling the aesthetic.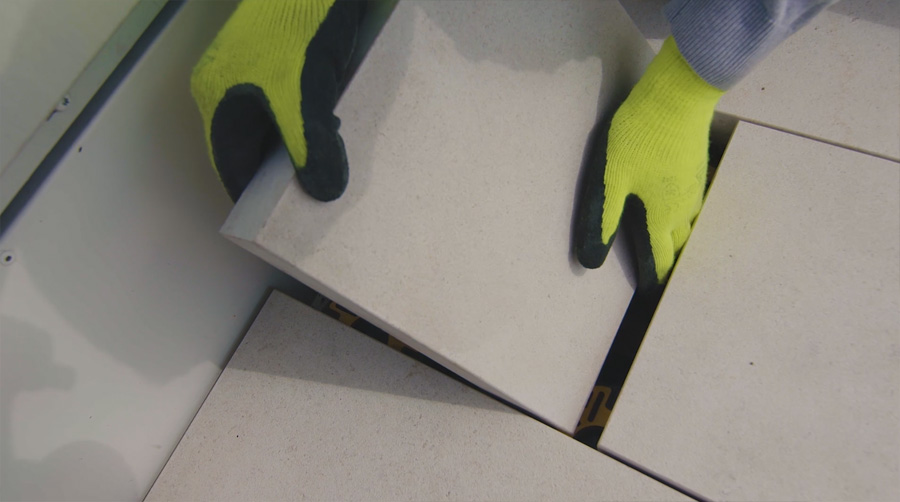 The ease of the system means installation is quick and easy. Being a fully suspended system, the slabs can be lifted, repositioned and removed at any time. , transforming the roof into a beautiful living space.
Each pedestal has an individual weight tolerance of 683kg and is tested to temperatures of +75°C and -40°C, so can easily bear the weight of planters and other terrace furniture during use.
Incredible outdoor spaces can be created on rooftops and terraces. Balance self-levelling adjustable pedestals truly create Solutions for Rooftop Living.
You can also view a video of the installation below: