Overview
The project involved the extension on a domestic property.
About the project
Being a wide extension overlooked by two different bedrooms, the owners were not keen on the idea of looking down on a bare rooftop.
The homeowner wanted to save on contractor fees by installing the green roof himself. M-Trays® simply clip together meaning that no specialist roofing or landscaping expertise is required. Wallbarn produced a layout plan for the customer to follow (see drawing).
The size, shape, positioning of the extension and exposure to sunshine meant there was a risk of the roof becoming quite hot. The cooling properties of the M-Trays, with its exceptionally deep substrate, was, therefore, another deciding factor.
The extension itself had been completed so no scaffolding or hoist was available to transport materials to the rooftop. Thankfully the highly portable M-Tray® modules could be hand-carried through the house, up the stairs and passed out through a first-floor window, meaning minimum mess and disruption for the householder and his family.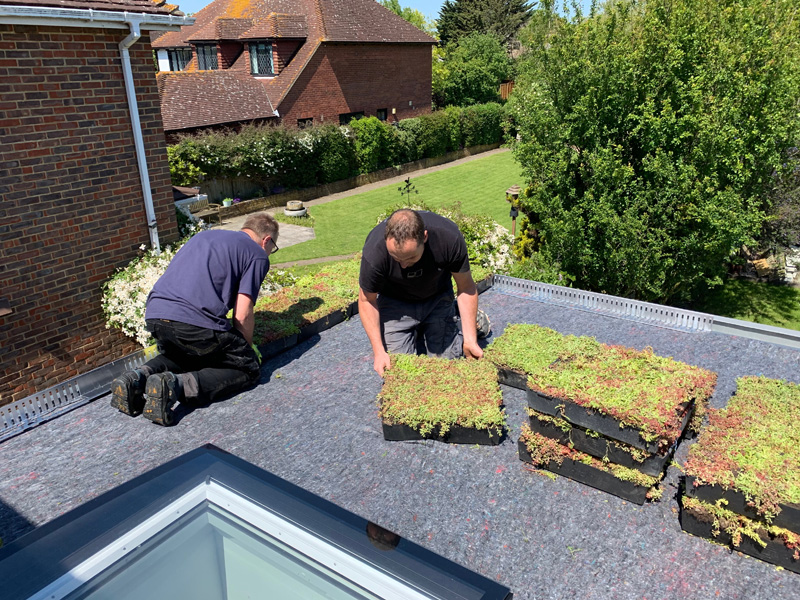 Wallbarn's recycled geotextile provides an added layer of protection between the trays and the waterproof membrane. Our aluminium edging is also easy to cut and clip together, providing a neat border around the sedum roof.
Wallbarn's Riverstone pebbles, supplied in 25kg bags, provide a necessary and yet aesthetically pleasing break between the vegetation and the skylights on the roof.
The installation of all 131 units was completed in one day by two men. Wallbarn's green roof specialist was on site on the day of installation to give extra guidance.
Once clipped together, the vegetation in the trays blends together resulting in a seamless green roof.
The customer sent us the close-ups of the flowering sedum below a couple of days after installation. Needless to say, they are very happy with the end result.