Overview
A DIY project to raise paving and decking to meet door thresholds.
The homeowner wanted to install both porcelain tiles as well as decking across their back garden. However, they were keen to save on contractor costs by installing everything themselves so needed as straightforward a system for installing the tiles as possible.
The customer submitted their own drawing which our team used to create a proposed layout for the pedestals and rail system across both the paved and decked areas for the installer to follow.
The system works with our range of heavy-duty Megapad pedestals with a special clip that fits onto the top allowing the rail to be fastened to it.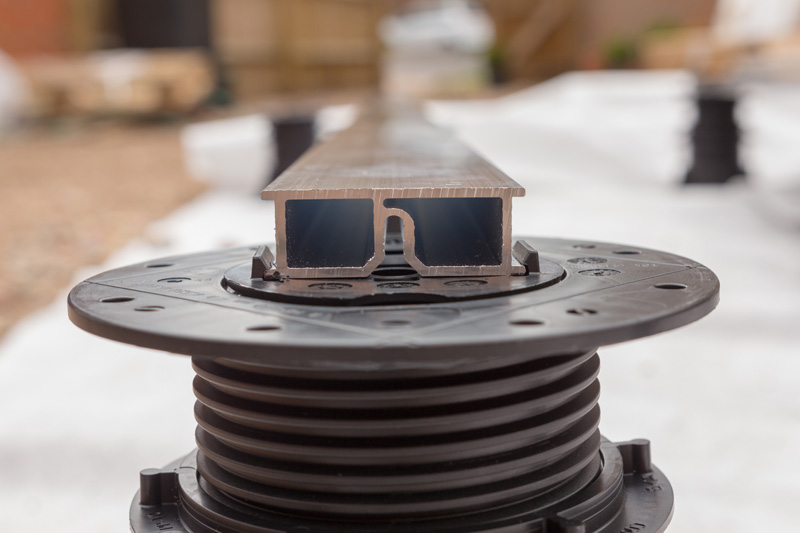 The customer wanted to raise the paving height up to meet the door thresholds of the house so needed supports to lift the paving well off the ground. But as he had covered the yard in compacted hardcore he needed a solution that would accommodate the occasional uneven patch of ground.
The 10mm high lugs support and position the porcelain tiles at the corner. The aluminium rail then provides additional support along the entire side of the tiles, which here were only 20mm thick.
Wallbarn's rail system allows you to move the pedestals under the rail while the headpiece can be slid along the rail into the correct position. It also provides lateral stability.
The top head also has a yellow shock absorber which provides acoustic and vibration insulation.
The tiles are fully supported by this fully integrated substructure.
The system allows tiles to be laid with millimetre accuracy flush to the door threshold which is ideal for retrofits.
Once completed the overall effect was stunning.
Learn more about our integrated rail system here.