We were originally contacted by a customer near Bucharest trying to source our Ipe Timber Tiles in Romania.
He had originally wanted traditional decking but was restricted by tight threshold heights.
We discussed the minimum heights that the tiles can work with, which is 35mm and lower than he needed to go.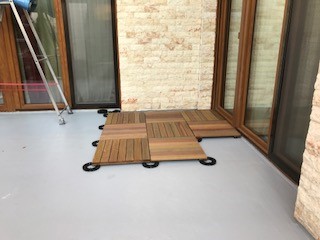 One of the other problems was his concern that there wouldn't be enough room underneath the tiles to properly aerate them, as his location can experience extremely hot and cold weather.
He wasn't too bothered about the finished deck simply replicating the fall as it was only very gentle, and this would assist water dispersion anyway.
We settled on the fixed height 14mm Pad which ticked all boxes.
To protect against the extreme weather the tiles were then treated with a generic wood preserve on site, giving them a rich and luxurious finish.
Another happy customer!