Green roofs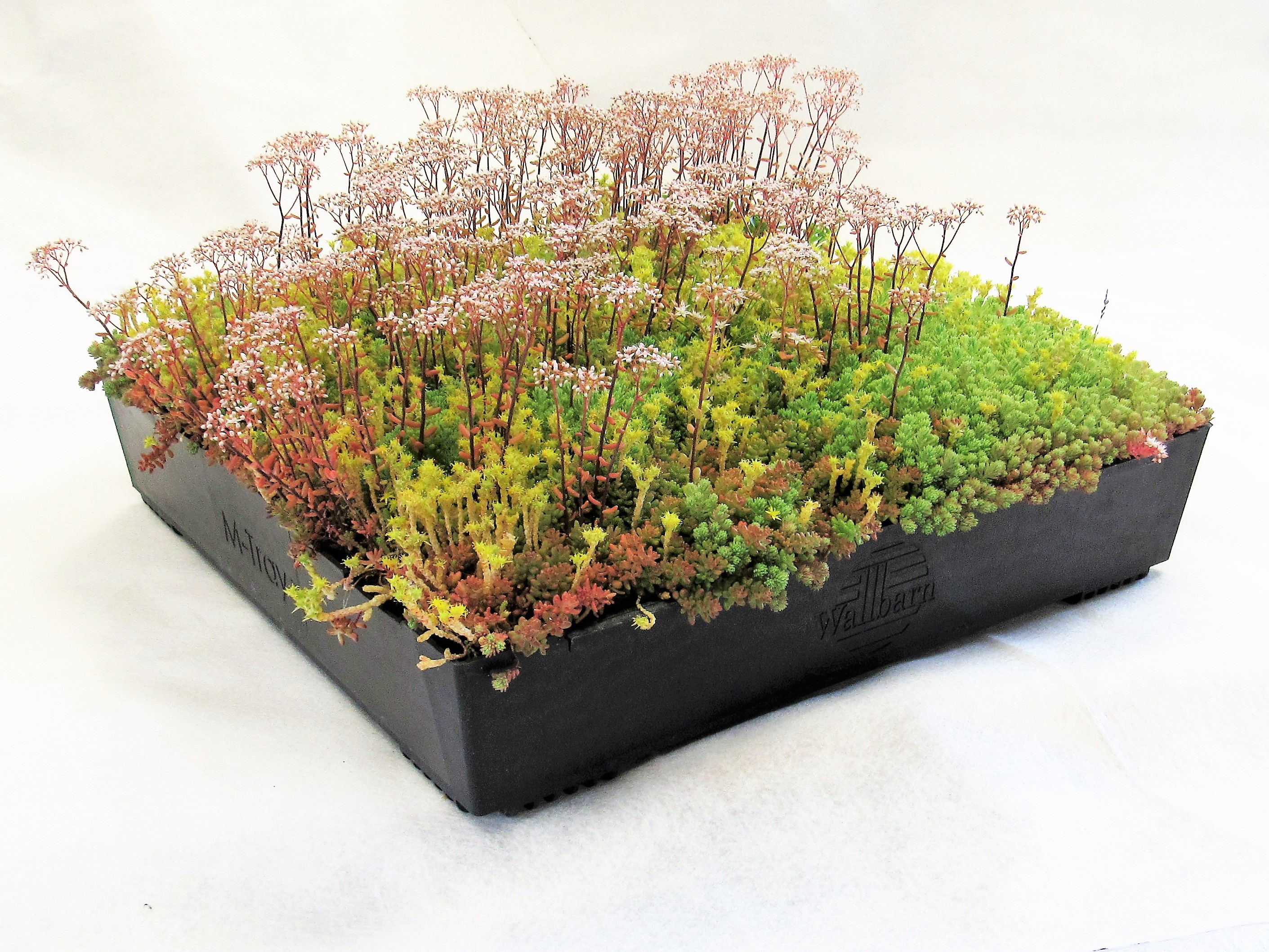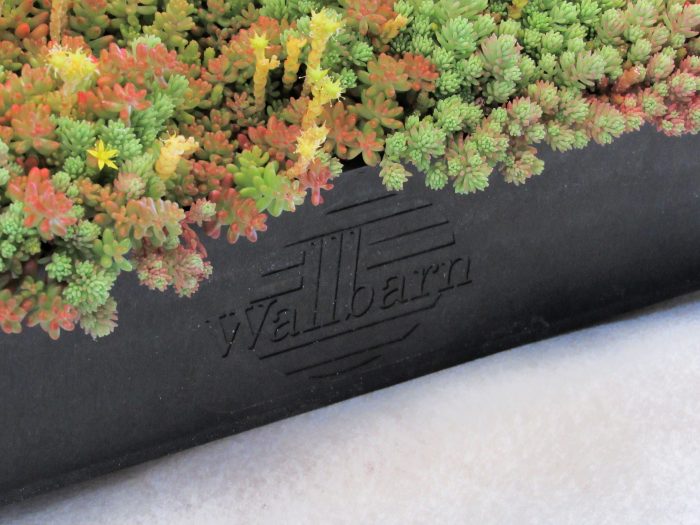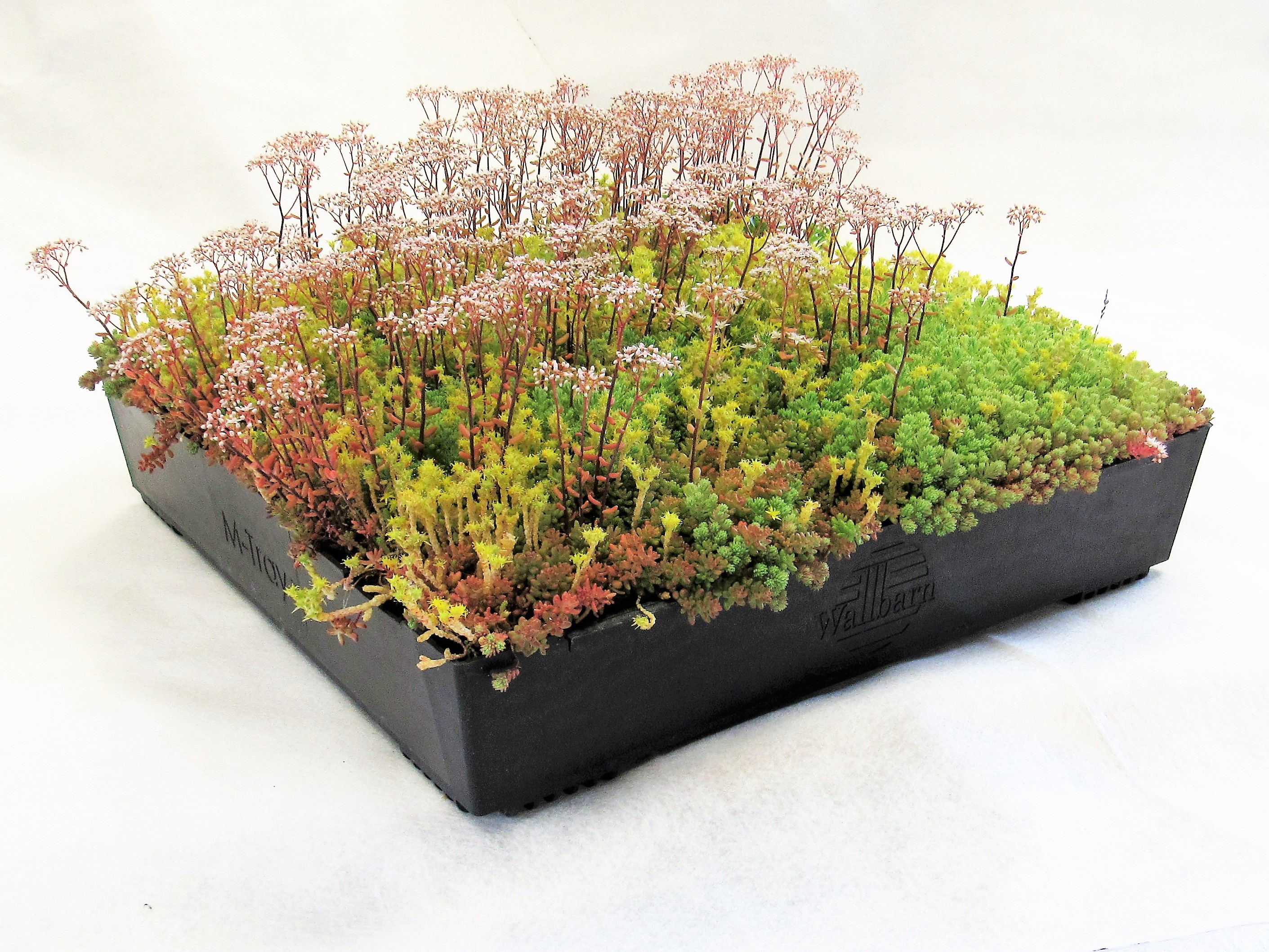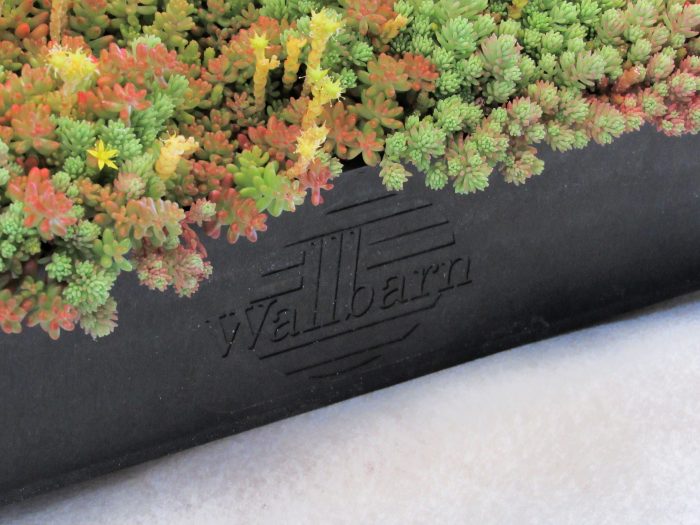 The M-Tray®
Unique Modular Green Roofs
Our M-Tray® green roof system consists of specially-designed modular trays containing superior, engineered substrate and fully established flowering sedum
Easy-to-carry trays which click together to form a seamless green roof
Fully established sedum plants nurtured from seed at our own UK nurseries
Watch our short documentary-style film about how the M-Tray® was designed, how it is produced and installed on rooftops (7 mins) .
What makes the M-Tray® green roof unique?
Mature, established vegetation
Click-together trays create seamless connection
Easy to transport and install
Specially-mixed substrate for longevity of plant life
100mm deep cavities for healthy roots
Optimum drainage means stronger plants
No sharp edges or mess meaning minimum disruption to plants, deck structure and inhabitants!
Video: 2 min overview on the M-Tray®
Instant green roofs
M-Trays® are designed to click together forming a single verdant surface
Once trays are connected they start to blend straight away, forming a seamless layer of vegetation
Modular M-Trays® can be easily lifted out giving access to the deck without disruption to the rest of the roof
Video: breathtaking Dorset development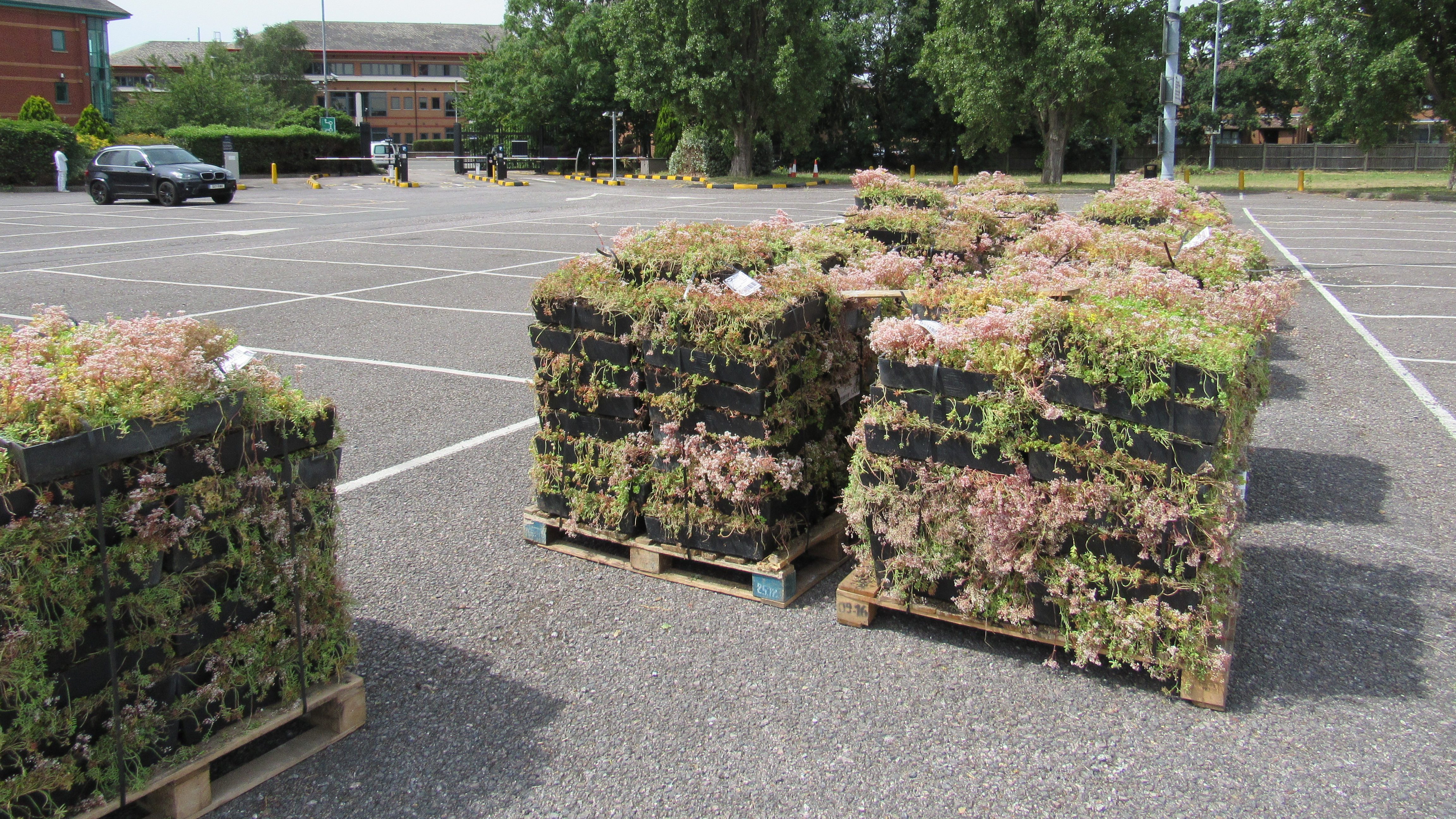 Quick & easy to install
Hard-to-access areas such as single storey extensions, working hotels and other commercial spaces can make installing roll-out very challenging
M-Trays® can be handballed into even the most awkward areas discreetly and with minimum mess
Each M-Tray® module is 500 x 500mm and can be carried by one operative and therefore installed much faster than traditional roll-out
Our modules are conveniently packaged, palletised and delivered to site
Unique Design
Shape
M

odule measures 500 x 500 x 100mm

4 x units make up exactly 1sq mtre making  estimating far easier

Carefully spaced drainage holes ensure modules retain water for longer, allowing plants to absorb more rainfall, increasing attenuation and delaying discharge into outlets
Design ensures even greater water retention at edges of module, preventing sedum from dying back at the edges.
Stronger plant growth at the edges creates a more seamless layer of vegetation when the modules are connected
Four gently ridged hand grips are positioned to enable installers to carry each module easier
Smooth edges & connecting bracket
The connecting brackets are designed to give a tight connection, with the minimum gap between each module

The joint is only 6mm so the plants will grow over it quickly, making it disappear in ultra-quick time

The corners of the modules are rounded and smooth, so no sharp edges (which might puncture the membrane beneath) are present – this also makes handling the trays easier and the edges can be mounted onto Wallbarn pedestals if additional height is required
Trims & Edging
100mm aluminium edge trims and connectors fit neatly onto the sides of the modules. Fixings are designed to slot together neatly although they are not always necessary.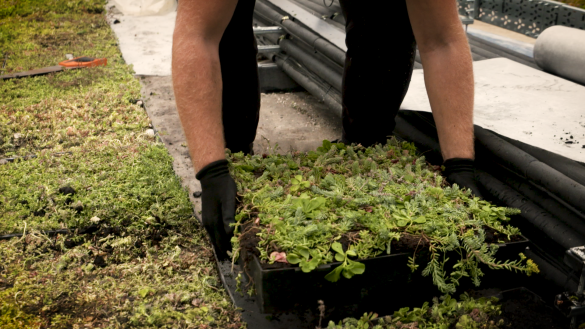 Futureproofed
Access to your green roof is futureproofed.
If there are problems with the deck beneath or inspection is required, one M-Tray® or section can easily be lifted out without disruption to the whole roof, unlike roll-out which often involves the removal of tonnes of soil and vegetation, which then would need to be replaced at an additional cost to the client.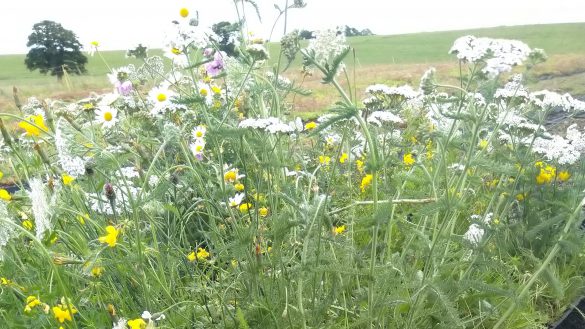 Wildflower
As well as the sedum trays, Wallbarn plants up a wildflower mix into the M-Tray®.
A varied mix of at least six different native species has been selected. All these flowers and herbs are low growing, hardy species, chosen to be pollinators for butterflies and bees.
Bespoke options are available.
Export & Licensing opportunities
As well as supplying live products for installation on UK green roofs and landscaping spaces, Wallbarn is committed to M-Tray® as an export product.
We can supply the modules as empty trays for local landscapers worldwide to plant up and propagate according to the local climactic conditions and their own markets.
Licensing opportunities are available for both the M-Tray® brand and the mould, which can be granted to specific partner companies across the globe.
M-Tray® has been designed and developed by Wallbarn in the UK and is the subject of Community Registered Design (No. 002953943-0001) and US Design (Application No. 29/553,129). Further worldwide design registrations are currently being carried out.
Our aim is to get more green spaces into urban centres worldwide. With M-Tray® this is a possible and economically viable prospect. Join us in our vision.
Below you will find the basic steps for successfully installing a modular green roof.
Alternatively watch our How To video
M-Tray® modules are transported to site on strapped pallets for easy, clean delivery. They can then be craned safely onto the roof if necessary.
Unpacking the pallets is a simple process. None of the contents will spill out and each module can be carried by one person.
A separation and filtration geotexile layer should be firstly installed. This protects the waterproofing and prevents abrasive damage. Wallbarn usually supplies a 300gsm recycled fleece for this purpose
Start from the middle of the green roof and work outwards towards the edges. Place a module down and then click the next into place. There are two connection points on two sides of each module. Once connected up on all four sides, the module will be secured on all four sides.
An aluminium edge trim can be added to any exposed edges or where the stones need to held away from objects such as drainage outlets.
The modular sections mean detailing around objects is a simple process and clean lines are created. Hard landscaping sections such as paving and decking, mounted onto Wallbarn pedestals, can be added to the area to allow for regular access. As everything is suspended on top of the deck, drainage is uninterrupted.
| Product | M-Tray® Modular Green Roof Container |
| --- | --- |
| Suitable For | Extensive Green Roof Plants With Lightweight, Free-Draining Substrate |
| Type Of Construction | Permanent |
| Width / Breadth | 500mm X 500mm |
| Height | 100mm |
| Shape Of Walls / Sides | Tapered / Angled |
| Units Per M2 | 4 |
| Material | Recycled Polypropylene |
| Thickness Of Material | 3mm |
| Internal Ridge Height / Reservoir Height | 20mm |
| Number Of Internal Drainage Reservoirs | 25 |
| Drainage Holes Per Unit | 8 |
| Distance Between Trays At Base | 20mm |
| Distance Between Trays At 50mm From Base | 10mm |
| Dry Weight (Empty) | 1.1Kg |
| Weight Planted & Saturated * | 32Kg |
| Connectors Per Unit | 4 |
| Number Of Handles On Underside | 4 |
| Detail Of Corners / Edges | Smooth / Reinforced |
| EU Design Trademark | NO 002953943-0001 |
| US Design Trademark | NO 29/553,129 |
* Filled & fully planted field capacity of Wallbarn substrate & mature sedum plants during / after abnormal rainfall conditions.
CAD Drawings
NBS Plus
BIM Library
For more information or to place an order