Protection & Drainage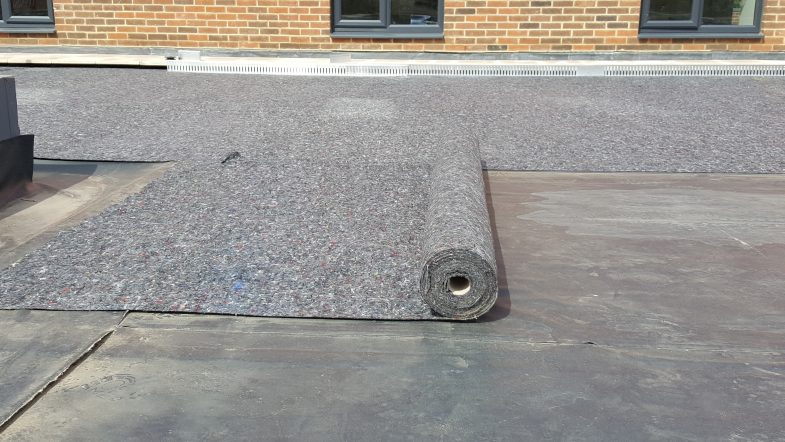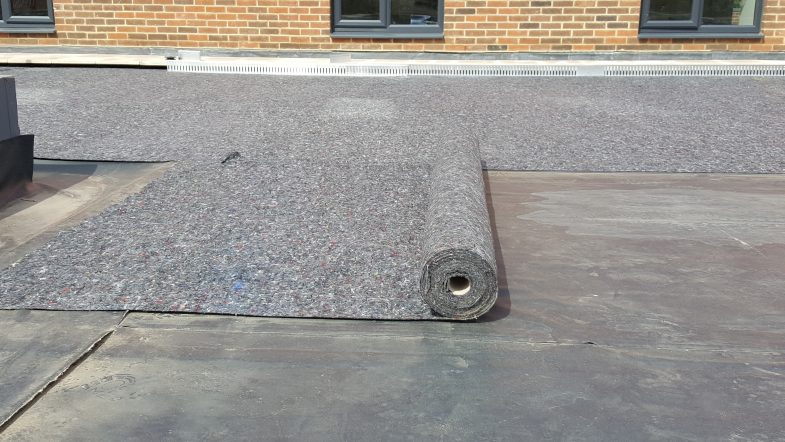 Geotextiles
Wallbarn distributes a wide variety of top quality non-woven geotextile fabrics in different densities, roll sizes and type to suit any application.
Strong, flexible but permeable

Improve the strength and stability of the ground

uniform throughout the roll, no weak spots

different grades and strengths available
Density
Roll sizes
From 1m to 6m wide Jumbo rolls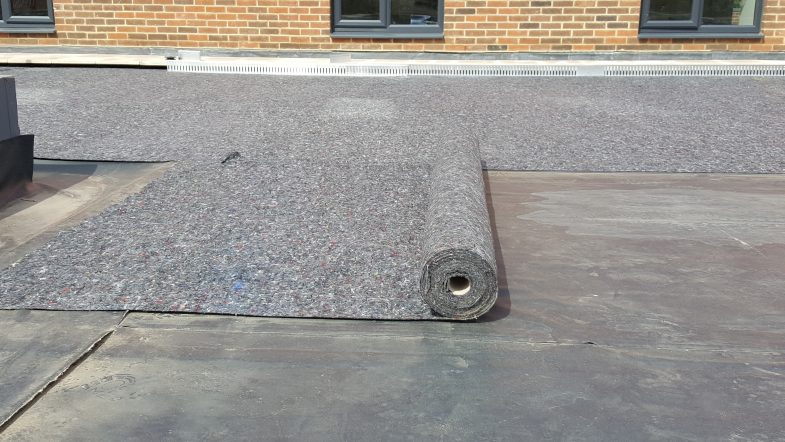 Geotextile
Geotextile Fabrics are used to provide effective separation and protection between soil and hardcore layers whilst allowing the flow of moisture. The geotextile fabrics can act as a strong barrier to particles whilst still allowing free drainage. This prevents soil from slumping in constructions such as artificial islands, embankments and cuttings.
Geotextile fabrics also prevent the ingress of particles into drains and outlet pipes. Often underground permeable pipes will be wrapped in geotextile to prevent them becoming clogged up over time.
Virgin fibre polypropylene
High tenacity non-woven Virgin Fibre Polypropylene geotextile fabrics for heavy duty applications.
Permeable membrane allows water flow but ensures particles are kept in place.
Main characteristics:
High strength

Superior production techniques

Highest quality raw material

No staples or glues

Uniform and consistent strength throughout the roll

No weak spots

High tensile strength

High puncture strength

High temperature resistance

Screws can pass through fabric without furring up
Two types of Virgin Fibre Polypropylene geotextile available, PPST high tenacity fabric and PPEXT.
Jumbo rolls
6 metre wide rolls are ideal for road and rail construction. Faster and stronger drainage / stabilisation layer. Less individual rolls mean fewer joints:
Less joints to seal means labour saving

Less overlap means less material wastage

Fewer joints means a stronger layer
If you are unsure what to use just speak to a member of the team.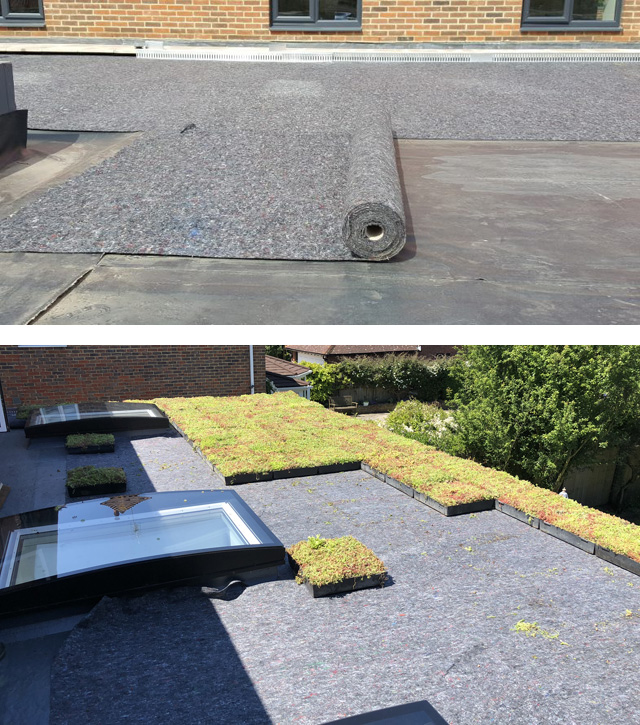 Recycled polyester
Wallbarn supplies two ranges of nonwoven RECYCLED POLYESTER geotextile fabrics, offering environmental sustainability benefits as well as cost savings.
Available:
densities from 100gsm up to 1500gsm
roll sizes from 1m to 6m wide
A cost-effective solution for soil stabilisation, filtration projects and lower level protection. They have a lower tensile strength than virgin fibre polypropylene fabrics and are used on installations with less ground movement and lower abrasion force.
Two types of recycled polyester fabric:
PEIT – suitable for lower level protection and separation
PECT – suitable for separation and filtration
Our PECT recycled polyester fabric is ideal for green roof construction as a separation and filtration layer. between drainage membranes and soil substrates. Please see our green roof page for more details.
If you are unsure what to use just speak to a member of the team.
We have a number of helpful videos providing guidance on our products:
PPEXT Polypropylene - nonwoven virgin fibre - second strength geotextile fabric
Physical Properties
test method
unit
tolerance
Weight
g/m²
100
120
150
200
250
300
400
500
600
800
1000
1200
1500
±
10%
Thickness
EN ISO 9863-1
mm
0.7
0.8
1
1.3
1.6
1.8
2.5
3.3
3.6
4.4
5.5
7
8.5
±
20%
Mechanical Properties
Tensile Strength
md
EN ISO 10319
kN/m
2
2.7
3.5
4.5
6
9
10
12
18
24
30
35
40
–
15%
Tensile Strength
cmd
EN ISO 10319
kN/m
2.5
3.2
4
5.5
8
11
14
18
22
32
40
45
50
–
15%
Elongation at max load
md
EN ISO 10319
%
70
70
70
70
80
80
80
80
80
90
90
95
95
±
25%
Elongation at max load
cmd
EN ISO 10319
%
80
80
80
80
85
85
85
90
90
95
100
100
100
±
25%
Energy index
EN ISO 10318
kJ/m²
0.8
1.1
1.4
1.9
2.9
4.1
5
6.4
8.5
13.3
16.6
19.5
21.9
±
25%
Static puncture resistance
EN ISO 12236
kN
0.4
0.5
0.9
0.9
1.3
1.5
1.8
2.5
3.6
4.8
6
8
10
–
10%
Dynamic puncture resistance (cone drop test)
EN ISO 13433
mm
>50
>50
36
28
22
18
14
10
6
2
1
0
0
+
25%
Pyramid puncture resistance
EN 14574
N
n/a
n/a
n/a
150
200
300
340
400
500
700
1100
1400
1600
–
20%
Hydraulic properties
Permeability normal to the plane
EN ISO 11058
mm/s
110
100
80
70
50
35
25
20
20
20
20
20
20
–
30%
In-plane flow capacity
EN ISO 12958
10-3l/ms
0.6
0.8
1.2
1.8
2
2.2
2.6
3.5
4.5
5.3
6
6.3
7
–
30%
Weathering resistance
EN 12224
Passes EN 12224 weathering test. It is highly recommended that the geotextile is covered within 15 days from the day of installation. The material can be exposed to sunlight with a degredation of the mechanical properties depending on season.
Product Composition
Made from polypropylene virgin fibre. Specific weight of polymer is 0.91 kg/dm3 . Raw material is staple fibres, produced through needlepunching and calandering. Melting point is 165-175 °C. The material is produced according the quality management system of EN ISO 9001:2008. It fulfills the requirement of European regulations related to construction products as per 1213-CPR 3269.
Oxydation resistance
EN ISO 13438
Forecast minimum durability of 5 years for all non-reinforcement application in natural grounds with 4
PEI Recycled Polyester geotextile - nonwoven polyester fabric
Physical Properties
test method
unit
tolerance
Weight
g/m²
150
200
250
300
350
400
500
600
700
800
1000
1200
1500
±
10%
Thickness
EN ISO 9863-1
mm
mm
0.9
1.1
1.3
1.6
1.75
1.9
2.2
2.8
3
3.5
4
4.5
6
±
20%
Mechanical Properties
Tensile Strength
md
EN ISO 10319
kN/m
1.2
1.8
2
2.5
2.8
3.2
4.2
5.5
6
6.5
7.5
13
20
–
10%
Tensile Strength
cmd
EN ISO 10319
kN/m
1.2
1.8
2
2.7
3.2
4
5.2
7.5
8
9
10.5
16
25
–
10%
Elongation at max load
md
EN ISO 10319
%
50
50
50
50
50
50
60
70
70
80
80
80
80
±
30%
Elongation at max load
cmd
EN ISO 10319
%
60
60
60
60
60
60
70
80
80
90
90
90
90
±
30%
Energy index
EN ISO 10318
kJ/m²
0.3
0.5
0.6
0.7
0.8
1
1.5
2.4
2.6
3.3
3.8
6.2
9.6
±
20%
Static puncture resistance
EN ISO 12236
kN
0.2
0.3
0.4
0.5
0.6
0.7
0.8
1.2
1.4
1.8
2.2
2.8
4
–
10%
Dynamic puncture resistance (cone drop test)
EN ISO 13433
mm
>50
>50
45
40
30
20
16
6
2
2
0
0
0
+
25%
Pyramid puncture resistance
EN 14574
N
n/a
n/a
n/a
100
150
180
200
250
270
300
500
700
800
–
20%
Hydraulic properties
Permeability normal to the plane
EN ISO 11058
mm/s
110
100
80
60
50
40
30
25
25
20
20
20
20
–
30%
In-plane flow capacity
EN ISO 12958
10-3l/ms
1.6
2.1
2.3
2.7
3
3.2
5
7
7
8
9
9
9
–
30%
Opening size
EN ISO 12956
µm
65
60
55
55
55
45
45
35
35
35
30
30
30
±
30%
Durability properties
Weathering resistance
EN 12224
Passes EN 12224 weathering test. It is highly recommended that the geotextile is covered within 15 days from the day of installation. The material can be exposed to sunlight with a degredation of the mechanical properties depending on season.
Product Composition
Made from polyester white fibre. Specific weight of polymer is 0.38 kg/dm3 . Raw material is staple fibres, produced through needlepunching and calandering. The material is produced according the quality management system of EN ISO 9001:2008. It fulfills the requirement of European regulations related to construction products as per 1213-CPR 3269.
Oxydation resistance
EN ISO 13438
Forecast minimum durability of 5 years for all non-reinforcement application in natural grounds with 4
PEC (multi-coloured) Recycled Polyester geotextile fabrics
Physical Properties
test method
unit
tolerance
Weight
g/m²
150
200
250
300
350
400
500
600
700
800
1000
1200
1500
±
10%
Thickness
EN ISO 9863-1
mm
mm
1
1.2
1.4
1.6
1.8
2
2.3
2.6
2.9
3.3
4
4.5
6.4
±
20%
Mechanical Properties
Tensile Strength
md
EN ISO 10319
kN/m
1
1.6
2
2.4
2.8
3.2
4
5.4
6.7
8
10
12
15
–
10%
Tensile Strength
cmd
EN ISO 10319
kN/m
1
1.6
2.1
2.5
3
3.4
5
7.4
9
10.5
13.5
15
20
–
10%
Elongation at max load
md
EN ISO 10319
%
50
50
50
50
50
50
60
60
70
70
80
80
90
±
30%
Elongation at max load
cmd
EN ISO 10319
%
60
60
60
60
60
60
60
60
70
70
80
80
90
±
30%
Energy index
EN ISO 10318
kJ/m²
0.3
0.4
0.6
0.7
0.8
0.9
1.4
1.9
2.7
3.2
4.7
5.4
7.9
±
20%
Static puncture resistance
EN ISO 12236
kN
0.2
0.3
0.4
0.5
0.6
0.8
1.2
1.8
2.2
2.6
4.2
5
6
–
10%
Dynamic puncture resistance (cone drop test)
EN ISO 13433
mm
>50
46
40
36
32
24
14
10
8
6
2
2
0
+
20%
Pyramid puncture resistance
EN 14574
N
n/a
200
300
400
450
500
600
800
950
1100
1500
1700
2000
–
20%
Hydraulic properties
Permeability normal to the plane
EN ISO 11058
mm/s
90
90
70
60
60
50
30
30
25
20
10
10
10
–
30%
In-plane flow capacity
EN ISO 12958
10-3l/ms
2
2
2
3
3
3.2
5
7
7
8
9
9
9
–
30%
Opening size
EN ISO 12956
µm
65
60
55
55
55
45
45
35
35
35
30
30
20
±
30%
Durability properties
Weathering resistance
EN 12224
Passes EN 12224 weathering test. It is highly recommended that the geotextile is covered within 15 days from the day of installation. The material can be exposed to sunlight with a degredation of the mechanical properties depending on season.
Product Composition
Made from multicoloured polyester recycled fibre. Specific weight of polymer is 0.38 kg/dm3 . Raw material is staple fibres, produced through needlepunching and calandering. The material is produced according the quality management system of EN ISO 9001:2008. It fulfills the requirement of European regulations related to construction products as per 1213-CPR 3269.
Oxydation resistance
EN ISO 13438
Forecast minimum durability of 5 years for all non-reinforcement application in natural grounds with 4
PPS Polypropylene geotextile - high tenacity nonwoven virgin fibre fabric
Physical Properties
test method
unit
tolerance
Weight
EN ISO 9864
g/m²
100
150
200
250
300
350
400
500
600
800
1000
1200
1500
±
10%
Thickness
EN ISO 9863-1
mm
0.65
1.0
1.3
1.5
1.6
1.8
2.5
3.0
4.0
5.5
6.5
7.0
7.5
±
20%
Mechanical Properties
Tensile Strength
md
EN ISO 10319
kN/m
7.0
12.0
16.0
20.0
25.0
27.0
30.0
35.0
40.0
50.0
60.0
70.0
85.0
–
10%
Tensile Strength
cmd
EN ISO 10319
kN/m
7.0
12.0
16.0
20.0
25.0
30.0
34.0
40.0
50.0
80.0
90.0
105.0
140.0
–
10%
Elongation at max load
md
EN ISO 10319
%
55
55
60
65
65
70
70
80
80
80
80
80
80
±
30%
Elongation at max load
cmd
EN ISO 10319
%
60
60
65
70
70
70
70
80
80
80
80
80
80
±
30%
Energy index
EN ISO 10318
kJ/m²
2.0
3.5
5.0
6.8
8.4
10.0
11.2
15.0
18.0
26.0
30.0
35.0
45.0
±
20%
Static puncture resistance
EN ISO 12236
kN
1.2
1.9
2.4
3.0
4.0
4.5
5.5
6.5
8.0
10.0
13.0
14.0
18.0
–
10%
Dynamic puncture resistance (cone drop test)
EN ISO 13433
mm
38
26
20
14
10
8
6
4
2
0
0
0
0
+
20%
Pyramid puncture resistance
EN 14574
N
n/a
n/a
200
280
330
340
350
500
700
1000
1300
1600
2200
–
20%
Hydraulic properties
Permeability normal to the plane
EN ISO 11058
mm/s
125
100
90
75
65
50
35
30
25
20
15
15
15
–
30%
In-plane flow capacity
EN ISO 12958
10-3l/ms
0.8
1.6
2.1
2.3
2.5
2.7
3.2
5.0
7.8
8.5
9.0
9.0
9.0
–
30%
Trasmissivity
EN ISO 10318
l/m s
0.8
1.6
2.1
2.3
3.2
5.0
8.5
9.0
9.0
Opening size
EN ISO 12956
μm
120
90
80
60
50
50
50
50
50
40
40
0
40
±
30%
Durability properties
Weathering resistance
EN 12224
Passes EN 12224 weathering test. It is highly recommended that the geotextile is covered within 30 days from the day of installation. The material can be exposed to sunlight for a maximum of 4 months with a degredation of the mechanical properties
depending on season.
Product Composition
Made from virgin fibre polypropylene, UV stabilised. Specific weight of polymer is 0.91 kg/dm3 . Raw material is staple fibres, produced through needlepunching and calandering. Melting point is 165-175 °C. Fibre diamater is 25-30 μm. The material is
produced according the quality management system of EN ISO 9001:2008. It fulfills the requirement of European regulations related to construction products as per 1213-CPR 3269.
Oxydation resistance
EN ISO 13438
Forecast minimum durability of 25 years for every application in natural grounds with 4
The values given are an average obtained in our laborotories and in official testing insitutes

The confidence level is 95%

We reserve the right to make changes at any time without notice
For more information or to place an order