Substructure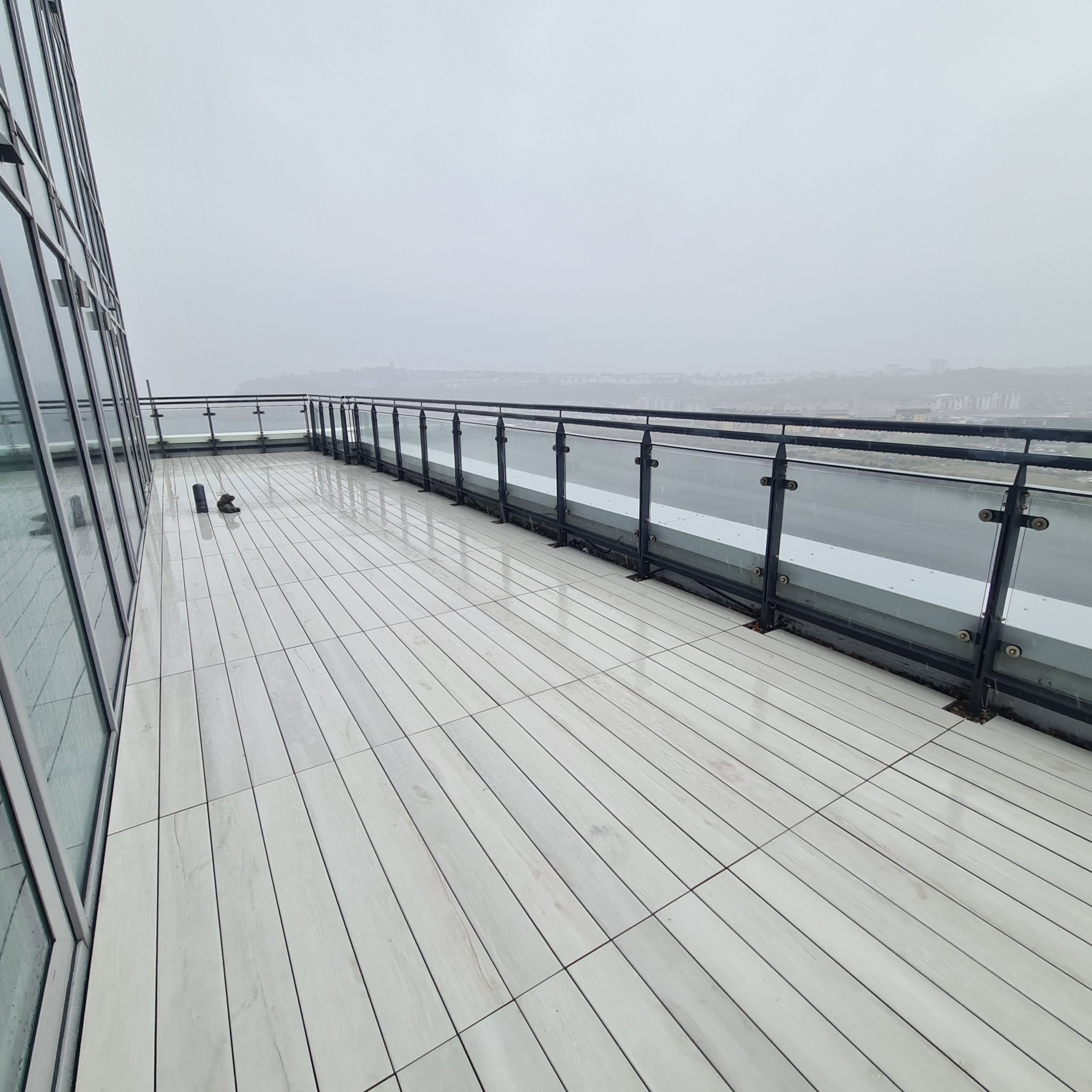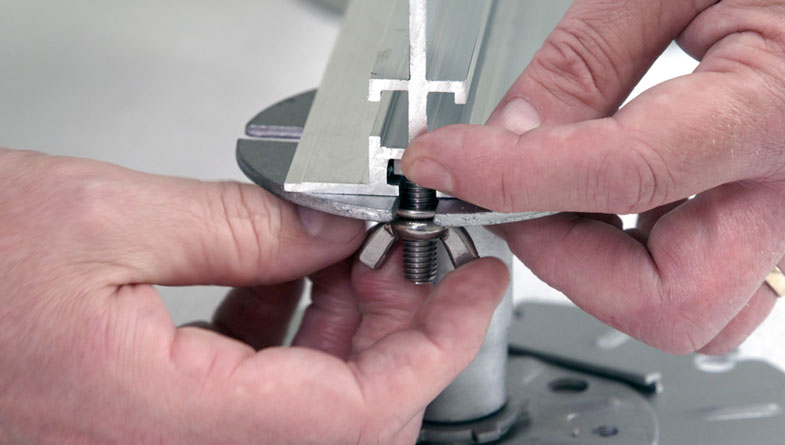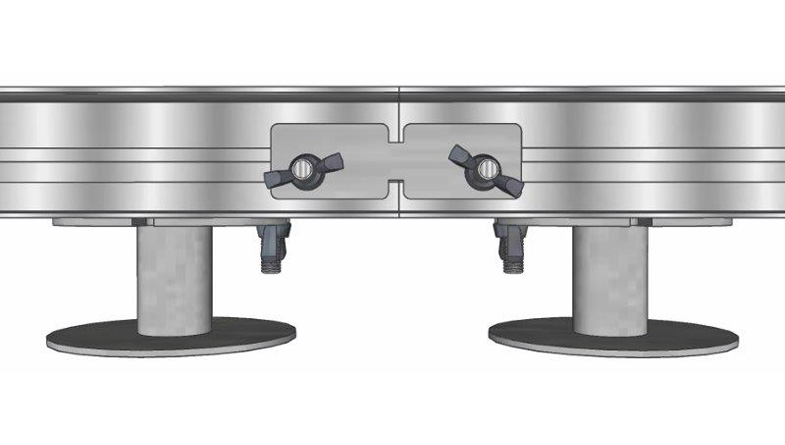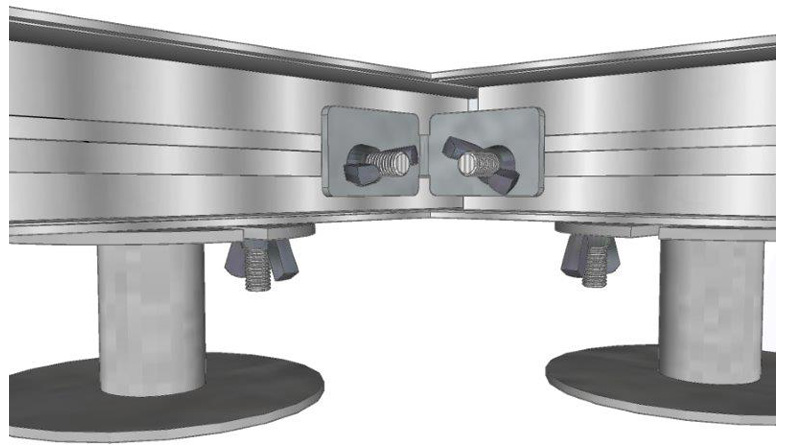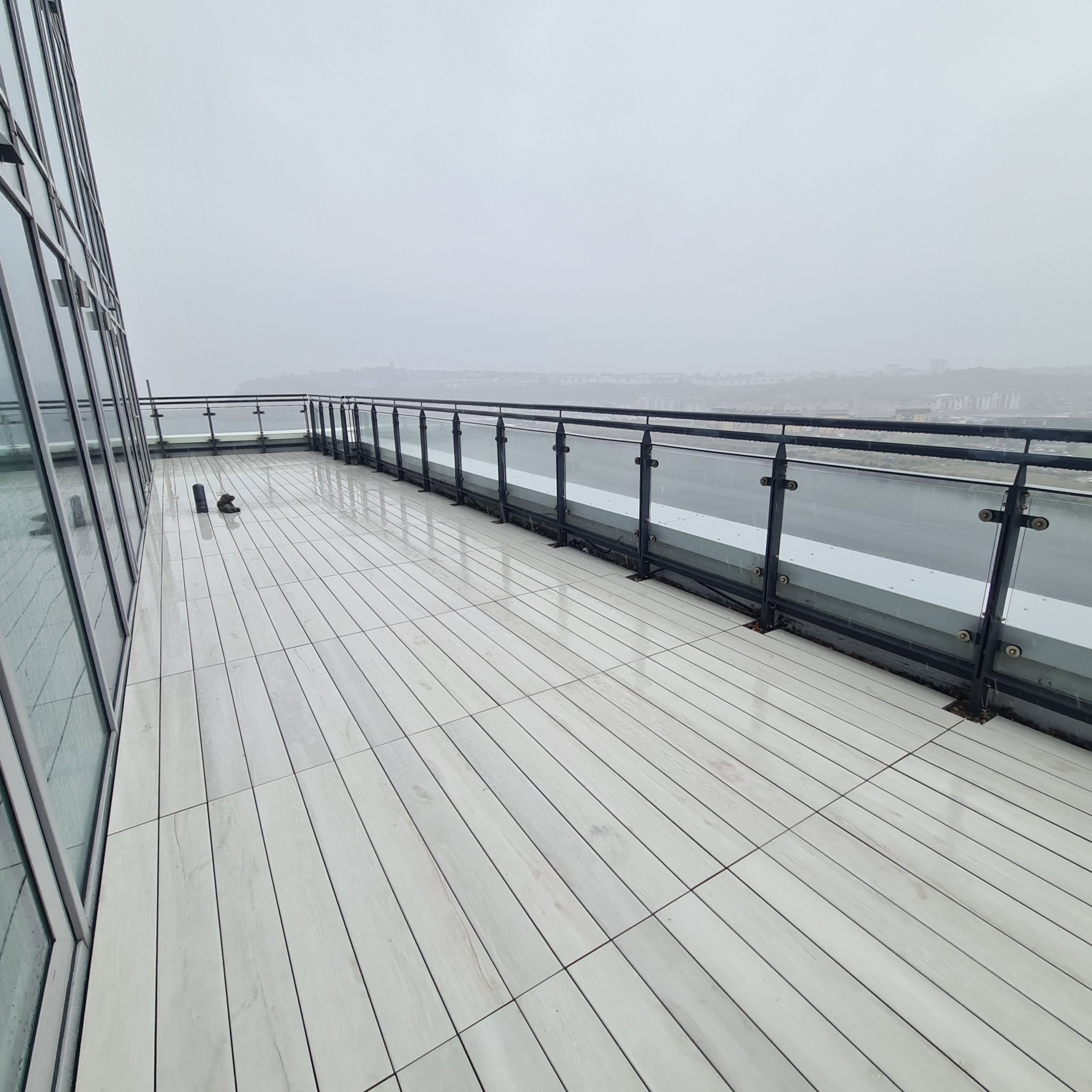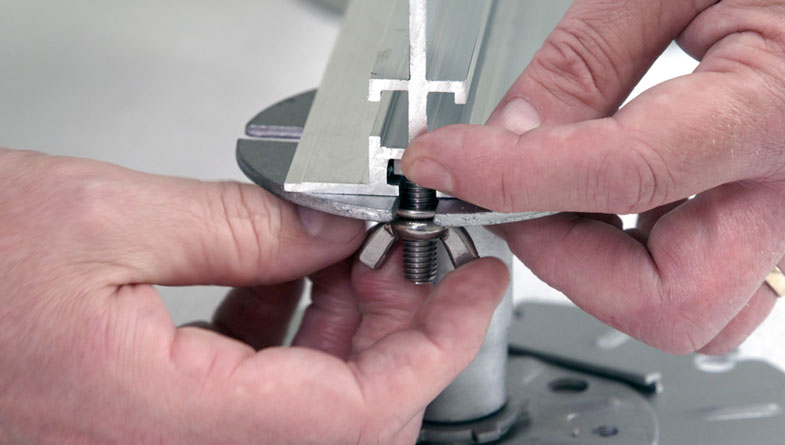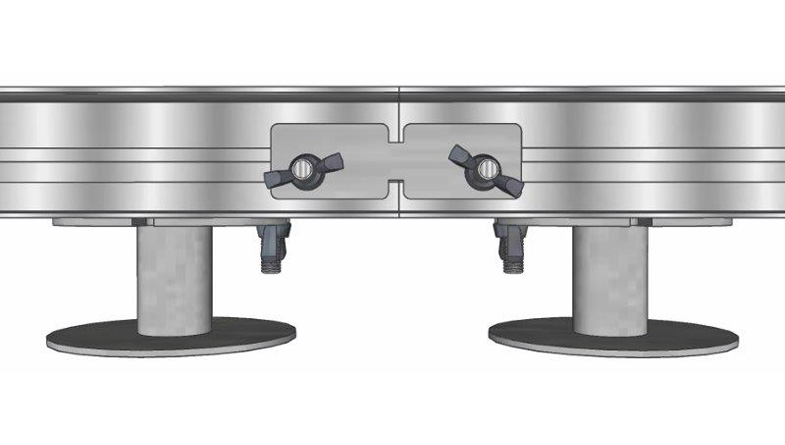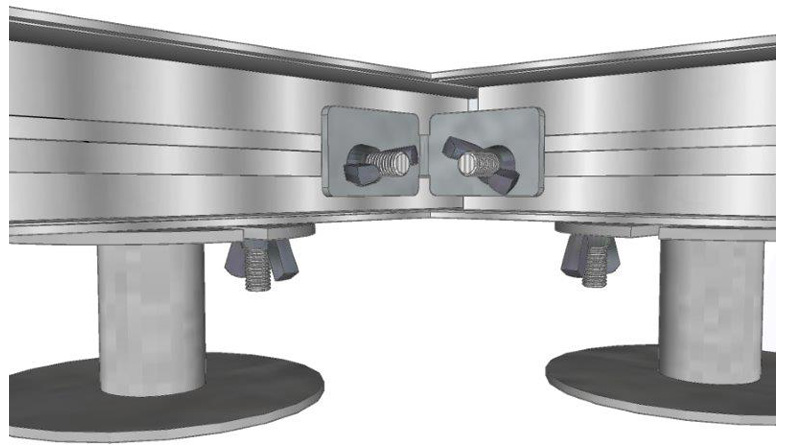 Class A1 Rail Substructure System
Single beam substructure for non-combustible decking and tiling systems
Key Advantages
Class A 1 rated (EN 13501-1:2018), fully compliant with BS 8579
Full metal substructure, zero plastic and zero rubber "gaskets"
Specially profiled bearer rails / joists click onto Metalpad & MetalPad EX pedestals
Fast, easy, seamless connection
Self-levelling option available
Greater spans between pedestals possible
Massive height range, multiple rail build up possible
All fixings and connectors provided
Weight bearing and extremely stable
Spreader plate available for larger weight distribution
No rotting, warping or rusting
Environmentally friendly, manufactured from recycled aluminium and fully recyclable
Paving / Tiling Applications
Integrated Class A1 for porcelain tiles and paving slabs
Special paving lug headpiece fixed to rail with screw
Headpiece can be fitted anywhere along the rail for perfect alignment of tiles
Single beam bearer rails mechanically fixed to Metalpad EX pedestals
Designed to give greater support to slabs and tiles and additional lateral strength across the deck
Faster installation of suspended paving and tiling projects
Weight bearing joists mean very large spans between pedestals possible
Joist "ties together" pedestals, fitted together quickly and easily using clips and fixings
Massive height range achievable, multiple joists can be fixed together
Lugs on paving headpiece easily removed with pliers for junctions, stretcher bond etc.
Starter / end clip fitted to rail to secure tiles at perimeter
Ensures adequate drainage gap between tiles and wall
Decking Applications
Fully integrated substructure system for installing Class A1 decking
Single beam bearer rails mechanically fixed to Metalpad EX pedestals
Fixings fitted to top of joist
Designed to give greater support to decking and additional lateral strength across the deck
Faster installation of suspended decking projects
Weight bearing joists mean very large spans between pedestals possible
Joist "ties together" pedestals, fitted together quickly and easily using clips and fixings
Massive height range achievable, multiple joists can be fixed together
Fast, safe, secure construction of substructure
Spreader Plate
The standard baseplate for MetalPad EX is 100mm diameter which is sufficient for applications onto hard sub-surfaces such as concrete. However, if users need to mount pedestals directly onto softer surfaces such as insulation or waterproof membranes then an additional spreader plate can be used.
The pedestal will slide into the slots on the top side of the spreader plate and lock into place. The spreader plate is 175mm diameter with a smooth underside to diffuse and distribute the weight effectively.
Fire Regulations
Our Class A2-s1, d0 rail system meets fire testing standard BS EN ISO 1716:2018
Certified Class A2-s1, d0 (Warrington Fire) – Powder Coating | Steel
They are classified in Class A ('No contribution to fire') in
Decision 94/611 /EC
This product has been developed to ensure compliance with:
For further information or to discuss a project, speak to a member of our technical team. Call us on 020 8916 2222 or send us a message here.
Double Box Rail
Wallbarn's Box Rail is made from premium-grade 6063 T6 extruded aluminium. These rails were designed by Wallbarn and manufactured right here in the United Kingdom.
They seamlessly cater to both paving and decking applications, creating the perfect Class A non-combustible substructure system.
They are particularly useful for retro-fit projects for the common rip-and-replace schemes currently being undertaken to remove combustible materials from occupied flats.
With years of successful implementation on numerous large-scale commercial and residential projects across the UK, the Box Rail has proven its reliability and strength.
Originally conceived as an ultra- low height alternative to timber and composite joist/rails, it has now become a standard choice for Class A decking and raft systems due to its lightweight and easy installation properties.
Key Highlights:
Crafted and engineered in the UK.
Class A1.
Ideal for both decking and paving projects.
Provides robust support for decking or paving, especially at low height thresholds, and enhances lateral strength across the deck.
Customised ledge profile ensures seamless connection to MetalPad EX pedestals.
The three designs / heights were developed to adapt to low height threshold projects or larger height areas where larger spans between pedestals is possible.
When employed for paving systems, our substructure can attain a minimal height of 49mm (Paving Rail System).
For decking applications, we achieve a starting point of just 46mm for the substructure.
If you have any questions, get in touch.
I-Plus Beam
Wallbarn's I-Plus Beam is an advanced aluminium rail/joist that establishes a new benchmark in substructure systems.
With exceptional strength enabling the handling of long spans, it is particularly well-suited for retro-fit projects which require Class A non-combustible substructures.
Post Grenfell rip-and-replace schemes require Class A materials throughout and I-Plus Beams help create strong, compliant and easy to fit solutions.
The I-Plus Beam is available in three distinct heights: 50mm, 75mm and 100mm.
This means the often unknown height thresholds which appear only after the original deck has been lifted can be accommodated easily by matching the right beam to the right pedestal in any given area.
They are designed to be fitted to MetalPad EX pedestals through a fixing clip, creating a seamless, integrated and comprehensive substructure system.
Designed and proudly crafted in the UK, the I-Plus Beam is an ideal solution for both decking and paving projects. For scenarios necessitating end-to-end connections or perpendicular layouts, we provide tailor-made brackets and fixings. See our Connections page.
I-Plus Beams offer added flexibility and adaptability in your substructure design. With Wallbarn's I- Plus Beam, you can confidently rely on a resilient, dependable, and top-tier solution for your construction requirements.
If you have any questions, get in touch.
Connections
There are two choices available for connecting I-Plus beams, offering installation convenience. The first approach involves utilizing self-tapping screws for robust mechanical fixing. Both straight and right-angle fixing brackets are equipped with two counter-sunk holes, allowing for easy attachment using the self-tapping screw.
The alternative fixing method involves employing a wing nut and an M8 bolt for manual securing. For this method, the bolt head is inserted into the side or bottom profile of the I-Plus beam, and the wing nut is placed around the bracket manually. This method's advantage lies in its initial loose framework securing, allowing for flexible realignment to achieve precise positioning. Once the desired alignment is achieved, tightening the wing nuts ensures a secure substructure. This method guarantees a solid and well- aligned construction.
If you have any questions, get in touch.
NBS Source
BIM Library
CAD Drawings
Material
Aluminium 6063T6
EN 755-9
To Use With Pedestal
Click Head Pedestal Range
Fixing Detail
Click function - zero mechanical fixings
Fire Classification
Class A2-s1,d0
BS EN 13501-1 2018
European Commission Decision 96-603-EC
B ROOF T4
Approved Document B, Regulation 7 (2)
Balcony construction suitability
> 11m
BS 8579
Weight tolerance per m²
600kg
Height of rail / bearer
20mm
25mm
50mm
Maximum span between pedestals
50cm
60cm
120cm
based on 600kg per m2 weight
Weight per lin mtr
0.988kg
1.998kg
Exterior circumference
184.96mm
234.97mm
Interior circumference
175.30mm
261.32mm
Thickness of walls / floor
2mm
2mm
3mm
Outer height
20mm
25mm
50mm
Inner height
16mm
21mm
46mm
Outer width
60mm
60mm
60mm
For more information or to place an order