It's been widely acknowledged for some time that the addition of a good quality natural landscape to urban areas can positively impact how people feel.
By reducing stress levels and sadness, additional greenery can lift moods and make us generally feel better.
Mental Health Statistics: UK and Worldwide
With a recent study by the UK Mental Health Foundation highlighting just how serious a problem this is becoming, finding an effective method of combating this has never been more important.
mental health is the main cause of the overall disease burden and the primary cause of disability globally, resulting in more than 40m person-years of disability annually in 20–29-year-olds per year around the world
1 in 6 people in the UK experiences a common mental health problem every week
anxiety and depression is the cause of 20% of days lost from work each year in the UK.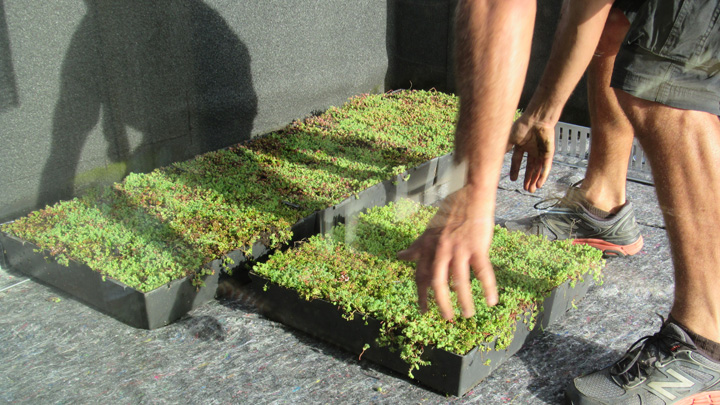 However, despite our increasingly urbanised, high-density and the high-pressure world, there is growing evidence that a proven way to help reduce stress levels and improve mental health may be available to us in the form of green roofs.
Untapped Potential
Rooftops are typically the most under-utilised part of any property but given that approximately 32% of all horizontal spaces in our cities are rooftops, there can be no denying that they offer untapped potential.
Green roofs, whether retrofits or installed onto new builds, already offer a variety of environmental and financial benefits. Social benefits can now be added to the list.
A Texan study of post-surgery recovery in hospitals has even demonstrated that recovery was quicker and with less chance of relapse if patients could look out onto a green space. A number of American hospitals have subsequently been redesigned to bring these benefits to patients and have been rewarded with greater patient 'through-put'.
Please click here for more information on this study.
Additional benefits include:
Attenuating stormwater run-off
Improve air quality
Mitigate the urban heat island
Improve biodiversity
Enhance thermal performance
Please Note – Along with offering environmental and social benefits, proximity to green spaces and plants has also been demonstrated to increase productivity in the workplace.
For more on this, please click here.
How Wallbarn Can Help?
Our M-Tray® has been specifically designed to make sedum roof installation quick and easy – with minimum disruption to the plants and the structure they are going onto – and to provide a seamless, verdant finish – an instant and sustainable green roof.
Because of the modular nature of the M-Tray®, retrofitting green roofs has never been easier and the trays can be transported and installed with the minimum of disruption.
This was evidenced clearly in this recent installation at The Mayfair Hotel in London. Please click here for more.
Other benefits include:
Quick & easy to install
Each M-Tray® module is 500 x 500mm and can be easily carried by one operative
Hard-to-access areas such as single-storey extensions, homes and other completed structures make installing roll-out very challenging
M-Trays® can be hand-installed into even the most awkward areas
Units can be installed much faster than traditional roll-out green roofs
Instant green roof: as soon as the trays are connected together the whole area is filled with well-established plants which start to blend straight away, forming a seamless layer of vegetation
If access to the deck is needed e.g. inspection/repair the modular M-TRAY® can be lifted out without disruption to the rest of the roof