Green roofs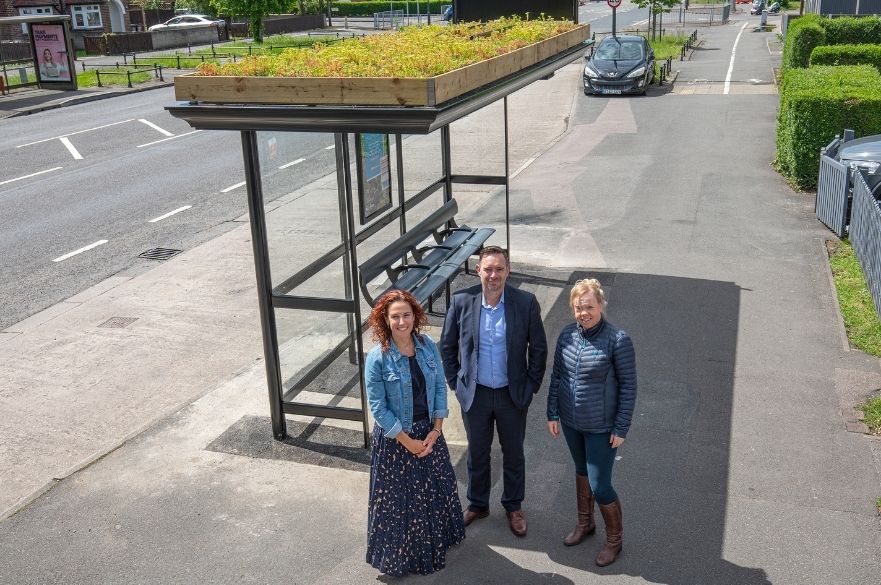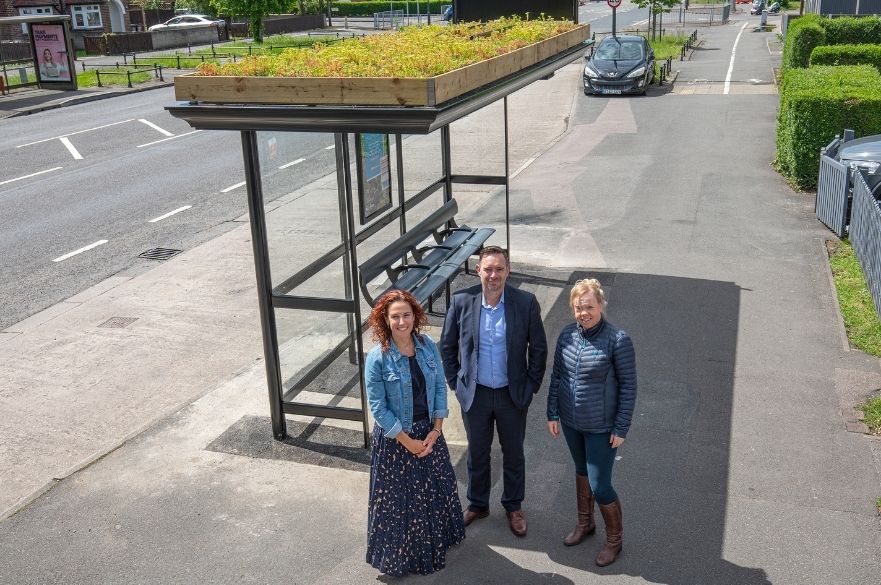 M-Tray® Wildflower
An instant modular Green Roof
Our M-Tray® wildflower roof system consists of specially-designed trays with bespoke substrate mix and native wildflowers
Easy-to-carry trays which click together to form a seamless green roof
Sedum / wildflower mix grown from seed at our own UK nurseries
Achieves a fire classification of B ROOF t(4) and was tested in accordance with to CEN/TS 1187 Test 4. (see "Fire Rated" tab below)
As well as the sedum trays, Wallbarn also supplies a sedum/ wildflower version of M-Tray® for use on green roof systems.
Biodiversity is becoming more popular for urban greening schemes as it has been proven that a large mix of native English flowering species is the best way to attract and promote wildlife such as bees, butterflies, other insects and birds into these roof spaces. By replicating what is happening out in the fields on urban roofs we can help to replace what has been lost and improve the environment.
Wallbarn sows a low-density amount of sedum species to give a year round green and good level of ground cover and adds, again from seed, a mix of wildflower species which contain the following characteristics:
They are low growing species with as much succulence as possible
They are all native to UK / northern Europe
They are perennial and hardy
They will grow in low nutrient substrates
They have proven to improve biodiversity
A few factors need to be borne in mind when considering wildflower roofs:
Flowers can grow tall and die back to leave dead grasses and stems, which can lead to a fire hazard
Wildflowers will not provide the same ground coverage or year-round greening of sedum roofs
Wildflowers take longer to grow and flower than sedum
Wildflowers often require 2 years before flowering and may not return year after year without re-seeding
Some wildflowers will not flower in certain years, performance depends heavily on the weather that year
Wildflower roofs require more maintenance than sedum roofs
The sedum / wildflower ratio is designed to complement each other and provide variety and attractive spaces across the summer but also with a sufficient amount of coverage and "green" throughout the year.
Bespoke options are available.
What makes the M-Tray® green roof unique?
Mature, established vegetation
Click-together trays create seamless connection
Easy to transport and install
Specially-mixed substrate for longevity of plant life
100mm deep cavities for healthy roots
Optimum drainage means stronger plants
No sharp edges or mess meaning minimum disruption to plants, deck structure and inhabitants!
Video: 2 min overview on the M-Tray®
Instant green roofs
M-Trays® are designed to click together forming a single verdant surface
Once trays are connected they start to blend straight away, forming a seamless layer of vegetation
Modular M-Trays® can be easily lifted out giving access to the deck without disruption to the rest of the roof
Video: breathtaking Dorset development
Quick & easy to install
Hard-to-access areas such as single storey extensions, working hotels and other commercial spaces can make installing roll-out very challenging
M-Trays® can be handballed into even the most awkward areas discreetly and with minimum mess
Each M-Tray® module is 500 x 500mm and can be carried by one operative and therefore installed much faster than traditional roll-out
Our modules are conveniently packaged, palletised and delivered to site
Unique Design
Shape
M

odule measures 500 x 500 x 100mm

4 x units make up exactly 1sq metre making estimating far easier

Carefully spaced drainage holes ensure modules retain water for longer, allowing plants to absorb more rainfall, increasing attenuation and delaying discharge into outlets
Design ensures even greater water retention at edges of module, preventing sedum from dying back at the edges.
Stronger plant growth at the edges creates a more seamless layer of vegetation when the modules are connected
Four gently ridged hand grips are positioned to enable installers to carry each module easier
Smooth edges & connecting bracket
The connecting brackets are designed to give a tight connection, with the minimum gap between each module

The joint is only 6mm so the plants will grow over it quickly, making it disappear in ultra-quick time

The corners of the modules are rounded and smooth, so no sharp edges (which might puncture the membrane beneath) are present – this also makes handling the trays easier and the edges can be mounted onto Wallbarn pedestals if additional height is required
Trims & Edging
100mm aluminium edge trims and connectors fit neatly onto the sides of the modules. Fixings are designed to slot together neatly although they are not always necessary.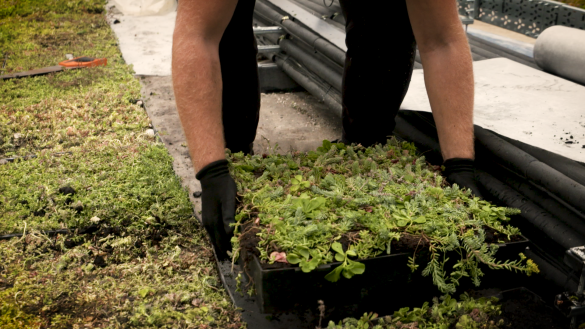 Futureproofed
Access to your green roof is futureproofed.
If there are problems with the deck beneath or inspection is required, one M-Tray® or section can easily be lifted out without disruption to the whole roof, unlike roll-out which often involves the removal of tonnes of soil and vegetation, which then would need to be replaced at an additional cost to the client.
FAQs
What is a green roof?
Sedum or other succulent plants grown into low-level substrates for construction on flat roofs and podium decks.
What is a modular green roof?
An instant green roof, pre-grown at our farm in specially designed cassettes. They can be hand-carried and click together to form a seamless green roof. They are lifted into place and can be easily removed to give access to the deck.
What are the advantages of a modular green roof?
Speed of installation; accessibility; less mess and disruption; instant results; future proofing
What is the cost of an M-Tray®?
M-Trays®= £88 per sqm (4 Trays to a sqm – £22.00 each)
Available in Sedum or Sedum/Wildflower Mix (£22 each, £88 per sqm)
Approx. £75/pallet (32 trays) * transport charges subject to short term changes – please ask for current quotation
Geotextile fleece = £1.25m²
Riverstone washed pebbles – POA
All prices are subject to alteration.
Where are the M-Trays grown?
At our farm near Basingstoke, Hampshire
How big is the tray?
500mm x 500mm x 100mm deep
How many units per m²?
4 x modules
How much do the units weigh?
100kgs/m² – we recommend that you consult an Engineer to advise on loadings (120 kg/m² saturated)
What is the vegetation?
The vegetation is a mix of 11 x Sedum species. We also have a Wildflower/Sedum mix available upon request.
Can I walk on the trays?
The modules are not designed for foot traffic but can tolerate being stepped on for maintenance purposes.
Can M-Tray® grow in partial shade?
Yes, however, like any living plant, an element of light is required.
Do I need to have any design?
No. However we can produce a layout guide along with estimates for trays, geotextile fleece and border pebbling if required.
Are there any requirements?
Yes. Fire regulations require a hard border between vegetation and the walls of buildings as well as around features such as roof lights and fall arrests (consult GRO code for more details)
Is there a full cover of vegetation?
Our M-Trays® have been grown at our farm for several months prior to delivery. They will arrive with a minimum 90% cover.
How much is delivery?
From £80.00 per pallet (max 32 units/pallet). NB The M-Trays® need to be removed from the pallet immediately. Pebbling and geotextile fleece can be delivered separately.
Does the area have to be level?
M-Tray® can be laid on a level area and on a slope up to 15°. Ideally, we recommend not going above 10°.
Do they need maintenance?
The sedum is very hardy and will tolerate extreme conditions. Watering the sedum in extreme conditions is advisable and we can supply an irrigation kit if required.
At the end of Summer and end of Winter we recommend taking time to remove any dead leaves and vegetation that have accumulated.
Application of a slow release fertiliser is advisable at certain times of the year.
Do I need irrigation?
For best year-round results we do recommend installing an irrigation system although this is not absolutely necessary.
What other materials will I need to buy along with my M-Trays®?
This depends on your individual requirements.
Standard:
Geotextile fleece to protect existing roof/membrane
Riverstone pebbles to be used as a firebreak and to go around drains
Optional:
M-Tray® Irrigation Kit
Access chamber
Aluminium edging
I have seen modular systems fail, why won't yours?
This is our 4th generation of the module, designed and manufactured by Wallbarn here in the UK. The 100mm deep tray with its optimum drainage; our specially mixed substrate and careful choice of mature and hardy sedum species mean the M-Tray® is the best quality modular system on the market.
What other preparations should we consider prior to delivery?
The M-Tray® modules are delivered stacked onto pallets and must be unpacked within 24hrs of delivery. A crane and forklift may be needed to transfer pallets onto the roof.
Award Winning
Pitched against some high-quality roofing products, our M-Tray® modular green roof system beat off all competition to secure the coveted title of Best Roofing System or Product in the 2020 Build It awards.
The M-Tray® has also won the award for 'Best Green Innovation' at the 2021 Green Home Awards.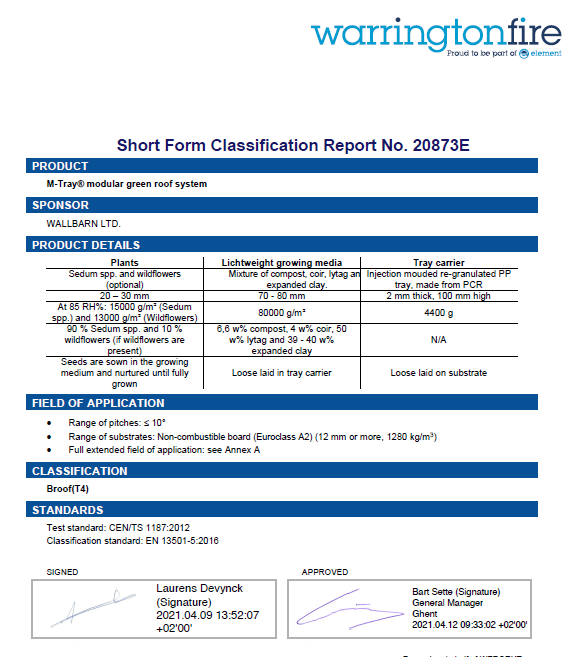 Fire Rated
Our M-Tray® modular green roof system has a B ROOF t4 fire rating classification.
To meet current building regulations for fire stakeholders need to demonstrate that the whole 'as installed' roof system has a valid fire certificate, tested in accordance with CEN/TS 1187:2012 Test 4 External Fire Penetration and Spread of Flame and the classifications under BS EN 13501-5:2016 Fire Classification Of Construction Products And Building Elements.
A roof system when tested to CEN/TS 1187:2012 Test 4 Test Methods For External Fire Exposure To Roofs should achieve a European classification rating of B ROOF t(4).
Under Approved Document B only a test report to BS EN 13501-5:2016 for the exact construction or an EXAP report proves compliance; unless the green roof build-up from the deck to the finished surface includes a minimum 80mm of growing medium with less than 50% organic content.
M-Tray® by Wallbarn was tested according to CEN/TS 1187 and has both a Classification of B ROOF t(4) and an EXAP Report carried out in conformity with CEN/TS 16459:2019.
Furthermore, the growing medium is 100mm thick and contains less than 50% organic content. It complies both to BS 8616:2019.
This is construction law in England. Similar laws apply in the building regulations of Wales, the building regulations of Northern Ireland and in the Technical Handbooks for Scotland.
> M-Tray B ROOF t4 Extended Application Report
> M-Tray B ROOF t4 Indicative Test Report
> M-Tray B ROOF t4 Classification Report long form
> M-Tray B ROOF t4 Classification short form
> M-Tray B ROOF t4 Test Report
> J002980 Walbarn Green Roof Module Substrate Specification incl Organics Content
Export & Licensing opportunities
As well as supplying live products for installation on UK green roofs and landscaping spaces, Wallbarn is committed to M-Tray® as an export product.
We can supply the modules as empty trays for local landscapers worldwide to plant up and propagate according to the local climactic conditions and their own markets.
Licensing opportunities are available for both the M-Tray® brand and the mould, which can be granted to specific partner companies across the globe.
M-Tray® has been designed and developed by Wallbarn in the UK and holds registered designs and patents in the following territories:
| | | |
| --- | --- | --- |
| UK | Registered Design | 6140192 |
| UK | Registered Trademark | UK00003041800 |
| UK | Registered Cloned EU design post-Brexit | 90029539430001 |
| USA | US Patent | D787,186S |
| USA | Registered Design Application | 29/802,855 |
| EU | Registered Design | 002953943-0001 |
| EU | Registered Tradename | 15388523 |
| Canada | Registered Design Application | 205094 |
| Argentina | Registered Design | Nº100508 |
| UAE | Registered Design | 7498 |
Our aim is to get more green spaces into urban centres worldwide. With M-Tray® this is a possible and economically viable prospect. Join us in our vision.
Below you will find the basic steps for successfully installing a modular green roof.
Alternatively watch one of our videos
M-Tray® modules are transported to site on strapped pallets for easy, clean delivery. They can then be craned safely onto the roof if necessary.
Unpacking the pallets is a simple process. None of the contents will spill out and each module can be carried by one person.
A separation and filtration geotexile layer should be firstly installed. This protects the waterproofing and prevents abrasive damage. Wallbarn usually supplies a 300gsm recycled fleece for this purpose
Start from the middle of the green roof and work outwards towards the edges. Place a module down and then click the next into place. There are two connection points on two sides of each module. Once connected up on all four sides, the module will be secured on all four sides.
An aluminium edge trim can be added to any exposed edges or where the stones need to held away from objects such as drainage outlets.
The modular sections mean detailing around objects is a simple process and clean lines are created. Hard landscaping sections such as paving and decking, mounted onto Wallbarn pedestals, can be added to the area to allow for regular access. As everything is suspended on top of the deck, drainage is uninterrupted.
An installation guide for M-Tray® is here.
More help to prepare the roof, how to connect the trays and how to install the edging.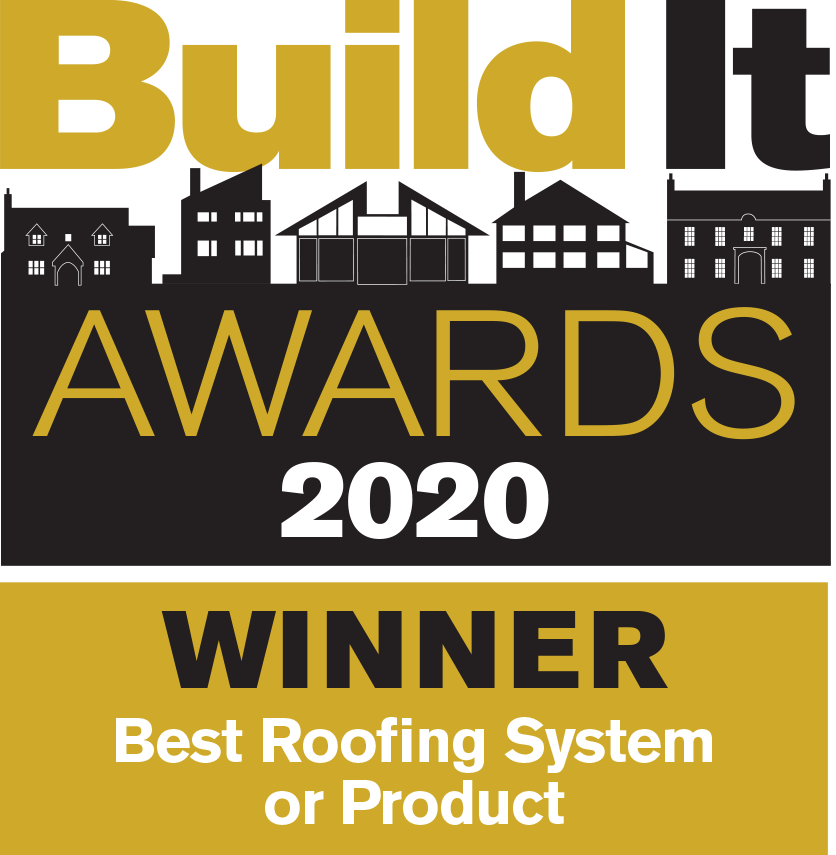 | Product | M-Tray® Modular Green Roof Container |
| --- | --- |
| Suitable For | Extensive Green Roof Plants With Lightweight, Free-Draining Substrate |
| Type Of Construction | Permanent |
| Width / Breadth | 500mm X 500mm |
| Height | 100mm |
| Shape Of Walls / Sides | Tapered / Angled |
| Units Per M2 | 4 |
| Material | Recycled Polypropylene |
| Thickness Of Material | 3mm |
| Internal Ridge Height / Reservoir Height | 20mm |
| Number Of Internal Drainage Reservoirs | 25 |
| Drainage Holes Per Unit | 8 |
| Distance Between Trays At Base | 20mm |
| Distance Between Trays At 50mm From Base | 10mm |
| Dry Weight (Empty) | 1.1Kg |
| Weight Planted & Saturated * | 25Kg (100kg per m² excluding snow load) |
| Connectors Per Unit | 4 |
| Number Of Handles On Underside | 4 |
| Detail Of Corners / Edges | Smooth / Reinforced |
| UK Registered Design | 6140192 |
| UK Registered Trademark | UK00003041800 |
| UK Registered Cloned EU design post-Brexit | 90029539430001 |
| USA US Patent | D787,186S |
| USA Registered Design Application | 29/802,855 |
| EU Registered Design | 002953943-0001 |
| EU Registered Tradename | 15388523 |
| Canada Registered Design Application | 205094 |
| Argentina Registered Design | Nº100508 |
| UAE Registered Design Application | D6000639/2021 |
* Filled & fully planted field capacity of Wallbarn substrate & mature sedum plants during / after abnormal rainfall conditions.
NBS Source
BIM Library
M-Tray® module eDrawings Format
CAD Drawings
For more information or to place an order