Decking
Hardwood Timber Decking Tiles
An ultra-low height threshold solution for decking on flat roofs and terraces.
Combine the natural beauty of tropical hardwood with the speed and ease of laying paving slabs onto a structural surface
Key Advantages
Achieve thresholds as low as 37mm
Long-lasting, attractive decking suitable for the British climate
Durable hardwood – lasts over 15 years
No specialist carpentry required
Pre-formed tiles – easy to cut for detailing
No joists required – avoid damage to your membrane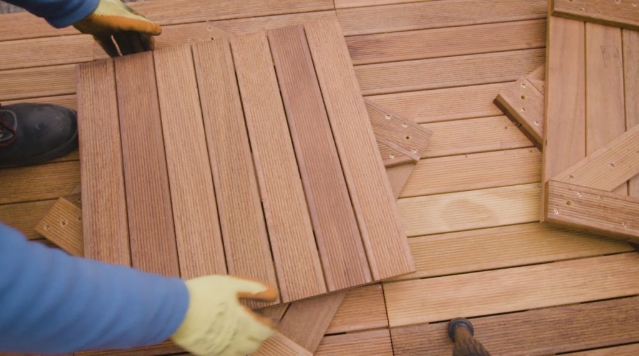 Ideal for ultra-low thresholds
Our tiles are just 30mm in height which means combined with our 7mm fixed height pedestal you can deck up to a threshold as low as 37mm
Traditional decking methods using timber joists, even if suspended on a super-low support pad, will only allow you to deck up to a threshold of 130mm or higher
Just like laying slabs
Uniform size and space between decking
Unsightly items such as drainage outlets, cables and pipes are hidden beneath the tiles
Tile weight holds them in place
No need to fix anything to the deck
Futureproofed: take up a tile to inspect your deck with minimal disruption
Superior timber quality
Ultra-hard and dense
Long-lasting
Resistant to moisture ingress and rotting
Smooth grains that are unlikely to splinter or scratch on the surface
Resistant to insect and mildew damage
Strong and weight bearing
We supply two types of timber tile, Ipe and Cumaru, species sourced from South America and chosen for their beauty and durability:
Ipe (Brazil) is one of the toughest most durable woods available.
It has a greenish brown appearance and because of its tight grain is popular for its high resistance to mildew, termites and rotting. It is very low maintenance and is used extensively in marine and exterior construction due to its resistance to water. It dries very well and becomes extremely hard, which means it has to be pre-drilled and cut with a mechanical saw. It carries a Class A fire rating and will last well over 25 years. It is nicknamed "ironwood".
Cumaru (Brazil) is another hardwearing timber.
It is similar to ipe but has a rich chestnut colour. It has very good strength and rot-resistant properties. Ideal for clients who favour a lighter-coloured wood finish.
Detailing
Tiles can be cut into shapes to fit around details and corners in a similar way to concrete slabs
This helps achieve clean finishes to the edges of terraces
Light fittings can also be fitted into the tiles
We select superior timber so the grain is smooth and uniform, making sawing and drilling straightforward
Note: due to the density of the timber, mechanical sawing and drilling is essential. We recommend that carbide tipped saw blades be used when cutting the tiles. Saw blades will blunt quickly. We also recommend pre-drilling holes before screwing into the wood to avoid splitting.
We have a number of helpful videos providing guidance on our products:
Physical properties
Tile dimensions
500mm x 500mm
Tile thickness
30mm
Number of slats / boards
7 boards - 15x67x500mm
Upper finish
casselled / ridged
Gap between slats
5mm
Reinforcement
3 battens - 15x67x500mm

battens fixed diagonally to underside in Z shape
Fixings
2 x Stainless Steel Screws per slat / board

1 x Additional Stainless Steel Screw per cross batten
weight tolerance per tile - edge
200kg - 400kg
weight tolerance per tile - centre
100kg
Reaction to UV
Will fade and turn grey over time
Regular application of oil will restore original colour
Raw material
IPE
CUMARU
botanical name
Tabebuia spp
Dipteryx spp.
average mass density
1,092 Kg/m3
1,021 Kg/m3
dimensional stability (UNI 11538-1) (**)
Class C. Recommended minimum slenderness coefficient 1/6
Class C.
average Monnin hardness (*)
14.60
13.10
damp climate deformations
type deformation
values detected
reference values (UNI 11538-1)
outcome
type deformation
values detected
reference values (UNI 11538-1)
outcome
bow
0.14%
< 1% on width
PASS
bow
0.09%
< 1% on width
PASS
spring
0.08 mm/m
< 2 mm/m
PASS
spring
0.48 mm/m
< 2 mm/m
PASS
twist
1.6 mm/m
< 2 mm/m
PASS
twist
1.08 mm/m
< 2 mm/m
PASS
dry climate deformations
type deformation
values detected
reference values (UNI 11538-1)
outcome
type deformation
values detected
reference values (UNI 11538-1)
outcome
bow
0.30%
< 1% on width
PASS
bow
0.11%
< 1% on width
PASS
spring
0.36 mm/m
< 2 mm/m
PASS
spring
0.60 mm/m
< 2 mm/m
PASS
twist
2.96 mm/m
< 2 mm/m
FAIL
twist
3.24 mm/m
< 2 mm/m
FAIL
moisture
type deformation
values detected
reference values (UNI 11538-1)
outcome
type deformation
values detected
reference values (UNI 11538-1)
outcome
bow
13.90%
<18%
PASS
bow
12.10%
<18%
PASS
spring
15.80%
<18%
PASS
spring
13.90%
<18%
PASS
twist
8.40%
<18%
PASS
twist
7.90%
<18%
PASS
Mechanical properties
| Raw material | IPE | | CUMARU |
| --- | --- | --- | --- |
| average bending strength | | 191 Mpa | 190 MPa |
| average bending strength after freeze/thaw cycles | untreated wood | 149 Mpa | 166 Mpa |
| | oiled wood | 184 Mpa | |
| average bending strength after freeze-icing cycles | untreated wood | 205 Mpa | 141 Mpa |
| | oiled wood | 217 Mpa | |
| average bending strength after heat-rain and heat-cold cycles | untreated wood | 182 Mpa | 173 Mpa |
| | oiled wood | 194 Mpa | |
| average modulus of elasticity | | 21,114 Mpa | 20,997 Mpa |
| average crushing strength | | 95 Mpa | 103 Mpa |
| stiletto heel impression (UNI 4712) | value - 0.04 mm | PASS | |
Natural durability (UNI EN 335, UNI EN 350)
| Raw material | IPE | CUMARU |
| --- | --- | --- |
| fungi (*) | very durable - class 1 | very durable - class 1 |
| dry wood borers (*) | durable - class D | durable - class D |
| termites (*) | durable - class D | durable - class D |
| treatability (*) | not permeable - class 4 | not permeable - class 4 |
| use class (*) | outside in contact with the ground and/or fresh water - class 4 | outside in contact with the ground and/or fresh water - class 4 |
| use in marine environments | class 5 (*) | |
Properties by conditions of use (IPE)
BCRA slipperiness (Min.Decree 236/89, Pres. Decree 503/96)
conditions
direction
values detected untreated
values detected oiled
reference
values
outcome
rubber pad wet surface
parallel
0.67
0.69
> 0.40
PASS
perpendicular
0.78
0.82
> 0.40
PASS
rubber pad dry surface
parallel
0.73
0.72
> 0.40
PASS
perpendicular
0.78
0.76
> 0.40
PASS
leather pad dry surface
parallel
0.42
0.52
> 0.40
PASS
perpendicular
0.43
0.51
> 0.40
PASS
grade R slipperiness (DIN 51130)
R10
grade A+B+C slipperiness (DIN 51097)
A+B+C
fire reaction (UNI EN ISO 9239, UNI EN ISO 11925-2, UNI EN 13501-1)
Cfl-s1
Properties by conditions of use (Cumaru)
BCRA slipperiness (Min.Decree 236/89, Pres. Decree 503/96)
conditions
direction
values detected
reference
values
outcome
rubber pad wet surface
parallel
0.72
> 0.40
PASS
perpendicular
0.81
> 0.40
PASS
rubber pad dry surface
parallel
0.65
> 0.40
PASS
perpendicular
0.7
> 0.40
PASS
leather pad dry surface
parallel
0.38
> 0.40
FAIL
perpendicular
0.47
> 0.40
PASS
NBS Plus
BIM Library
For more information or to place an order