Because green roofs are living structures, they will still need some attention throughout their lifespan. Some vegetation types such as sedum (which is used in the M-Tray®) are utilised in part because they require much less maintenance than grass roofs for example.
Providing A Little TLC
Whether you are looking to install a new green roof for your property or maintain your existing one, now is the time for action.
Please Note – Regular attention to soil moisture and feed levels, as well as the removal of weeds, is essential to maintain optimum performance.
Taking A Closer Look At 4 Key Areas of Maintenance
Below we have identified 4 of the key areas that should receive some attention this spring.
1) Removal of undesirable weeds – Windblown seeds and weeds can find their way into all sorts of areas which they are not required. As such, efforts should be made to remove all unrequired vegetation which could prove to be detrimental to the sedum and structure of the green roof. These weeds can be removed simply by hand pulling.
2) Irrigation – It's essential to check that the irrigation system (if applicable) is still working correctly to ensure the green roof is receiving enough moisture and replace the timer batteries if necessary. If your green roof has any particular rain sheltered areas, the deeper M-Tray® substrate-level will hold more moisture, and therefore give the plants more chance during hotter, drier periods. However, as demonstrated in the extremely hot, dry summer in 2018, all plants including green roofs will require artificial irrigation to prevent the plants dying. Check irrigation pipes for damage from mice and other pests.
3) Fertilisers – Apply a suitable slow-release granular fertiliser at a rate of 50gsm at the start of the spring growing period. All plants require fertilizing in the longer term to ensure sufficient nutrient levels for your green roof. The application of fertiliser should always be kept to a minimum but is required to help maintain the health of certain plant species. Granular fertilizers suitable for sedum are available from many garden centres.
Please Note – Where rainwater is harvested from a green roof, fertiliser should not be applied.
4) Drain Heads and Outlets – It is important to clear all debris from drainage outlets to help ensure the optimum performance. It is essential to ensure that excess water is able to leave the roof, to avoid ponding and overloading of your green roof.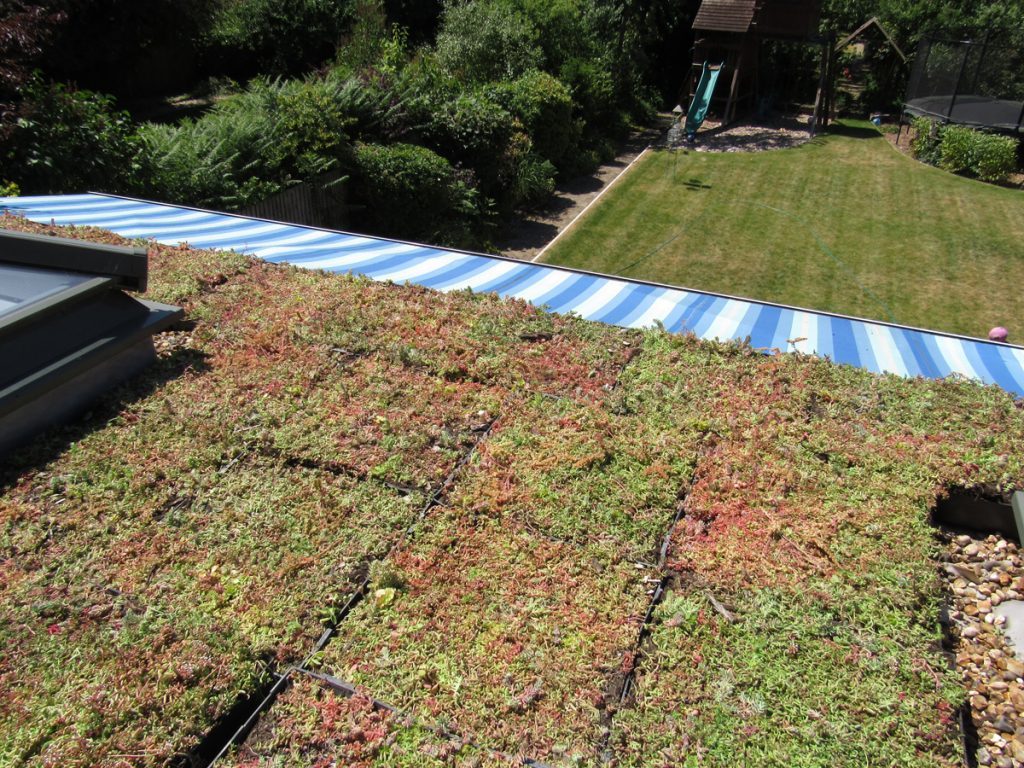 What makes the M-Tray® unique?
Wallbarn is at the forefront of developments in the green roofing sector and has always provided products that combine top-quality ingredients with user-friendly, hassle-free maintenance.
Our M-Tray® has been specifically designed to make sedum roof installation quick and easy – with minimum disruption to the plants and the structure they are going onto – and to provide a seamless, verdant finish – an instant and sustainable green roof.
deep cavities for healthy roots
optimum drainage means stronger plants
established vegetation at the point of installation
100mm deep substrate for the longevity of plant life
no sharp edges or mess, less risk to the membrane
click-together trays create a seamless connection
easy to transport and install
Click Here To Find Out More About The M-Tray® Modular Green Roofing System