Decking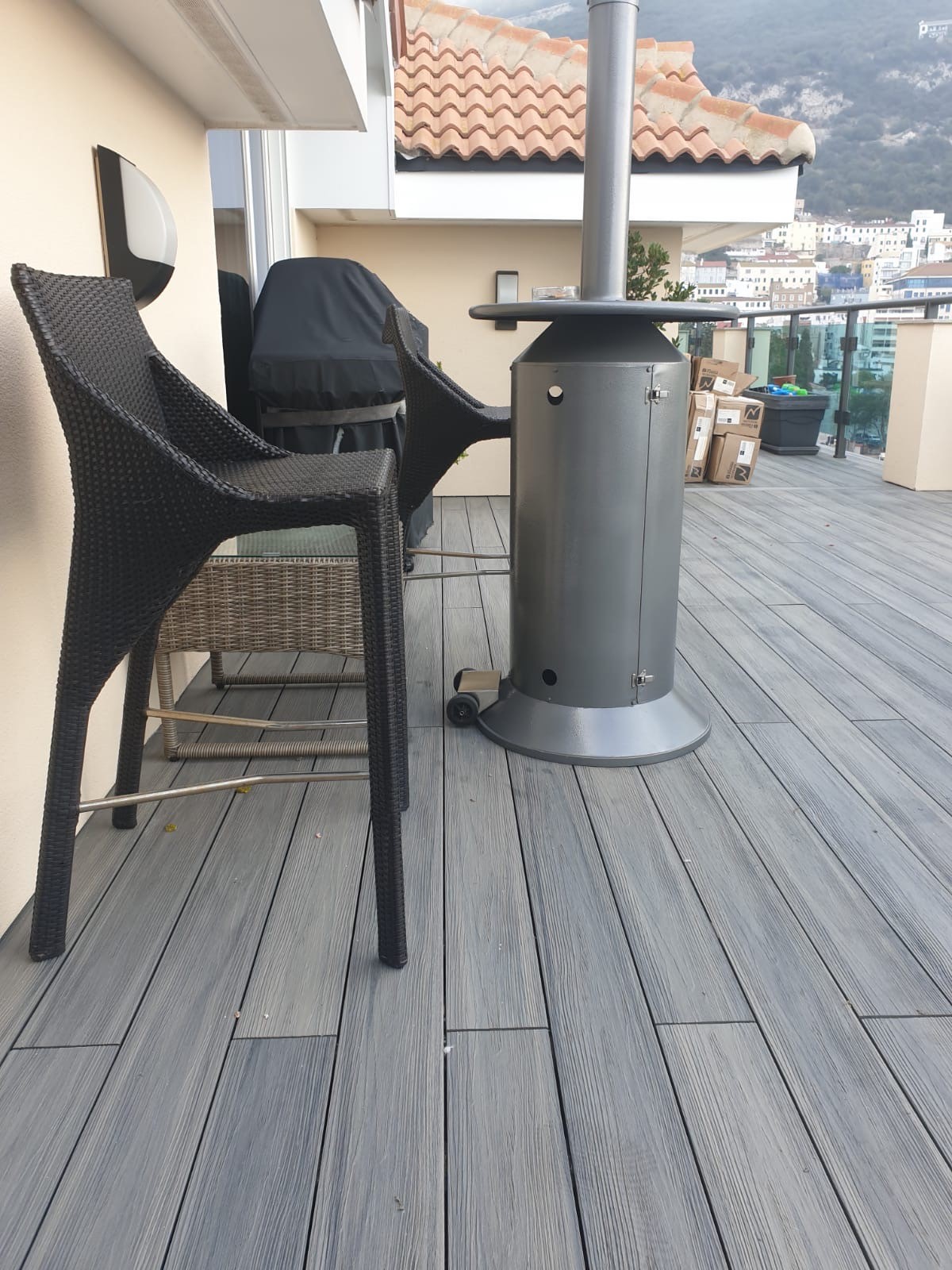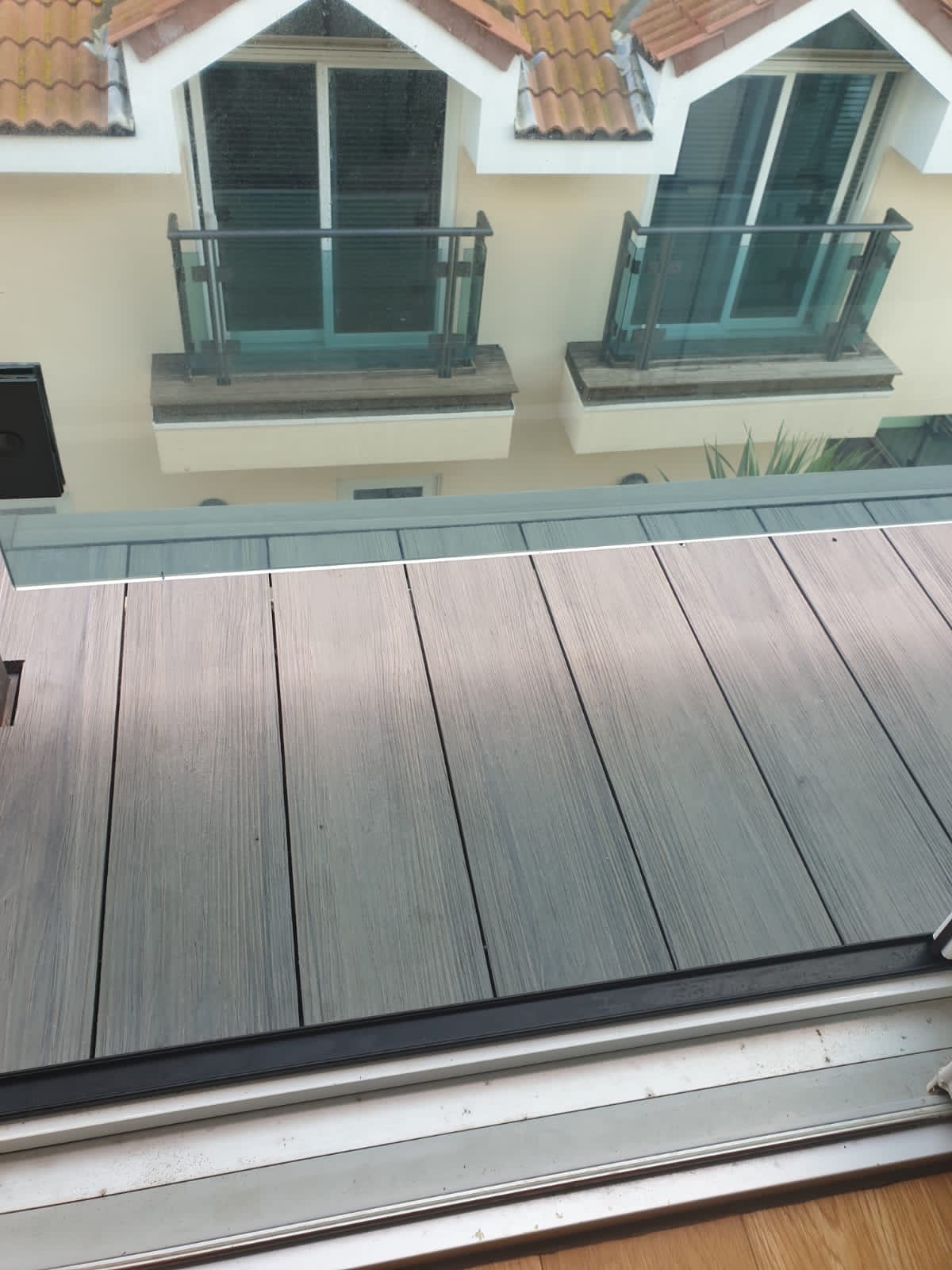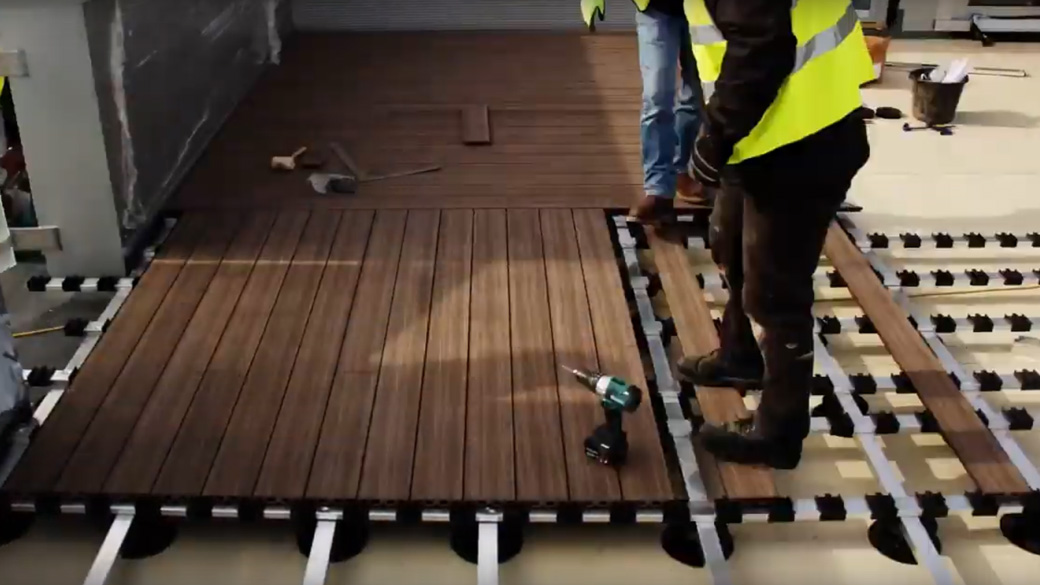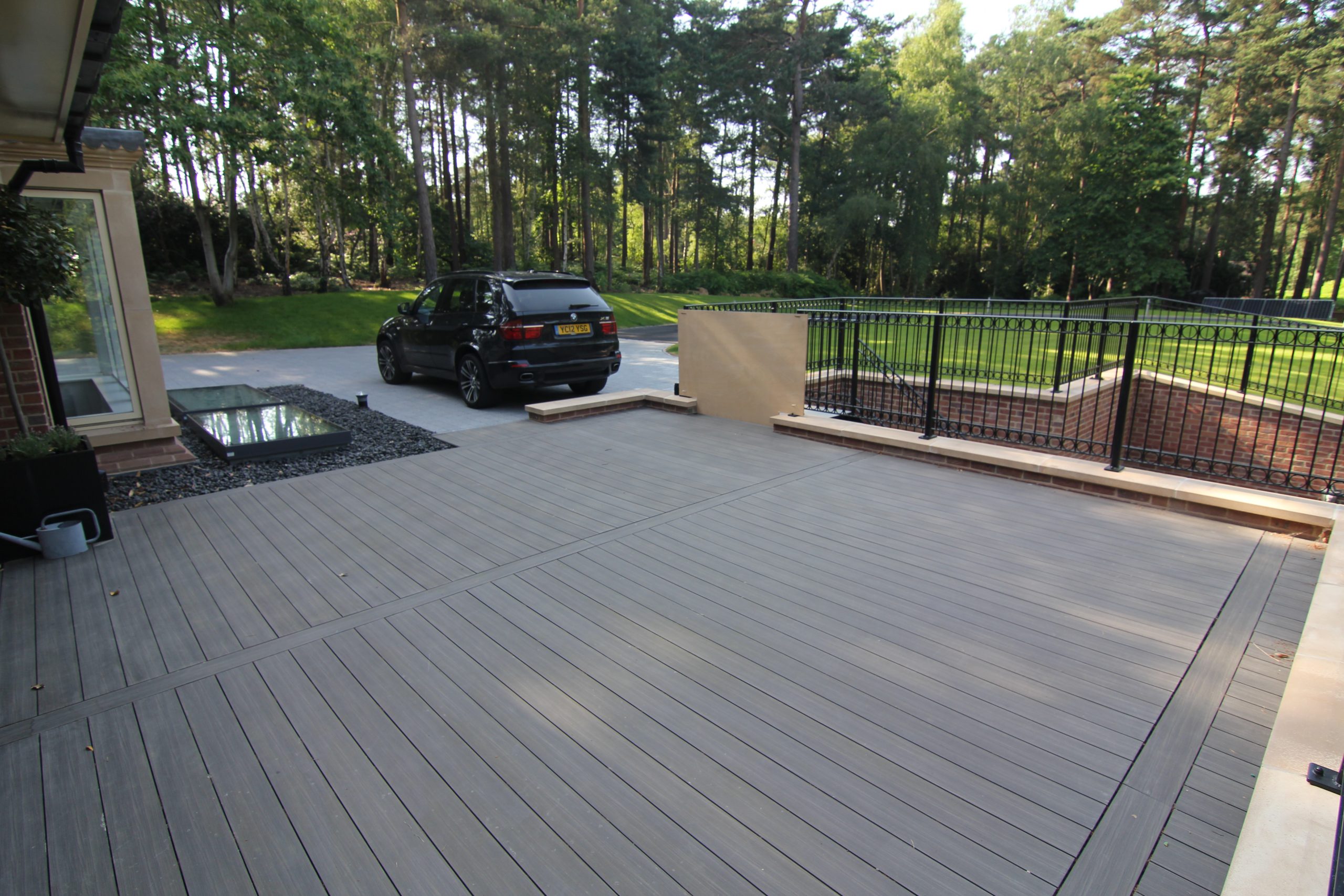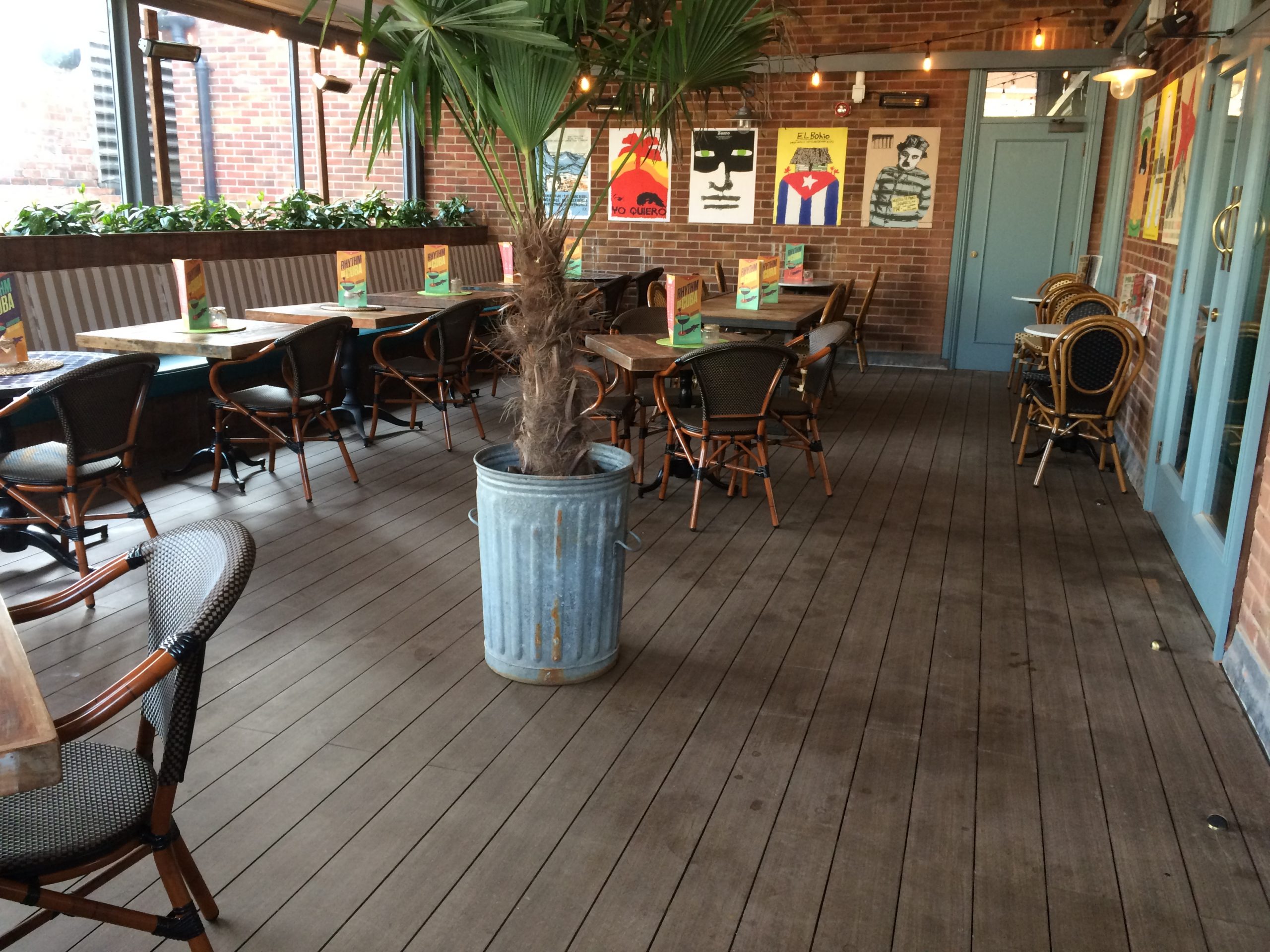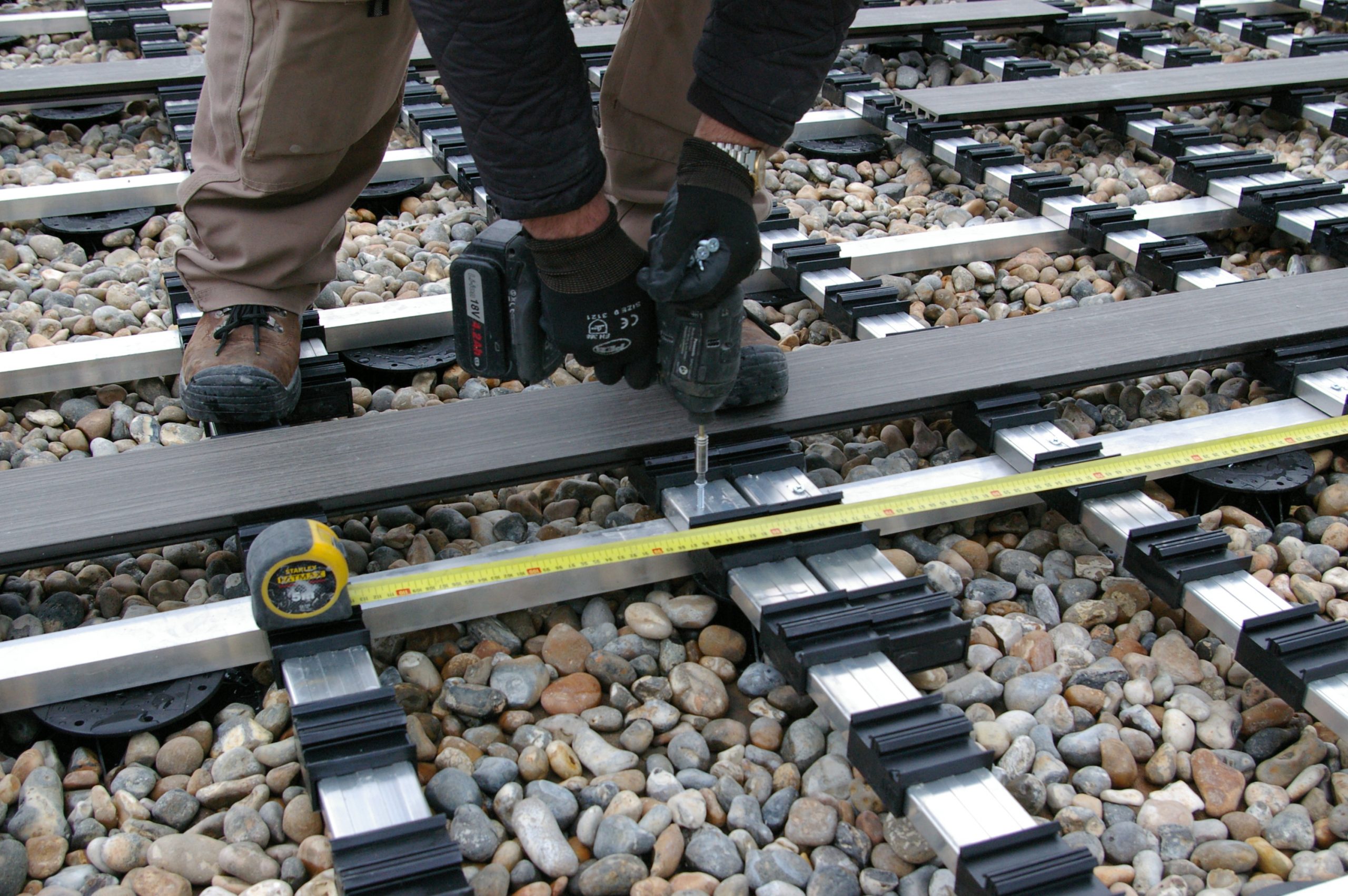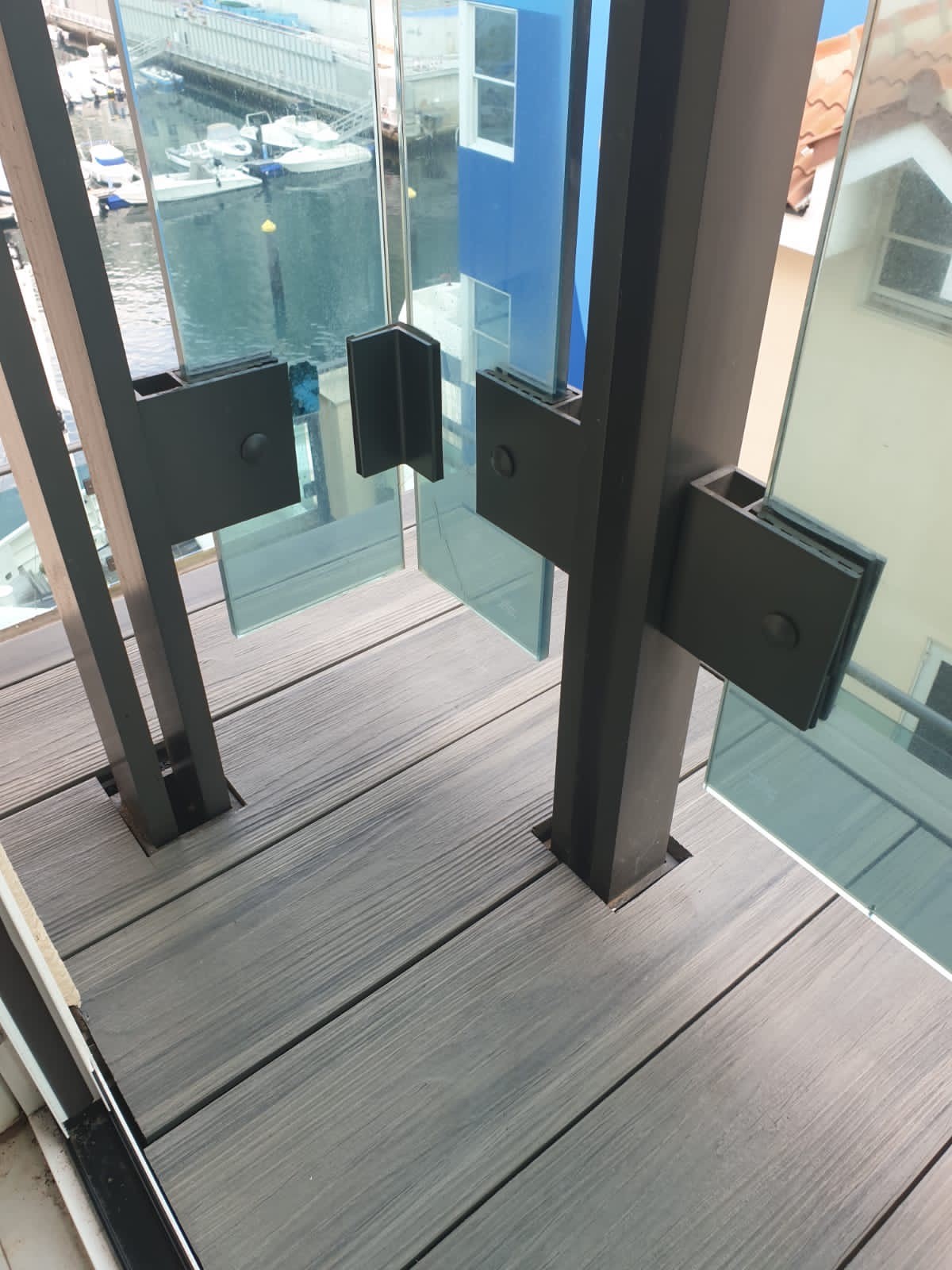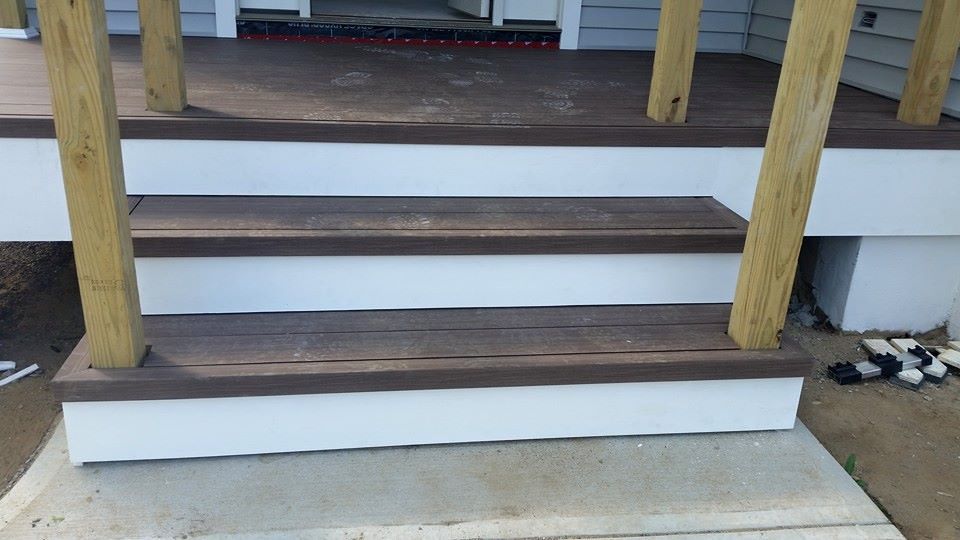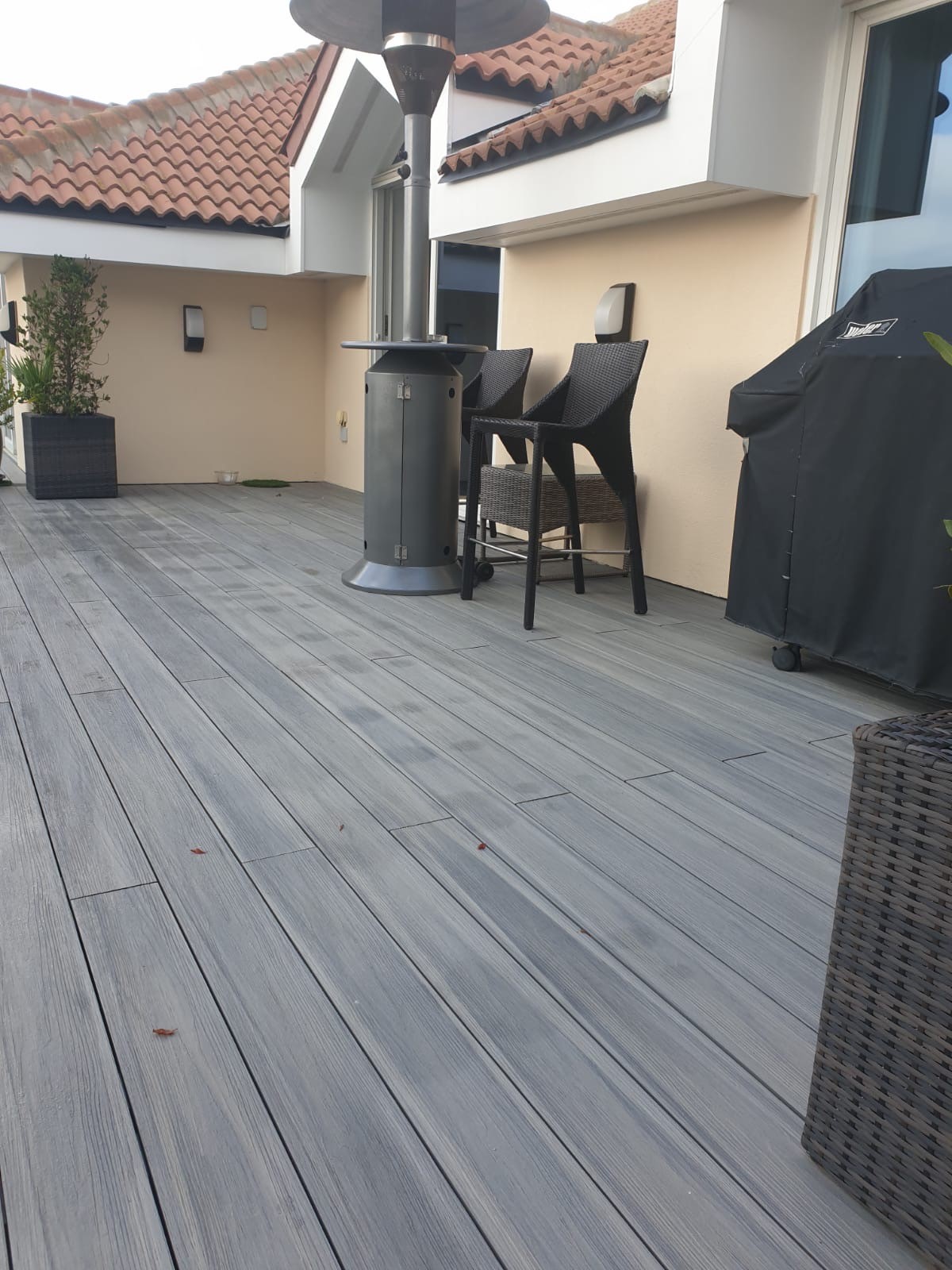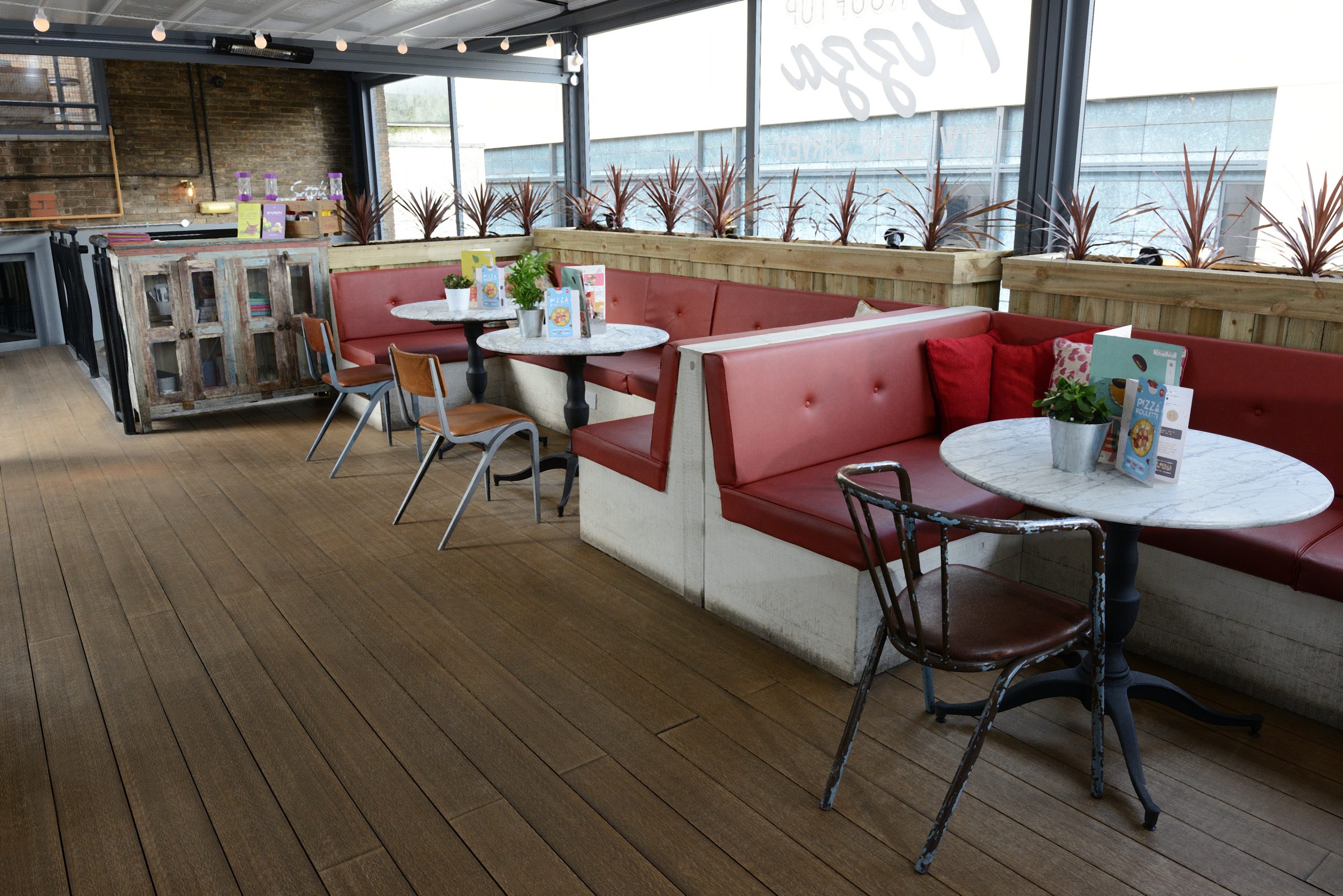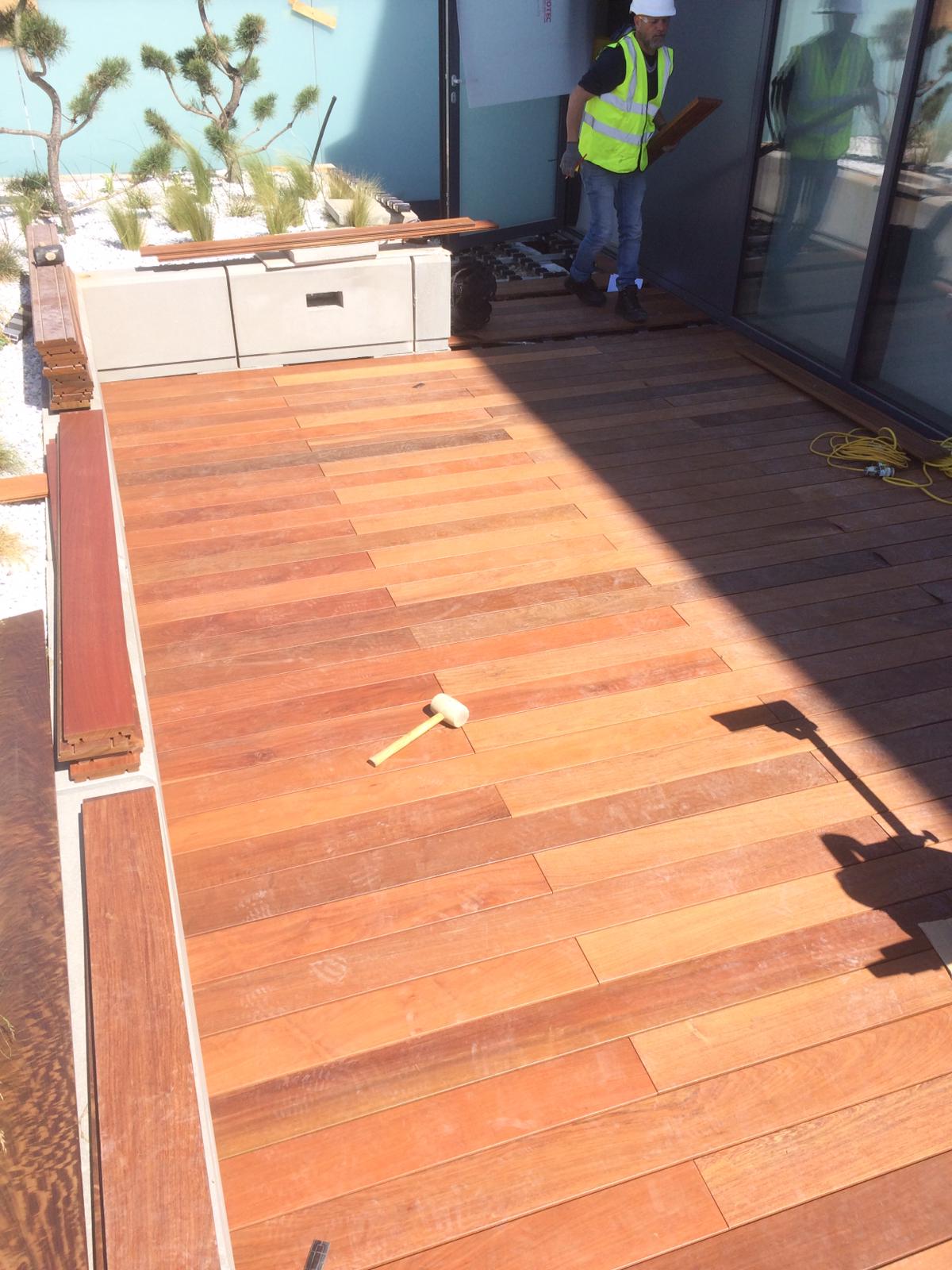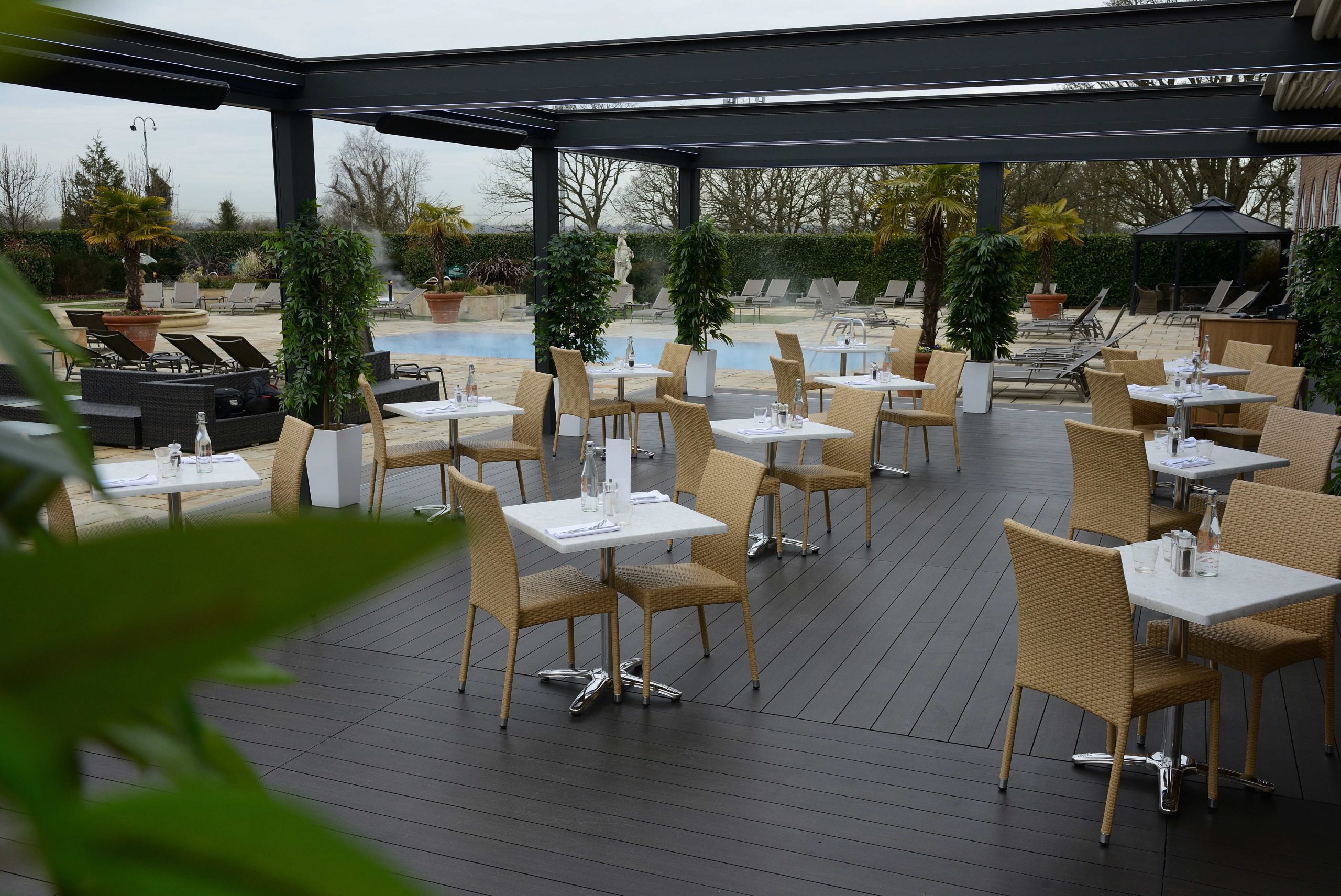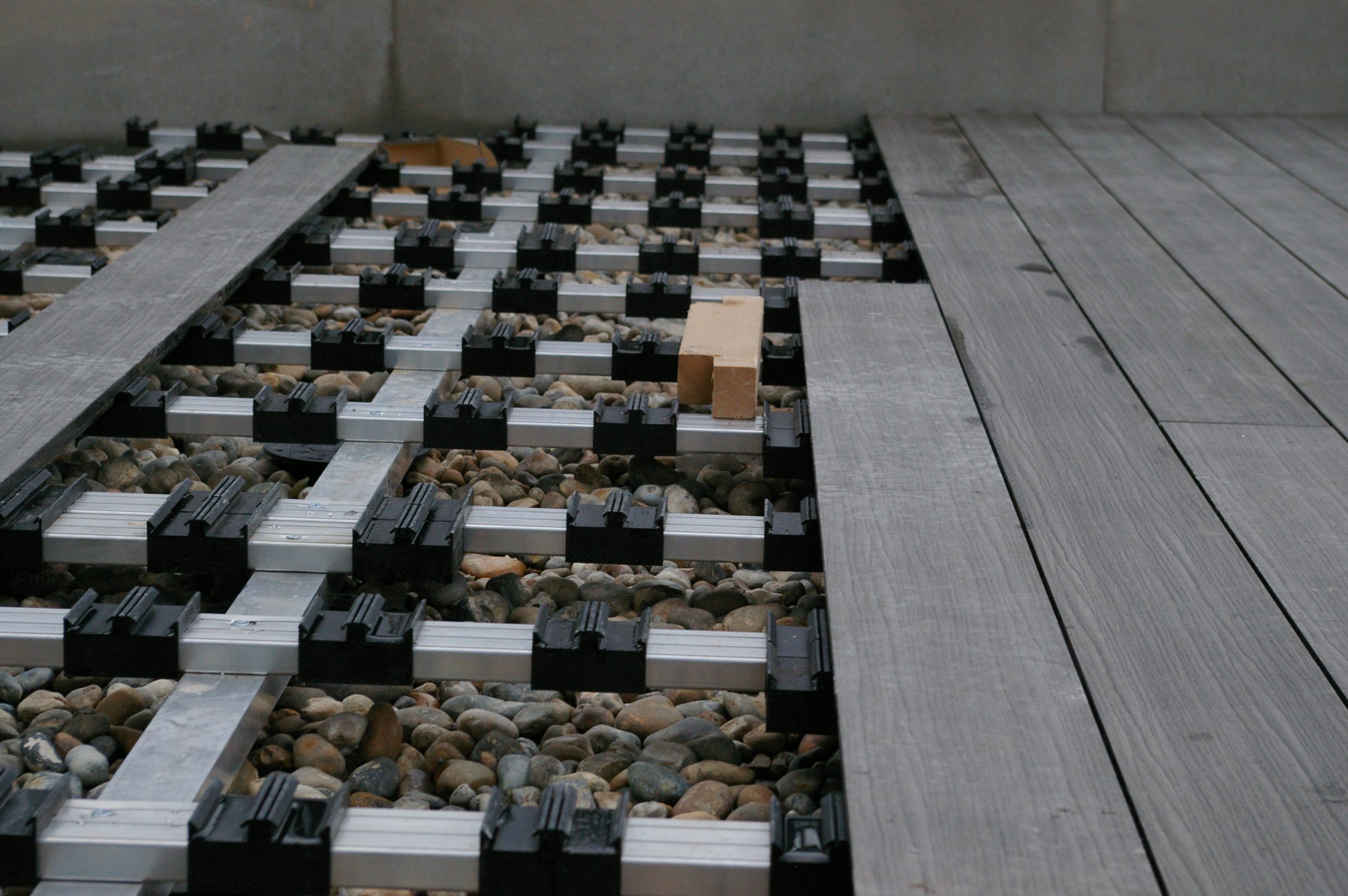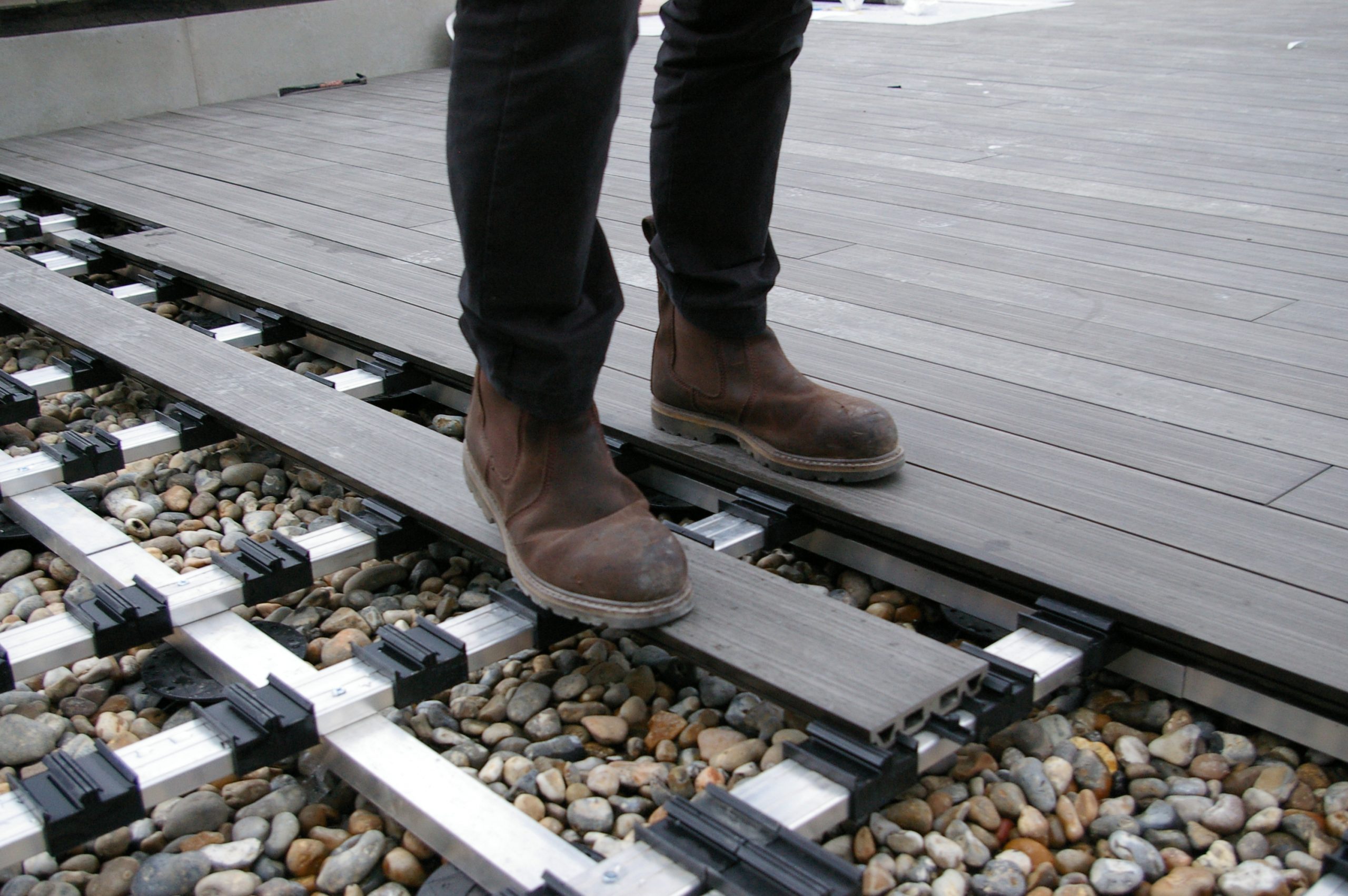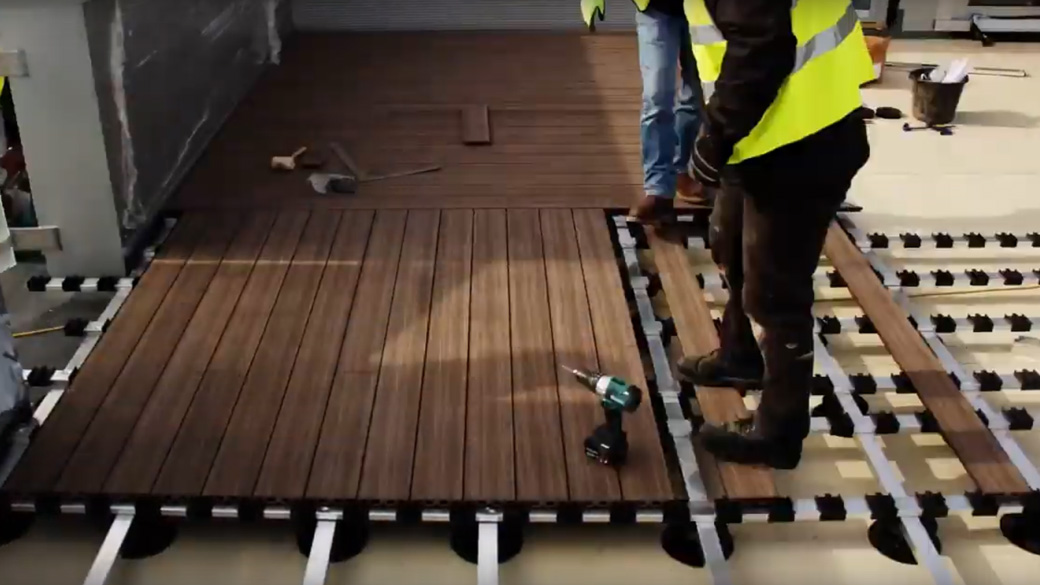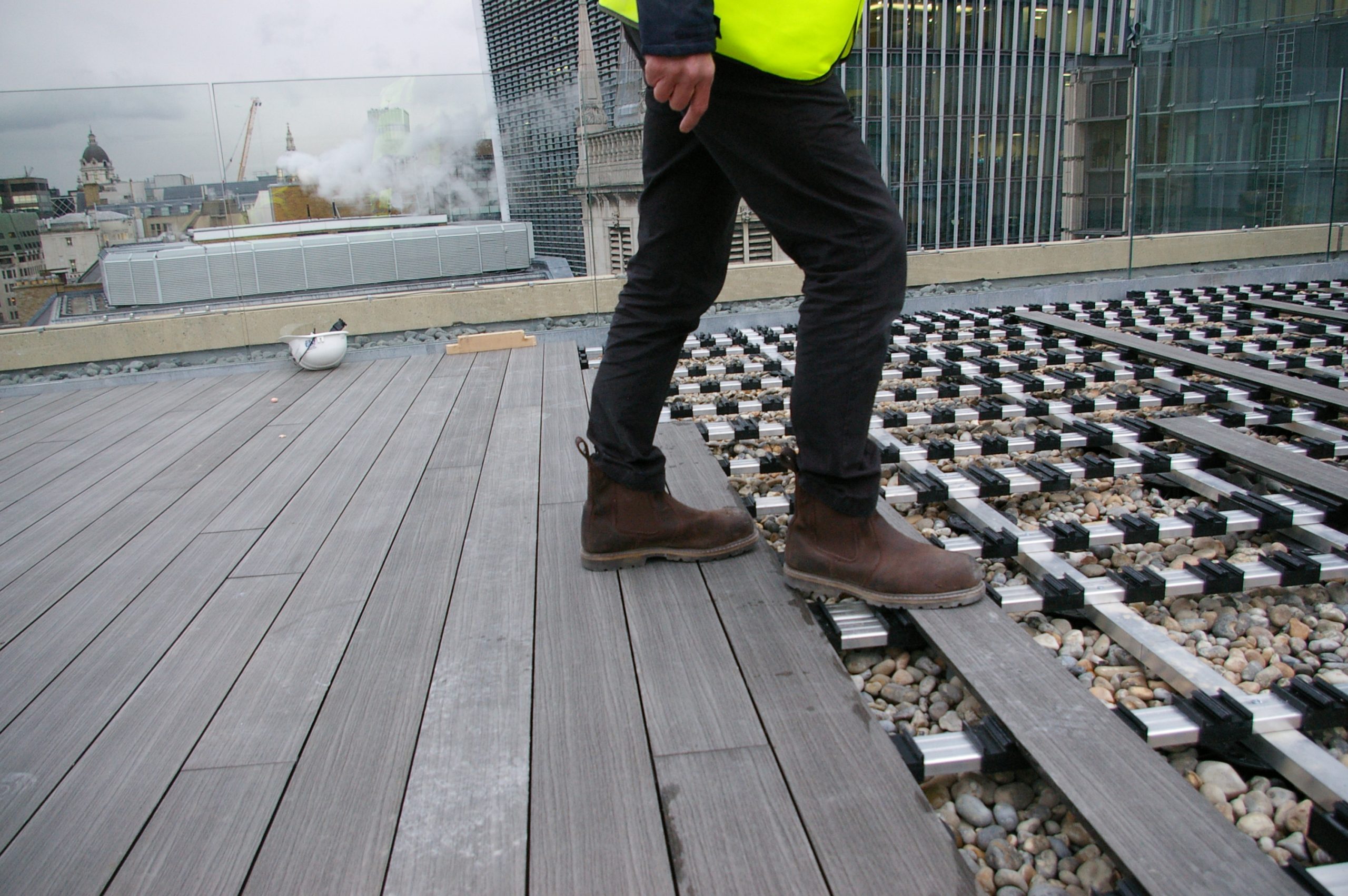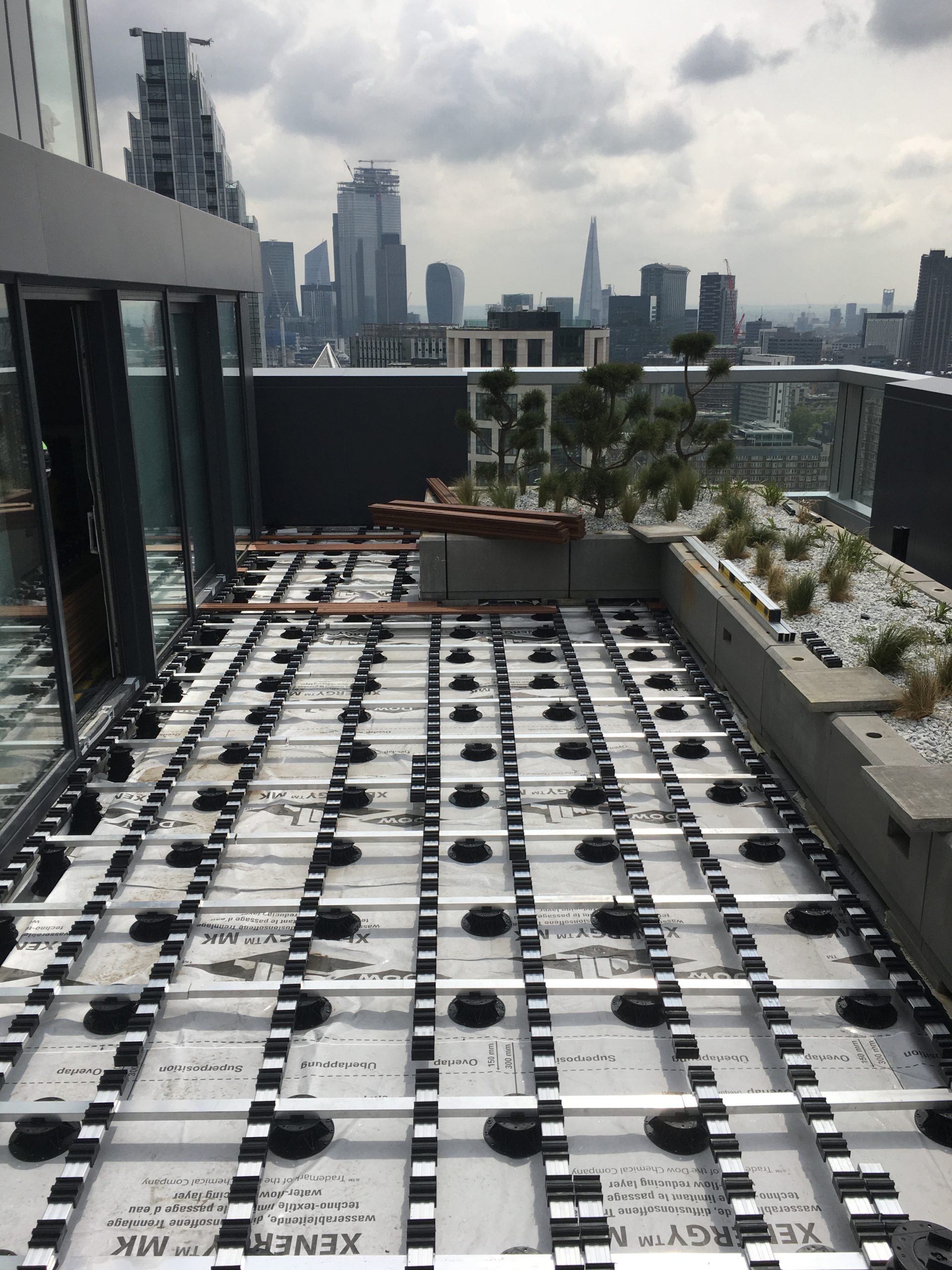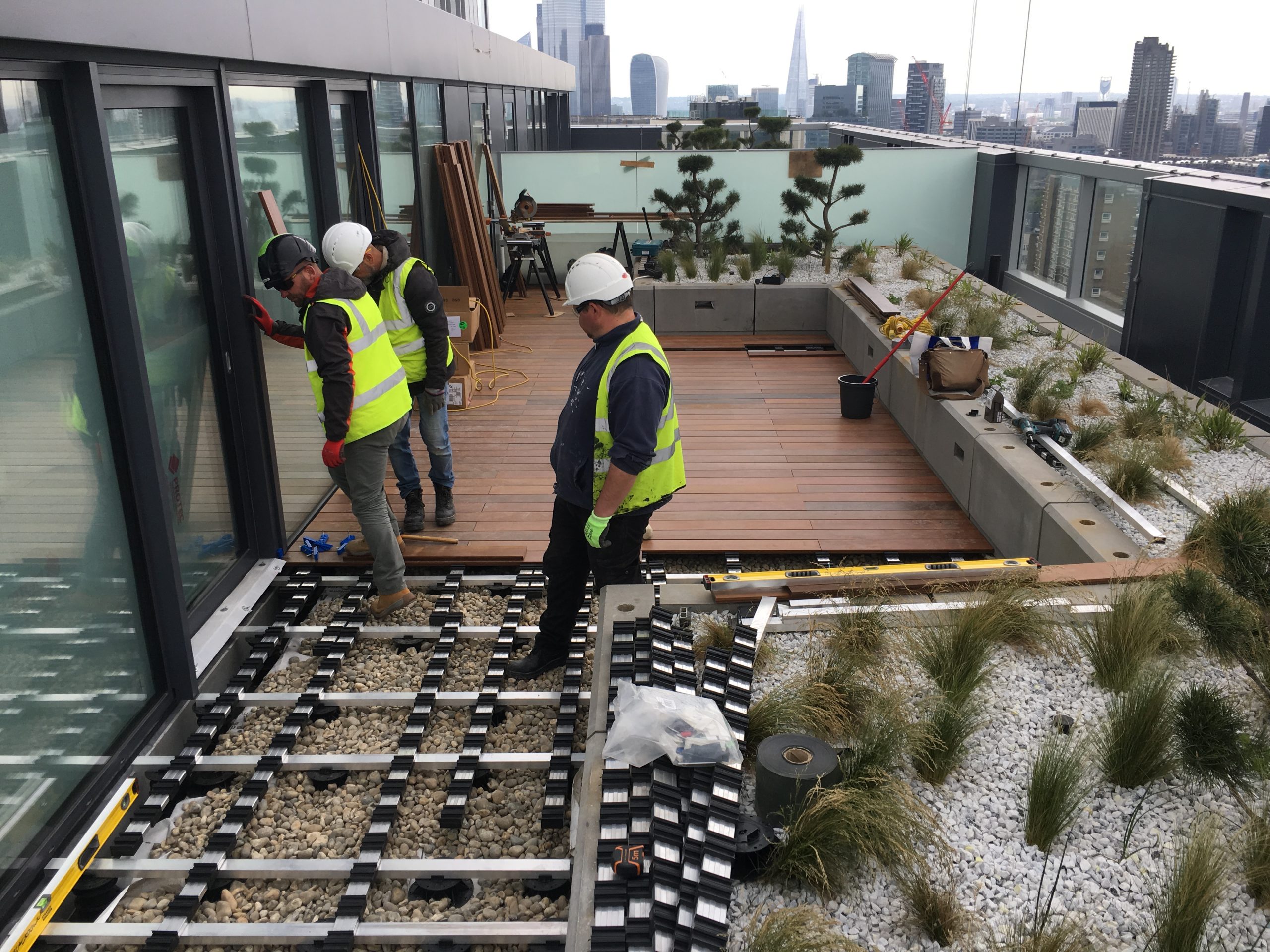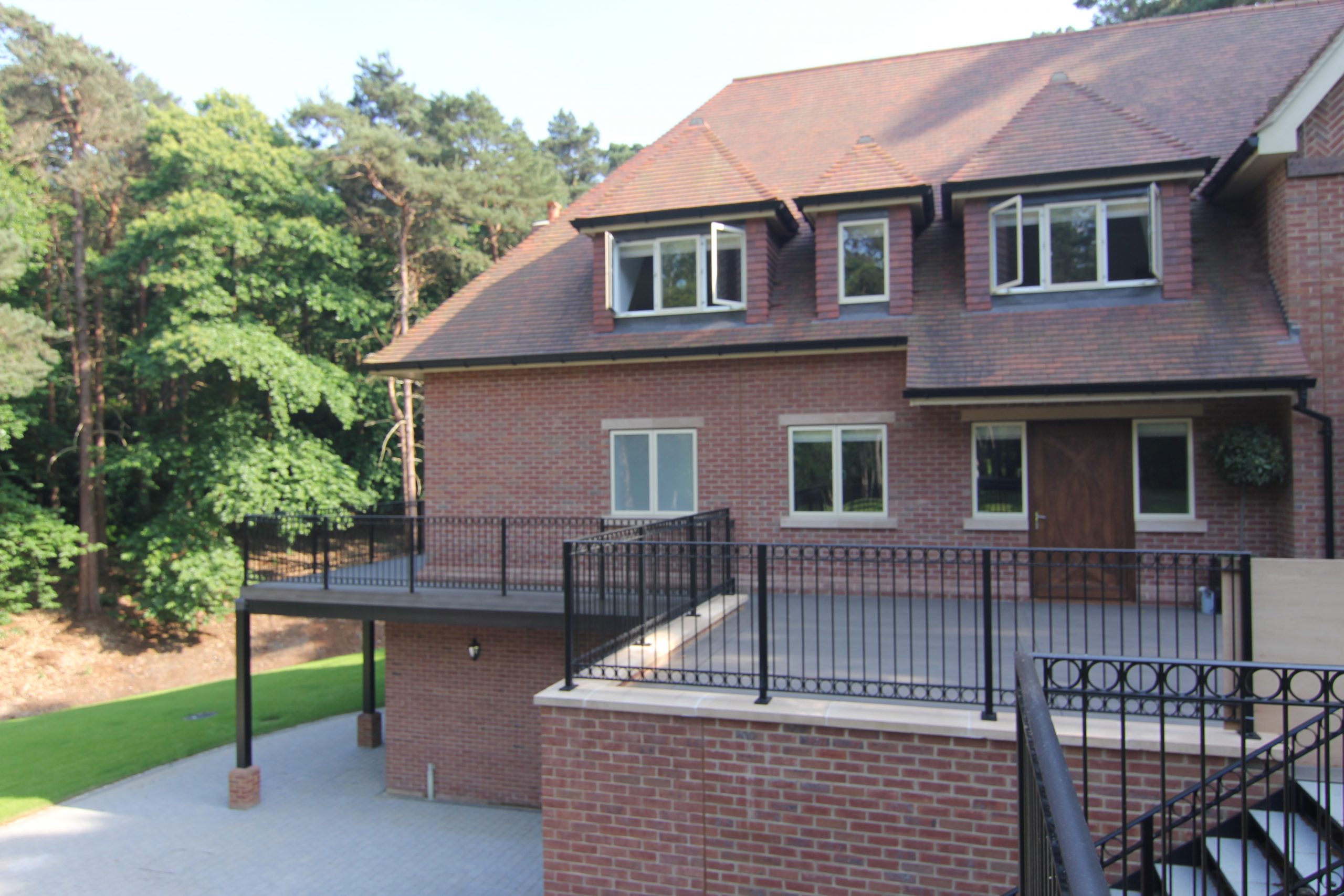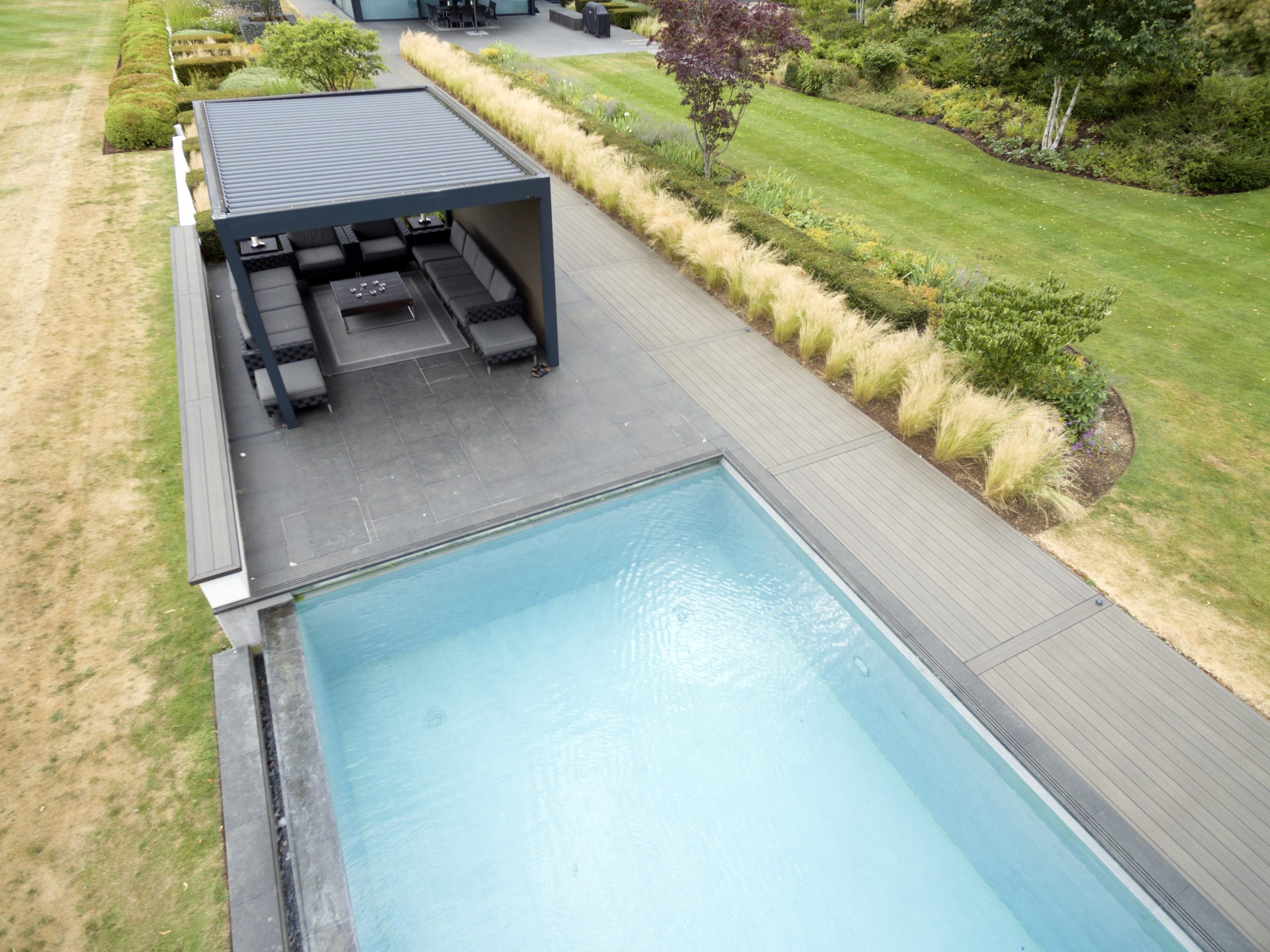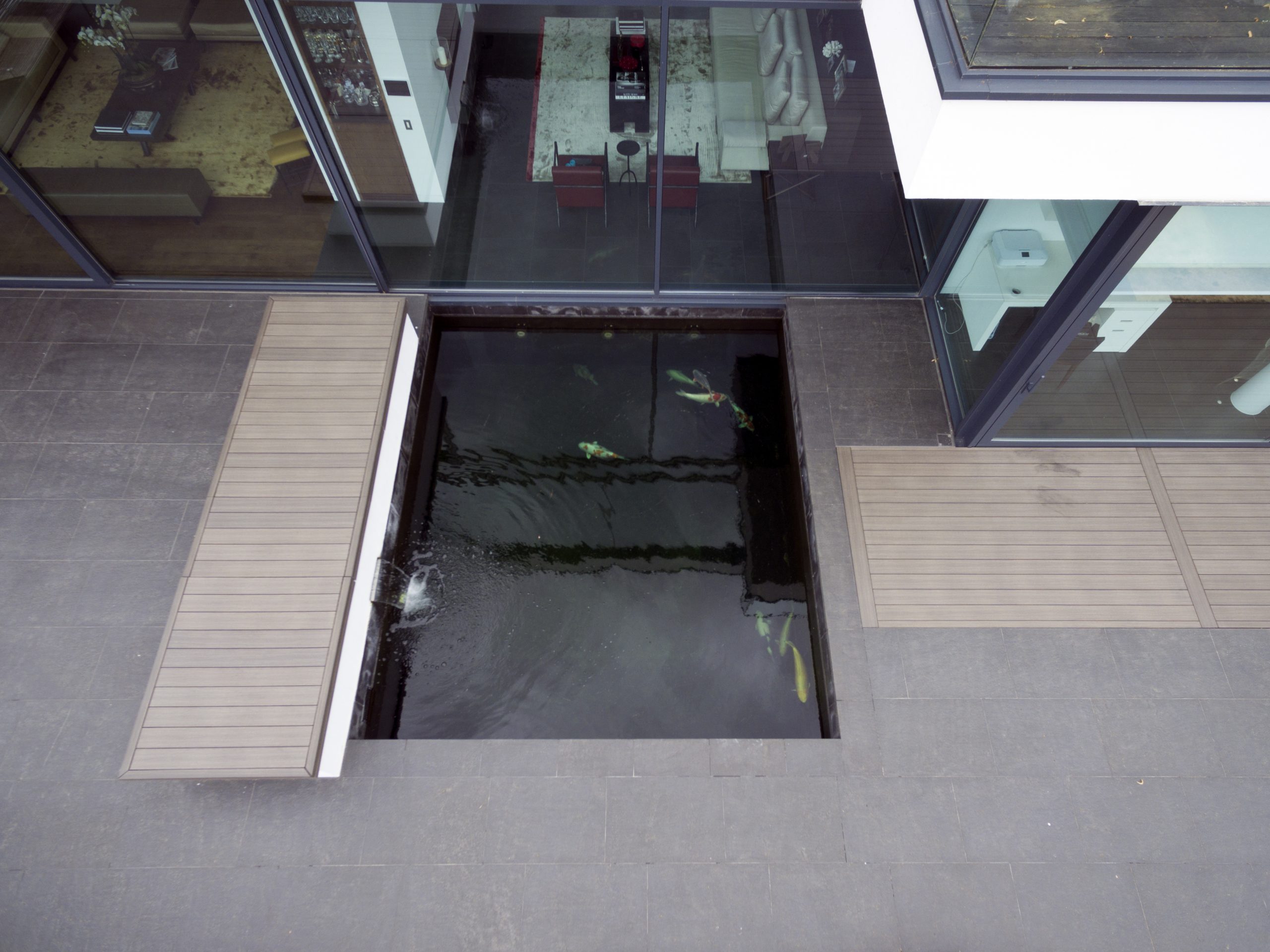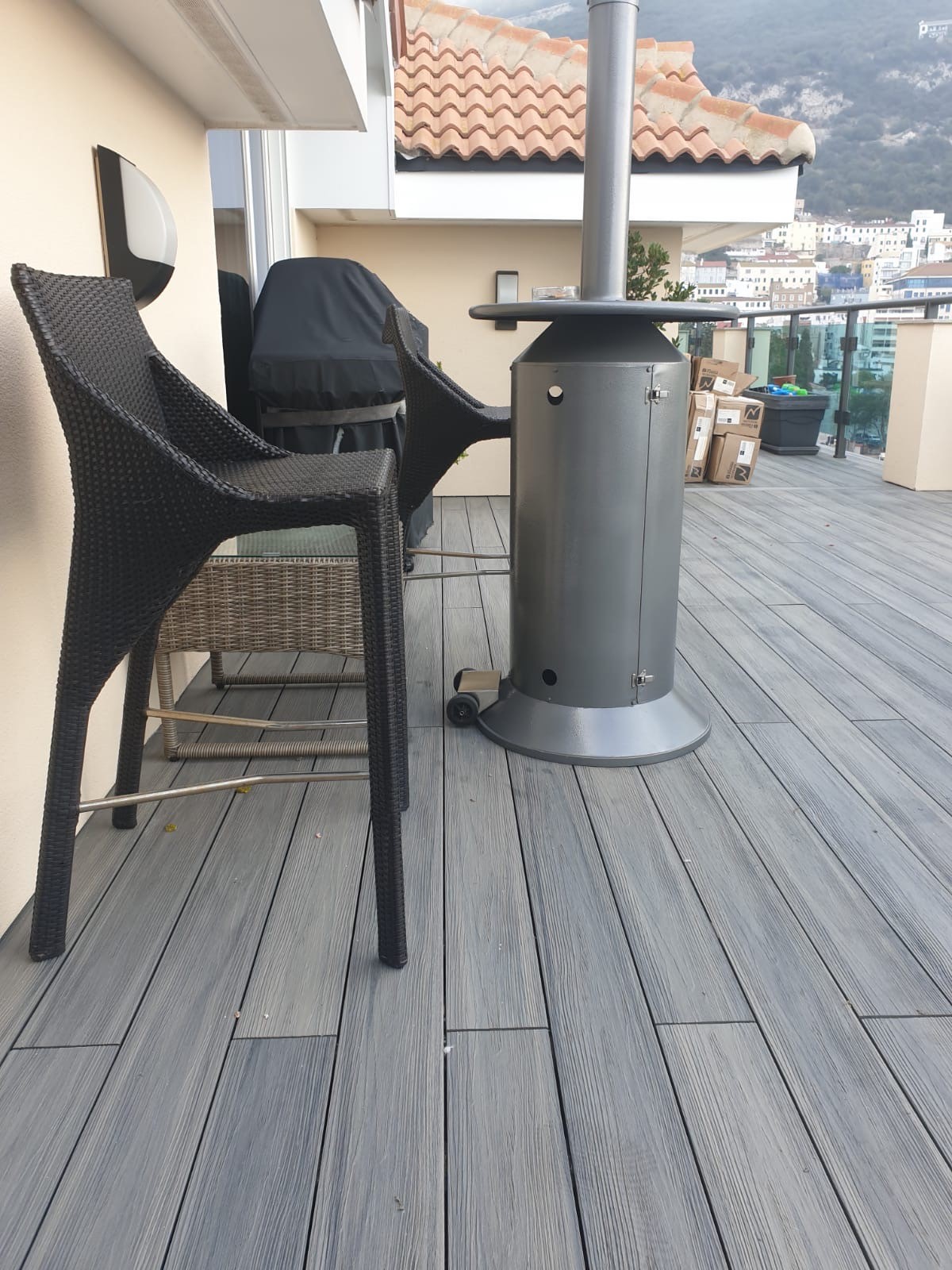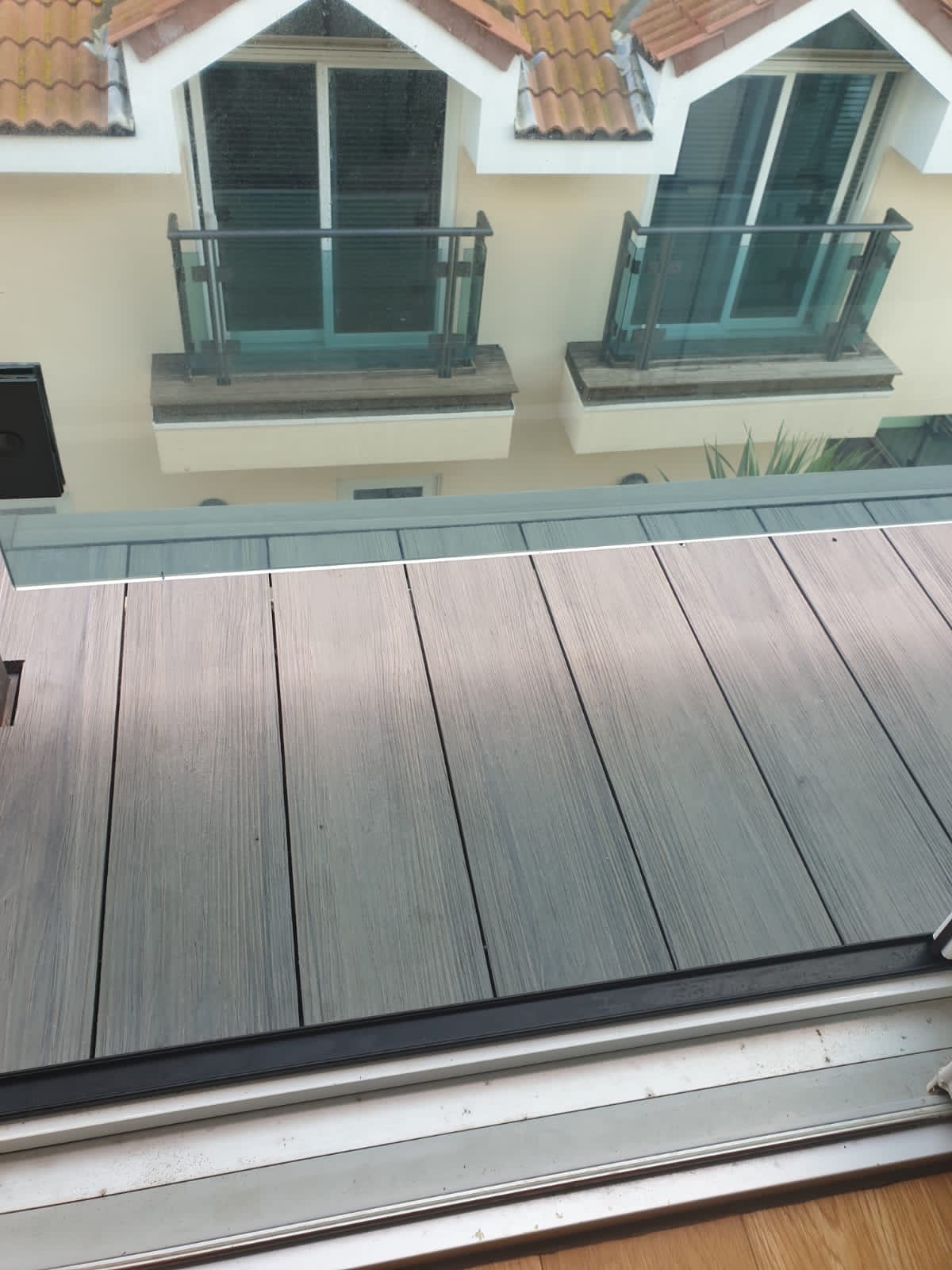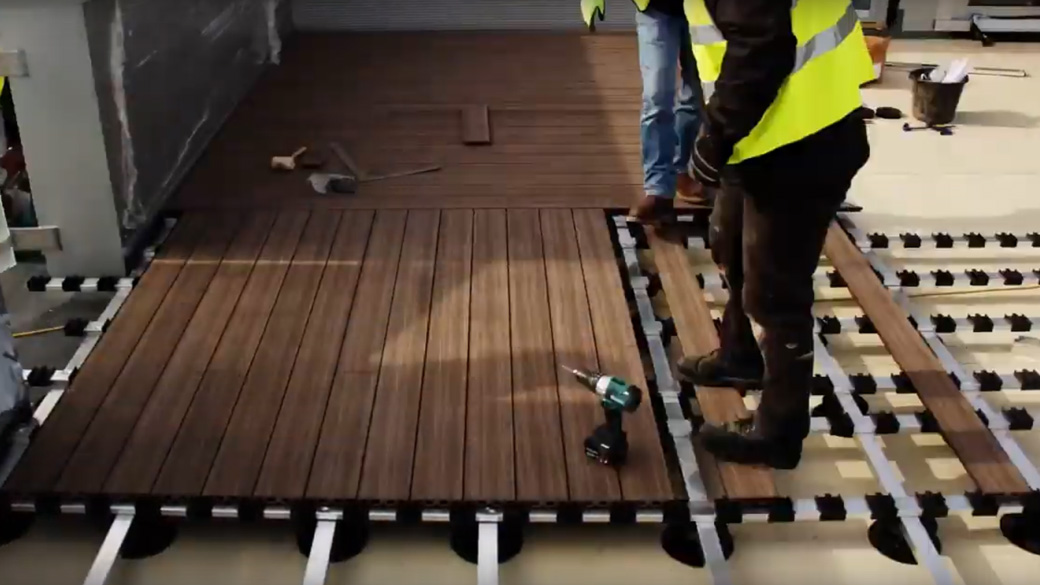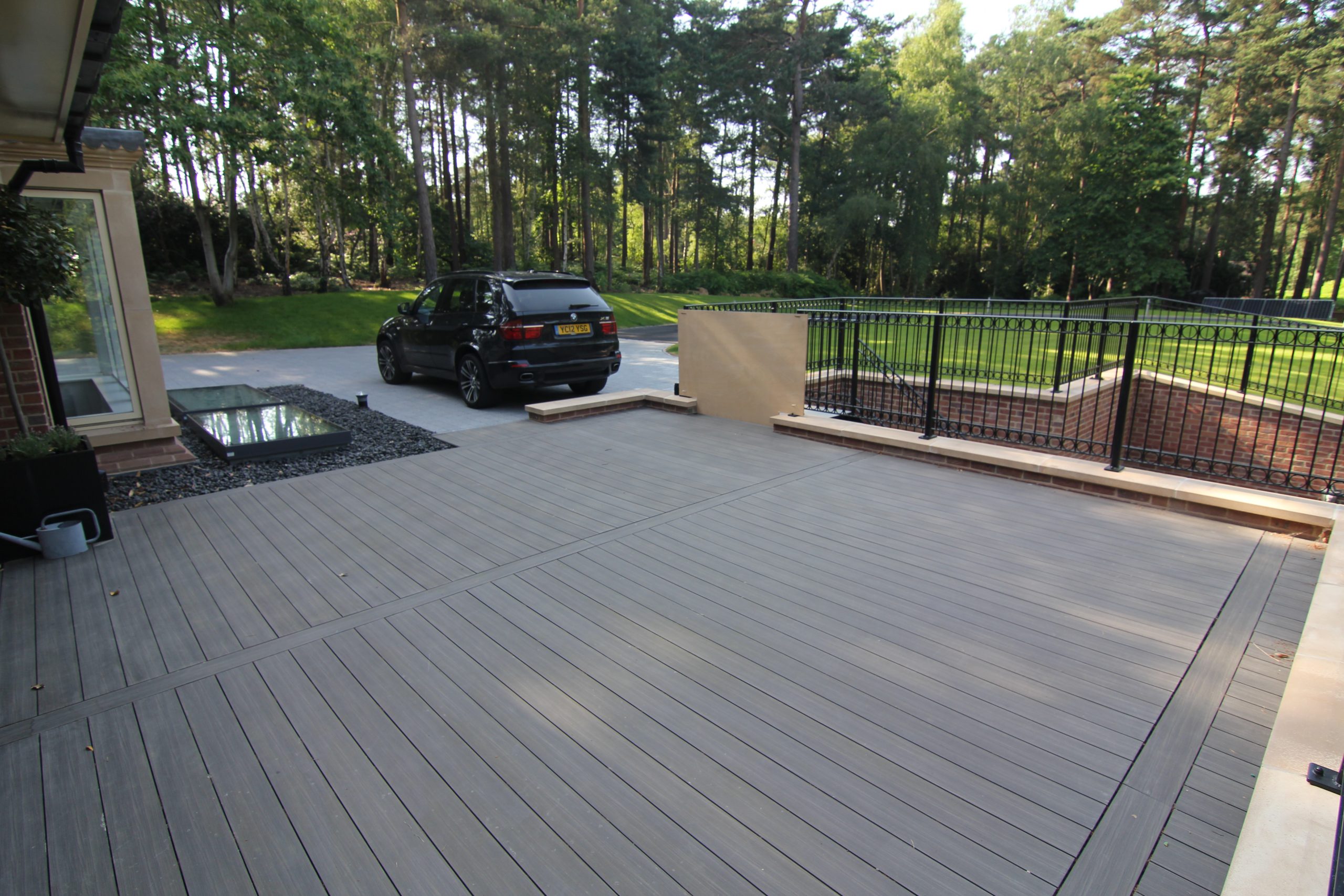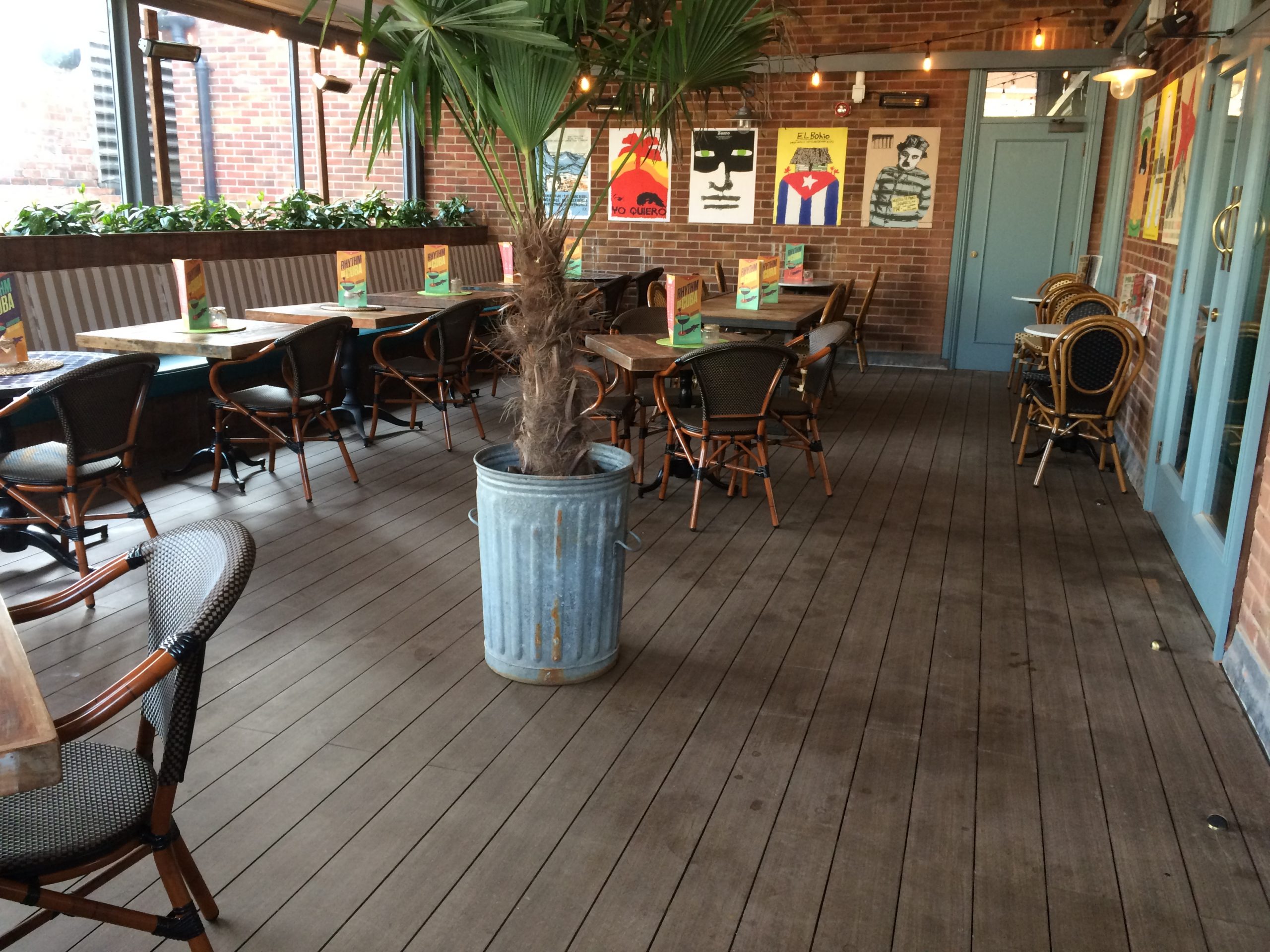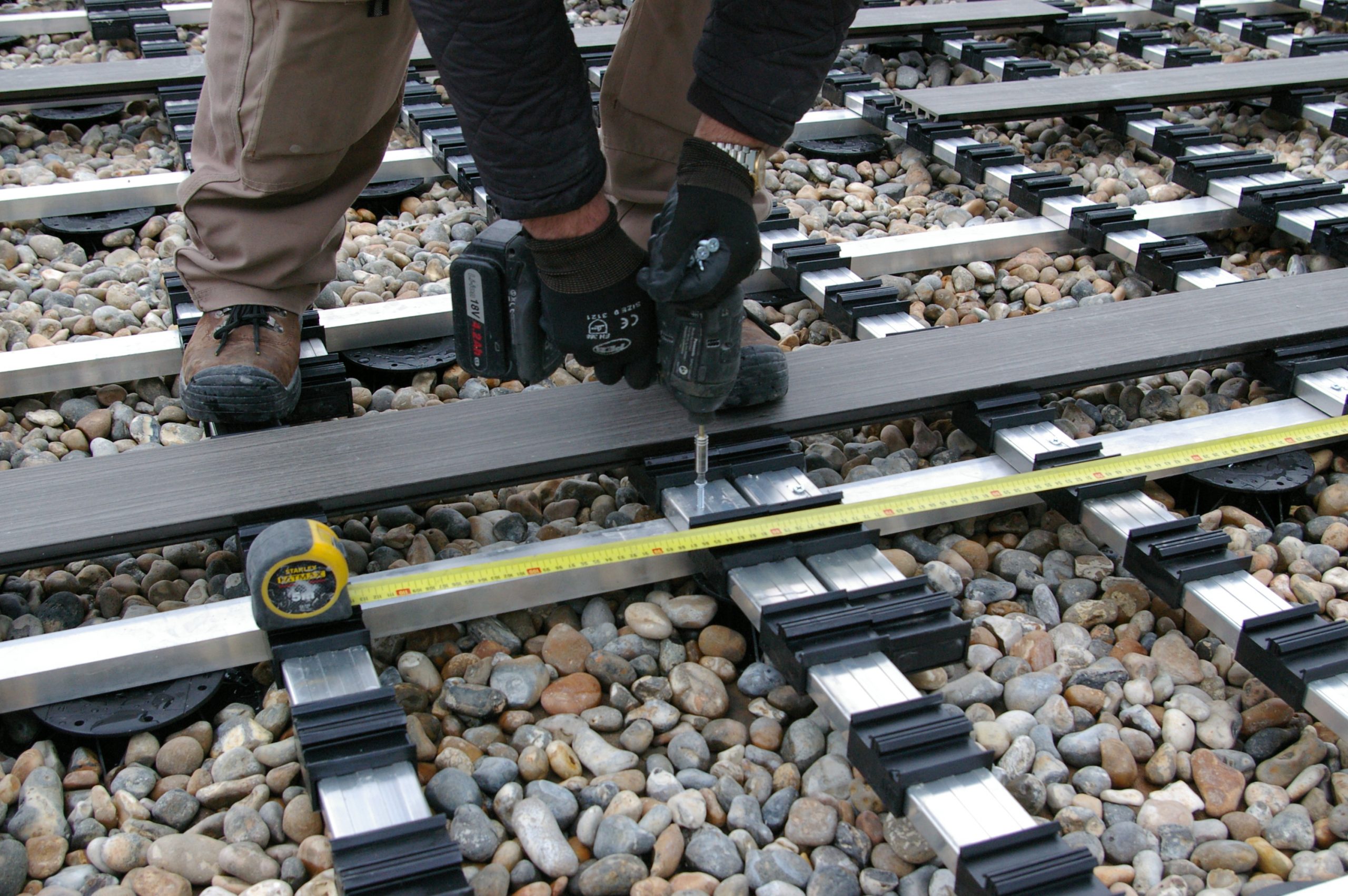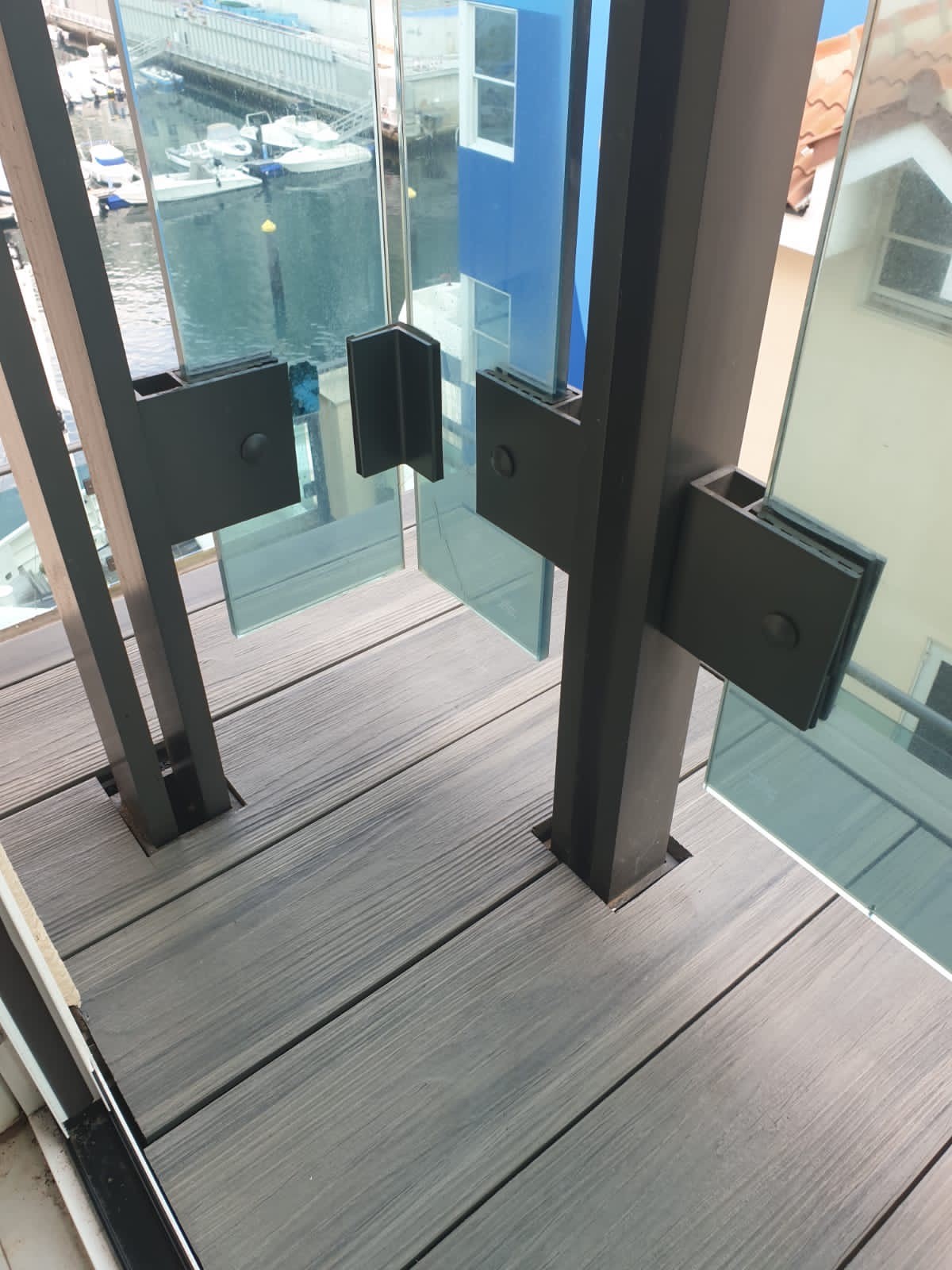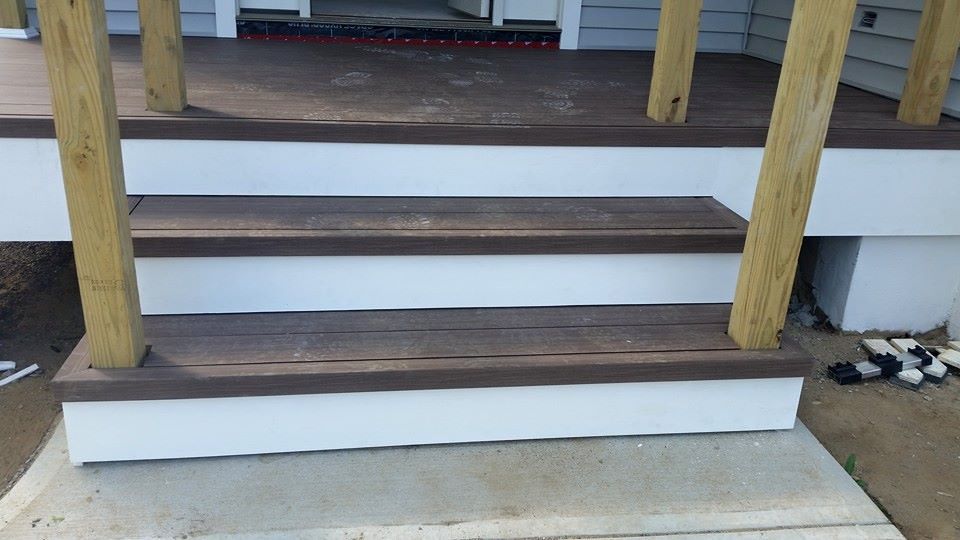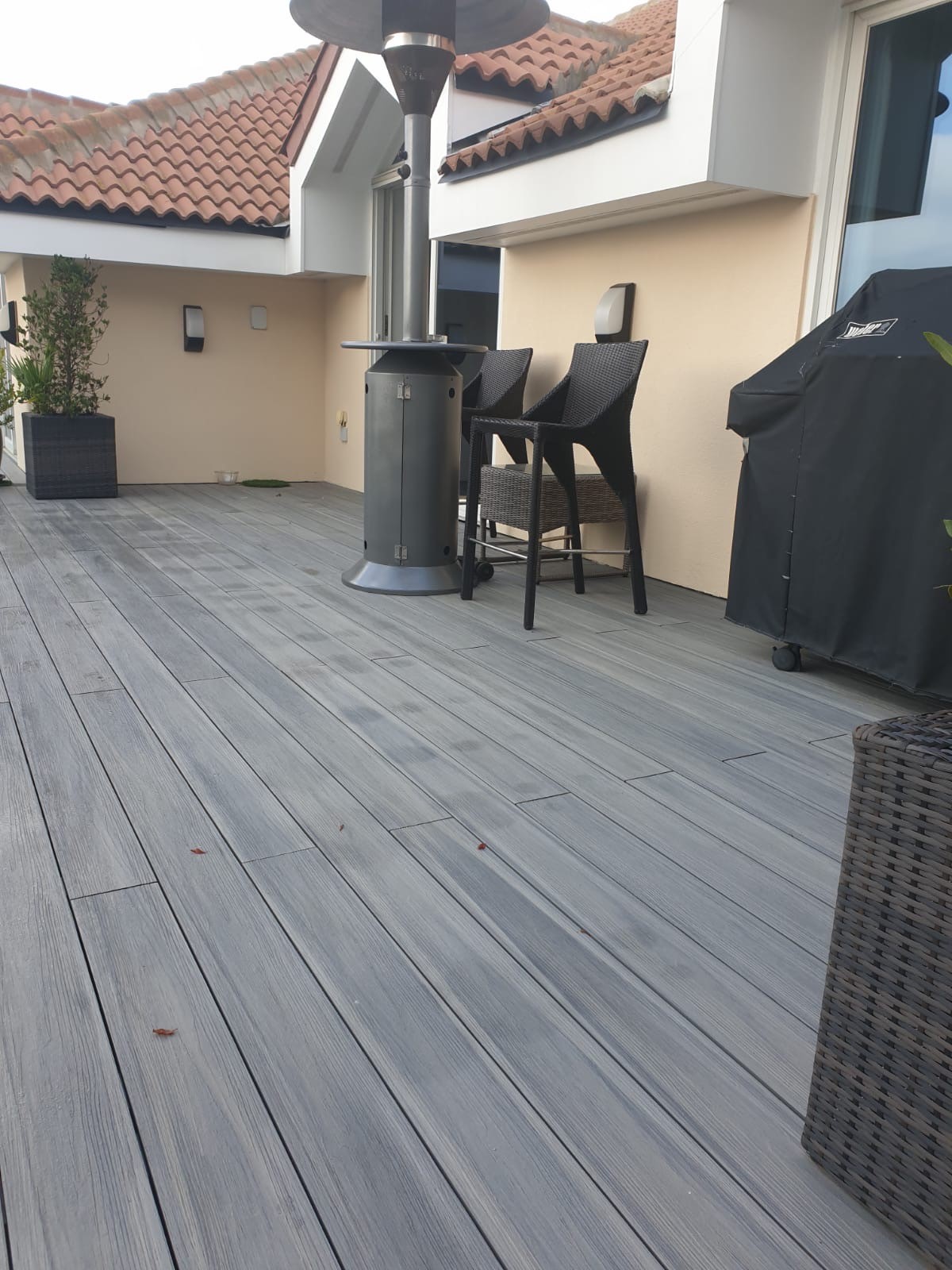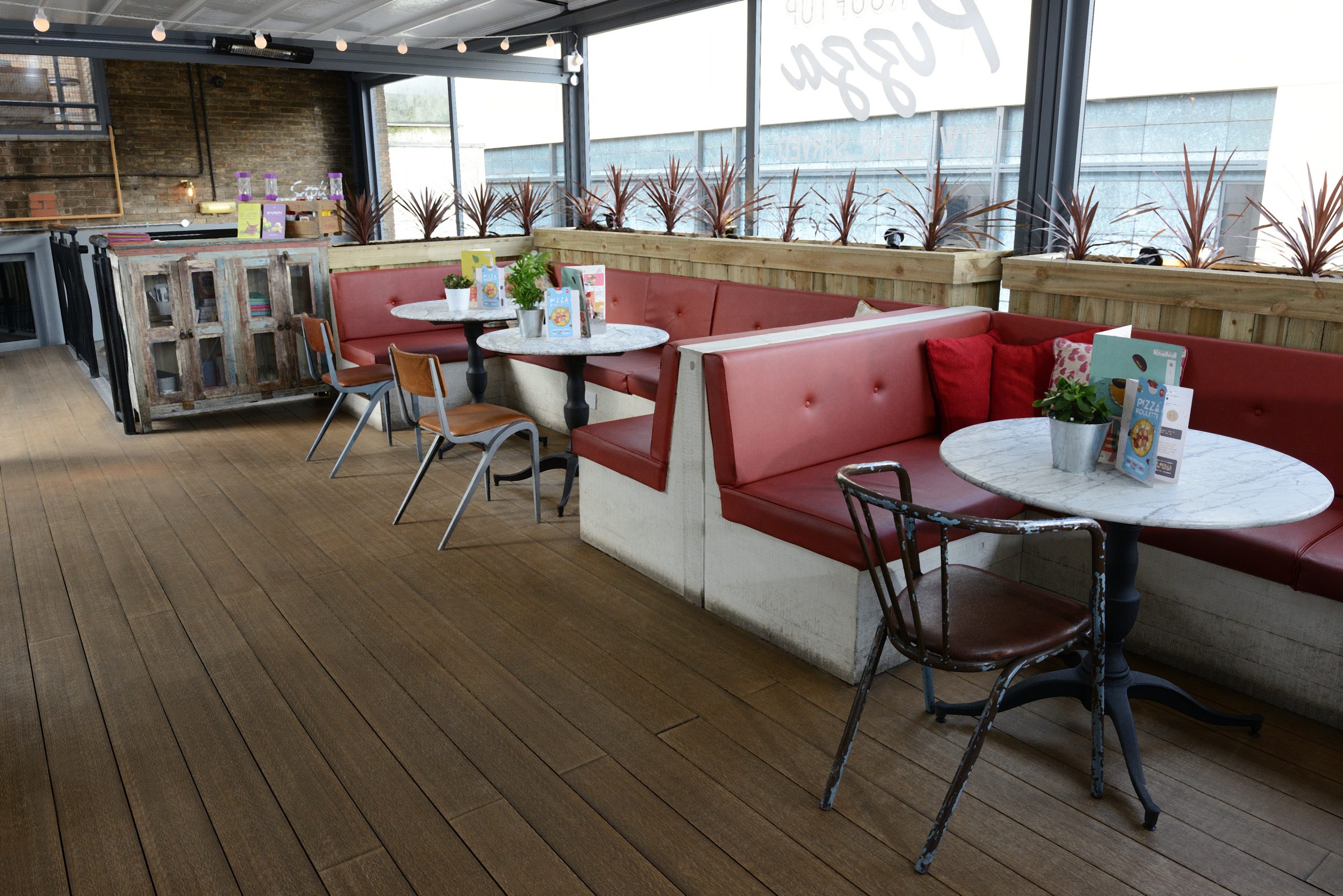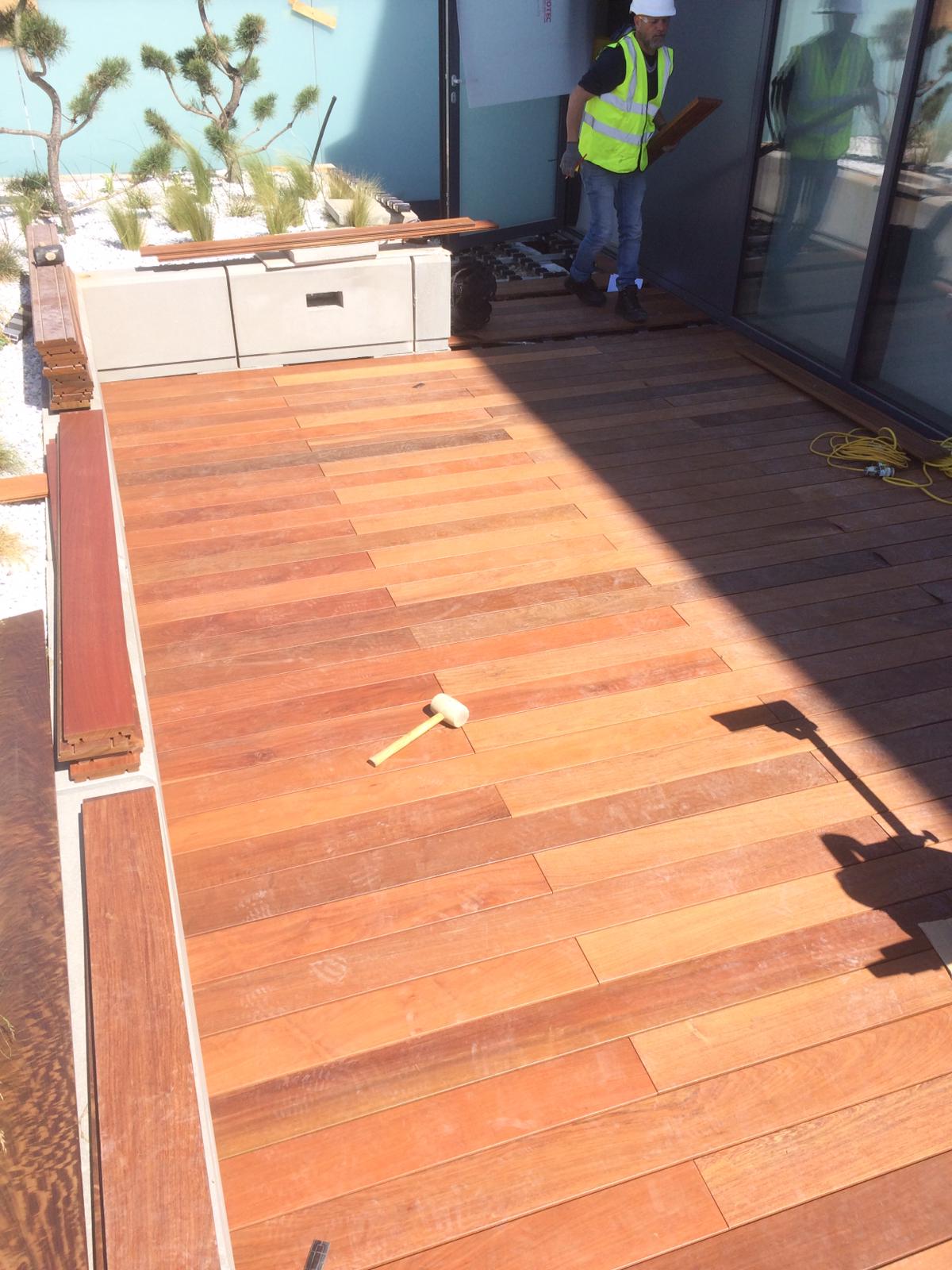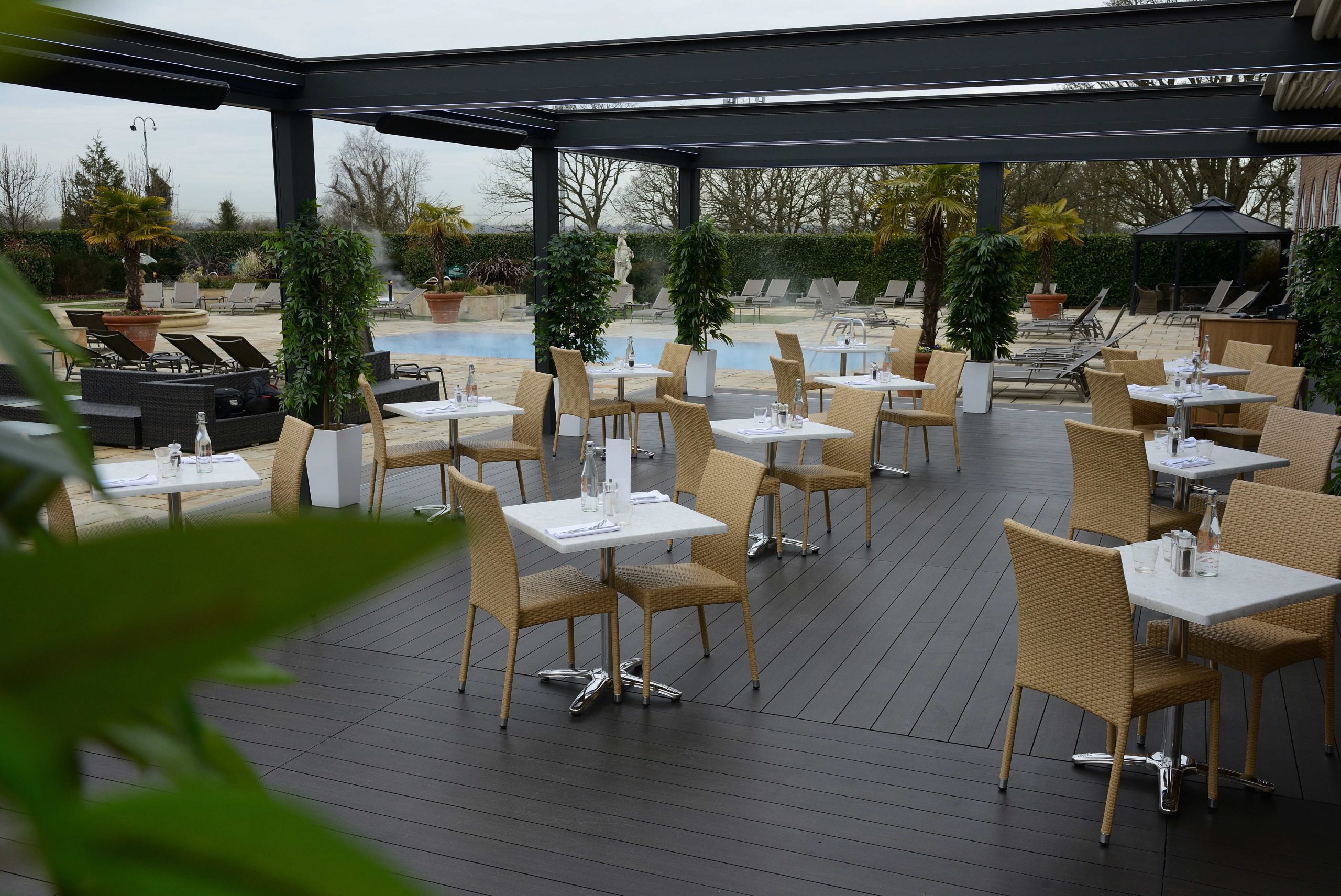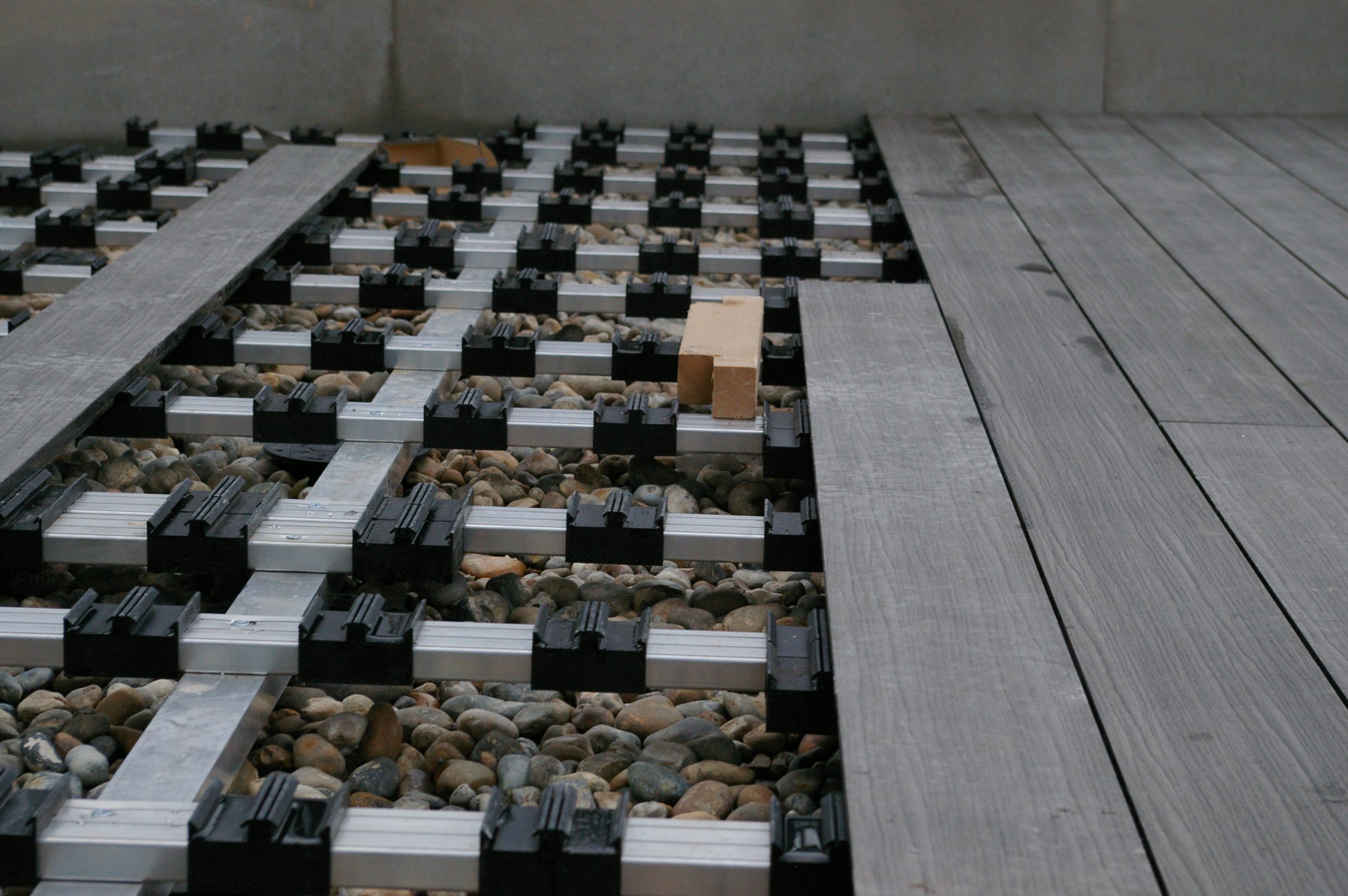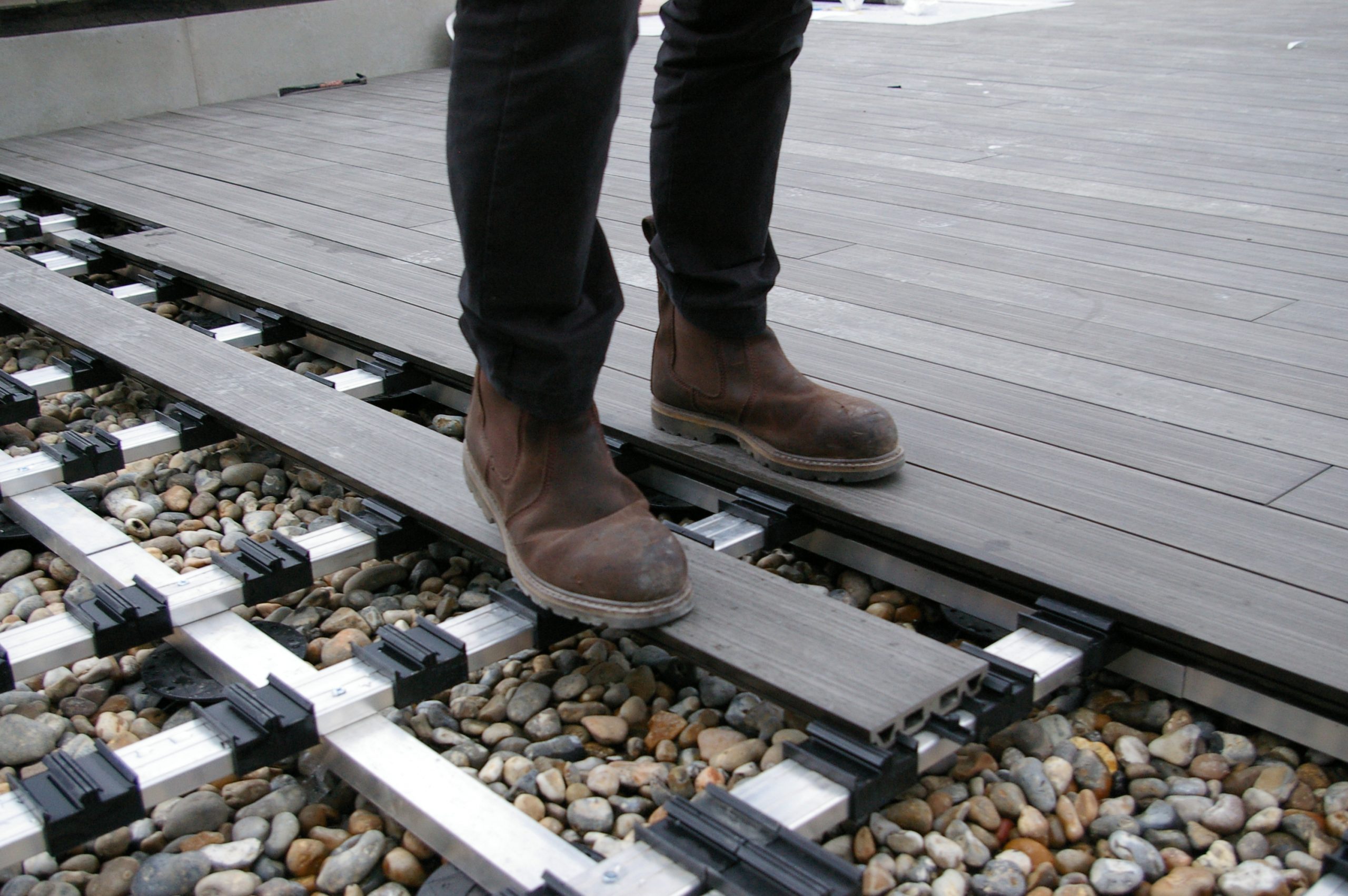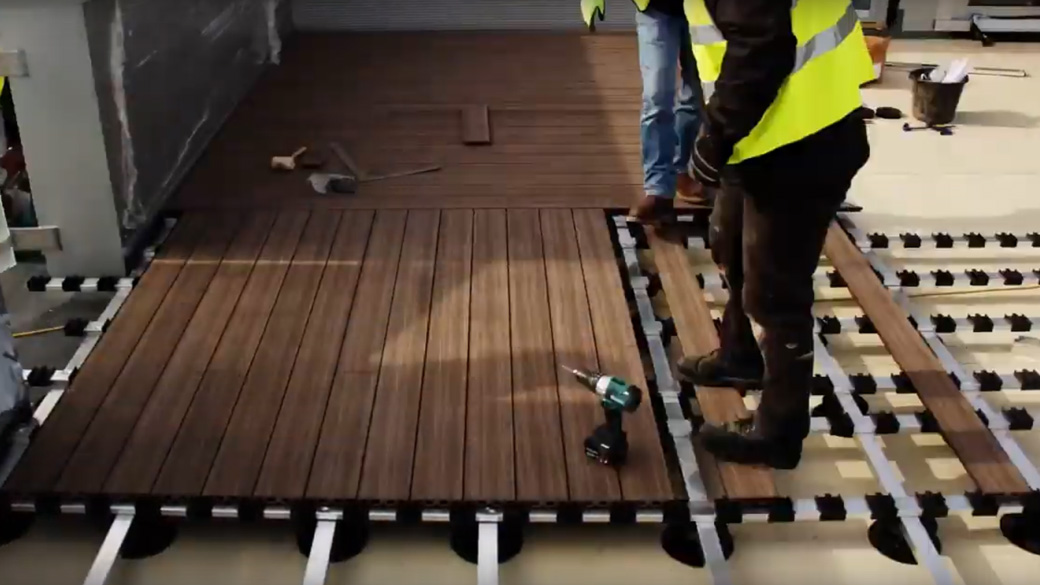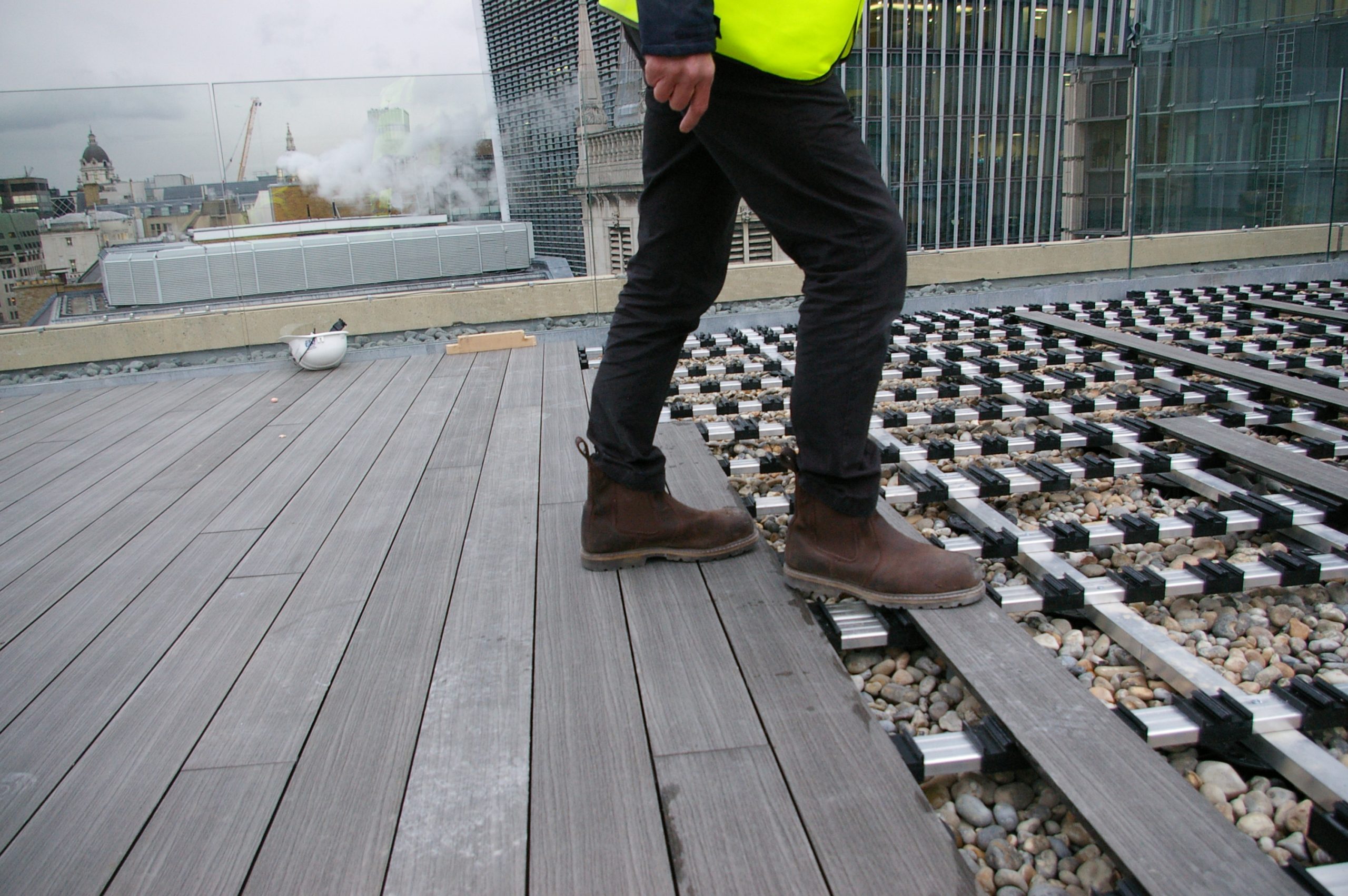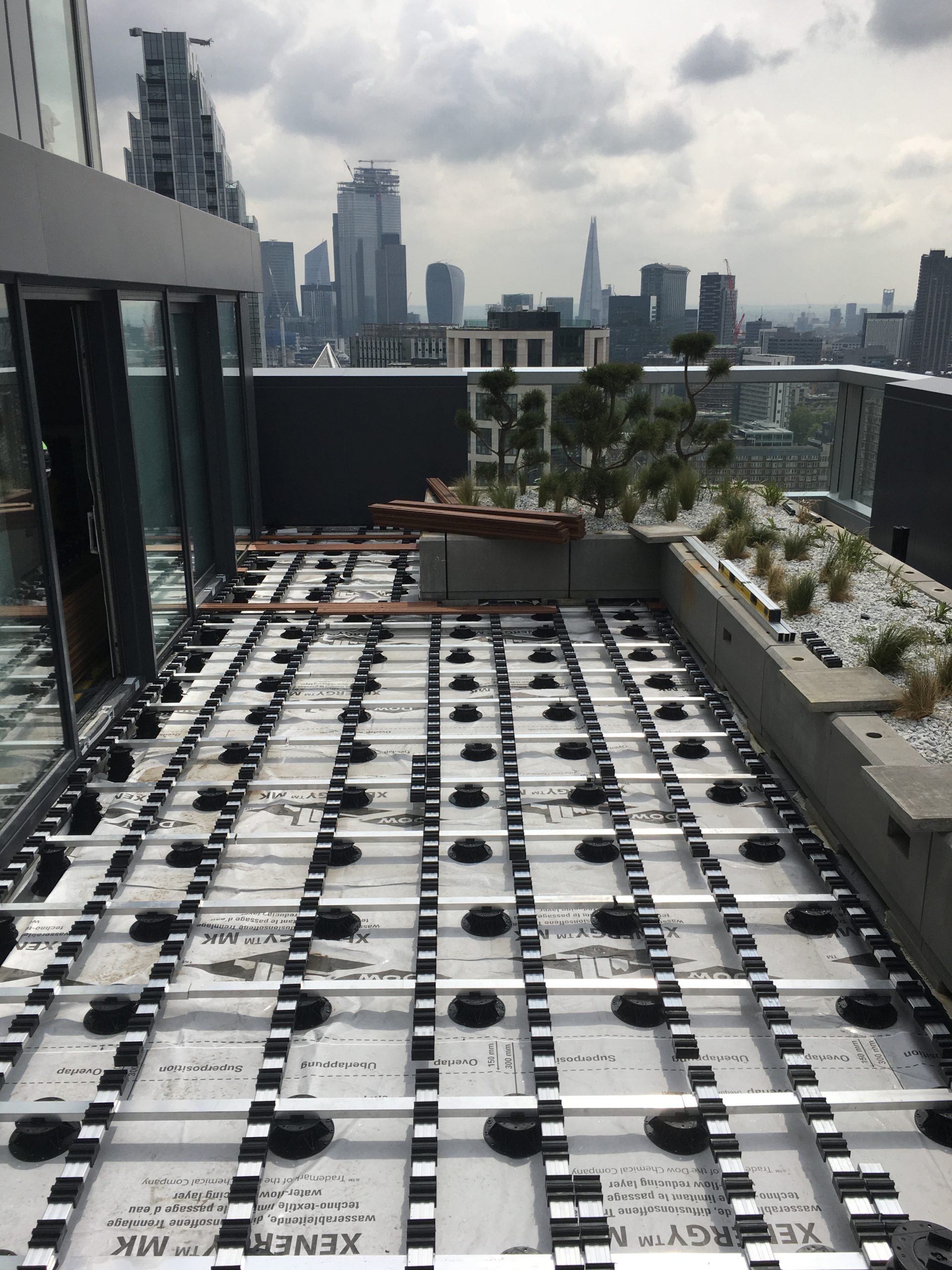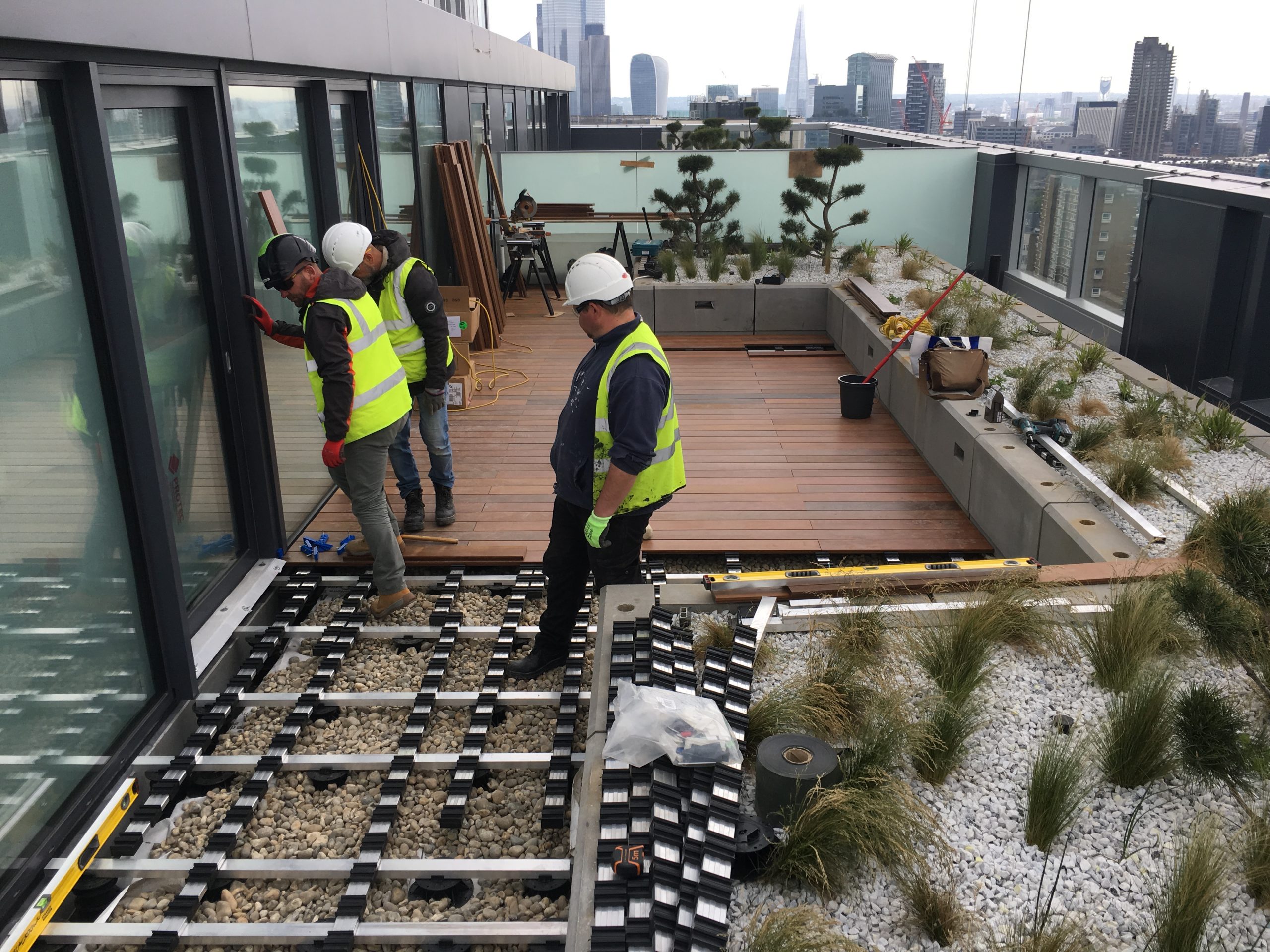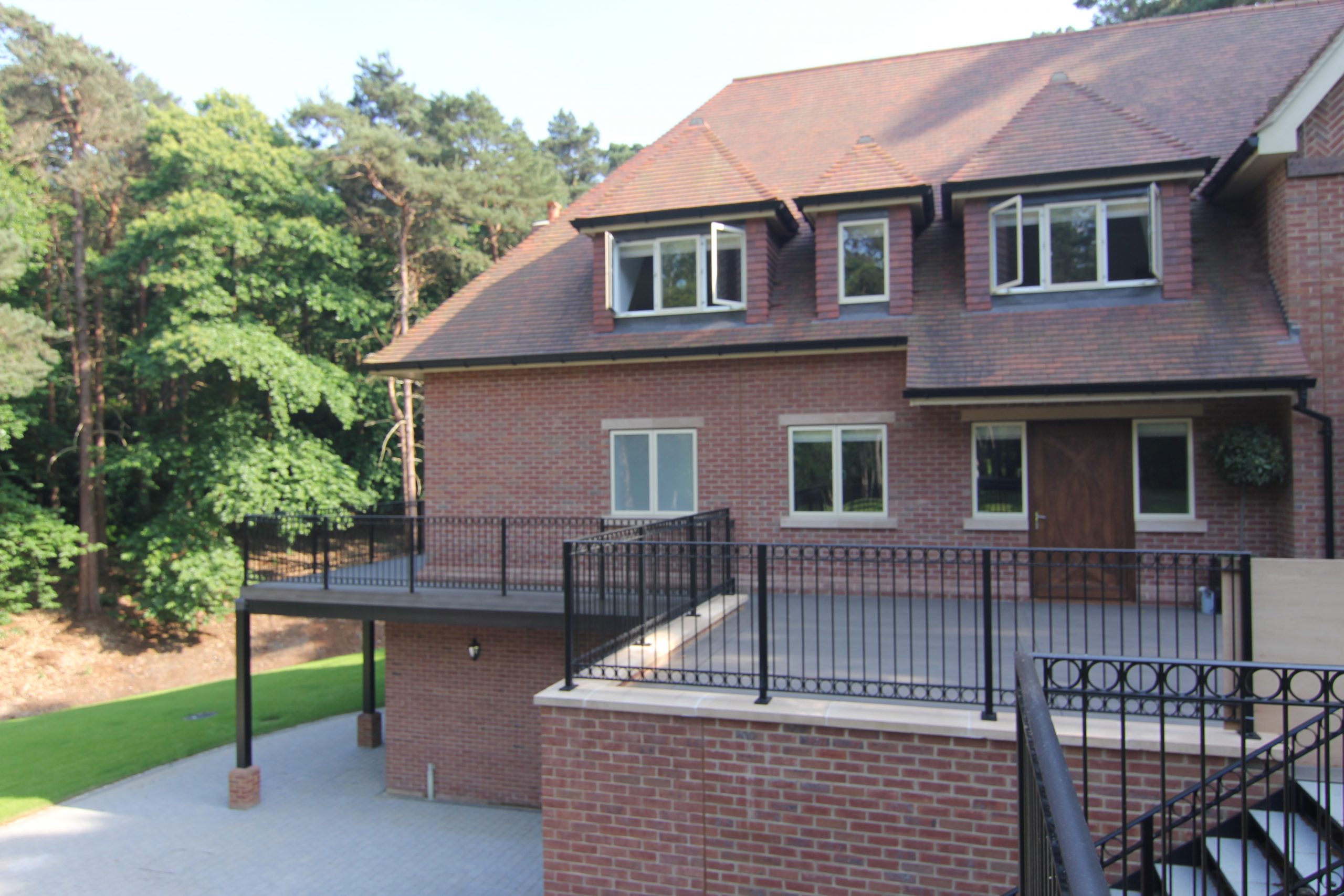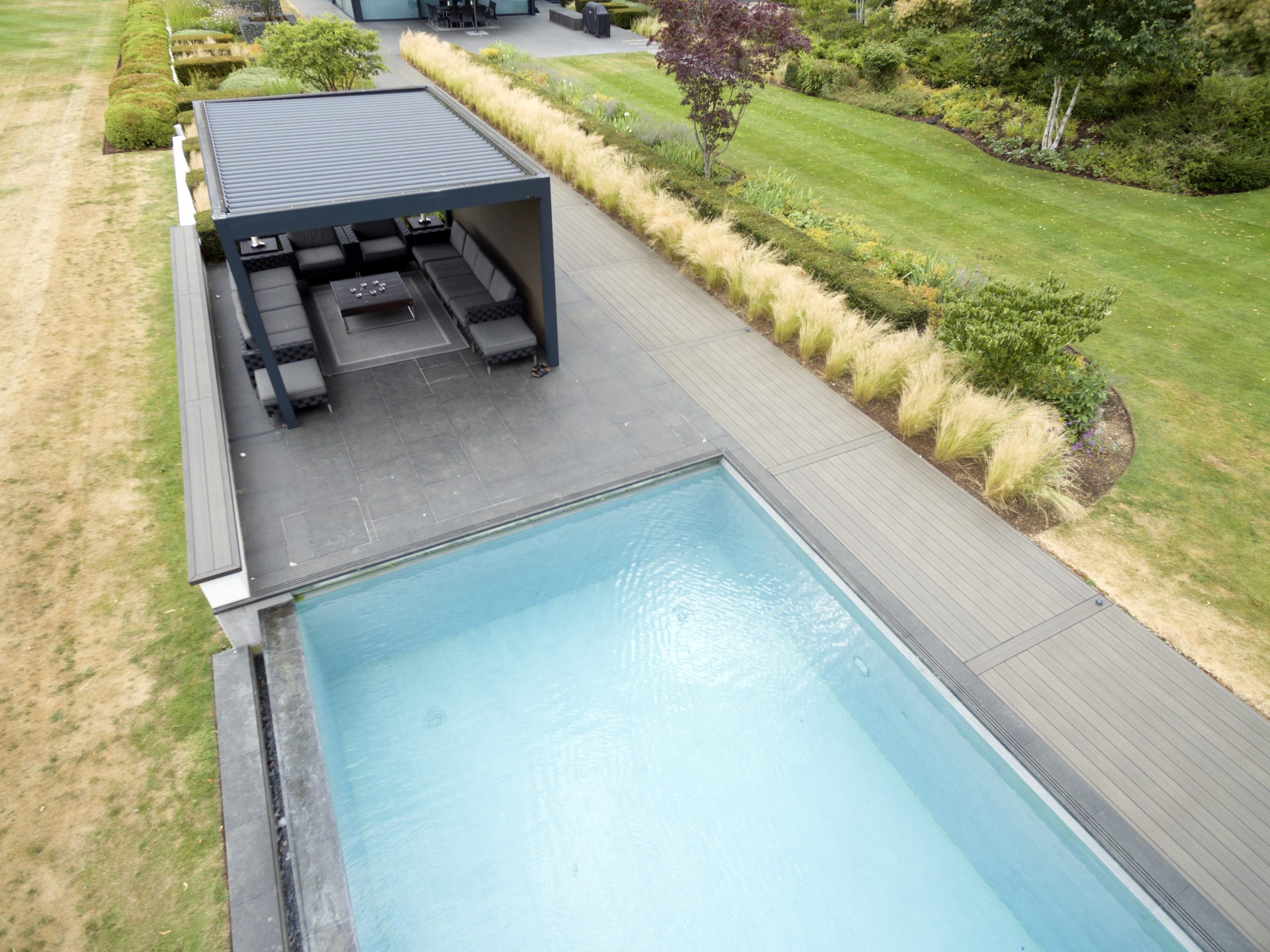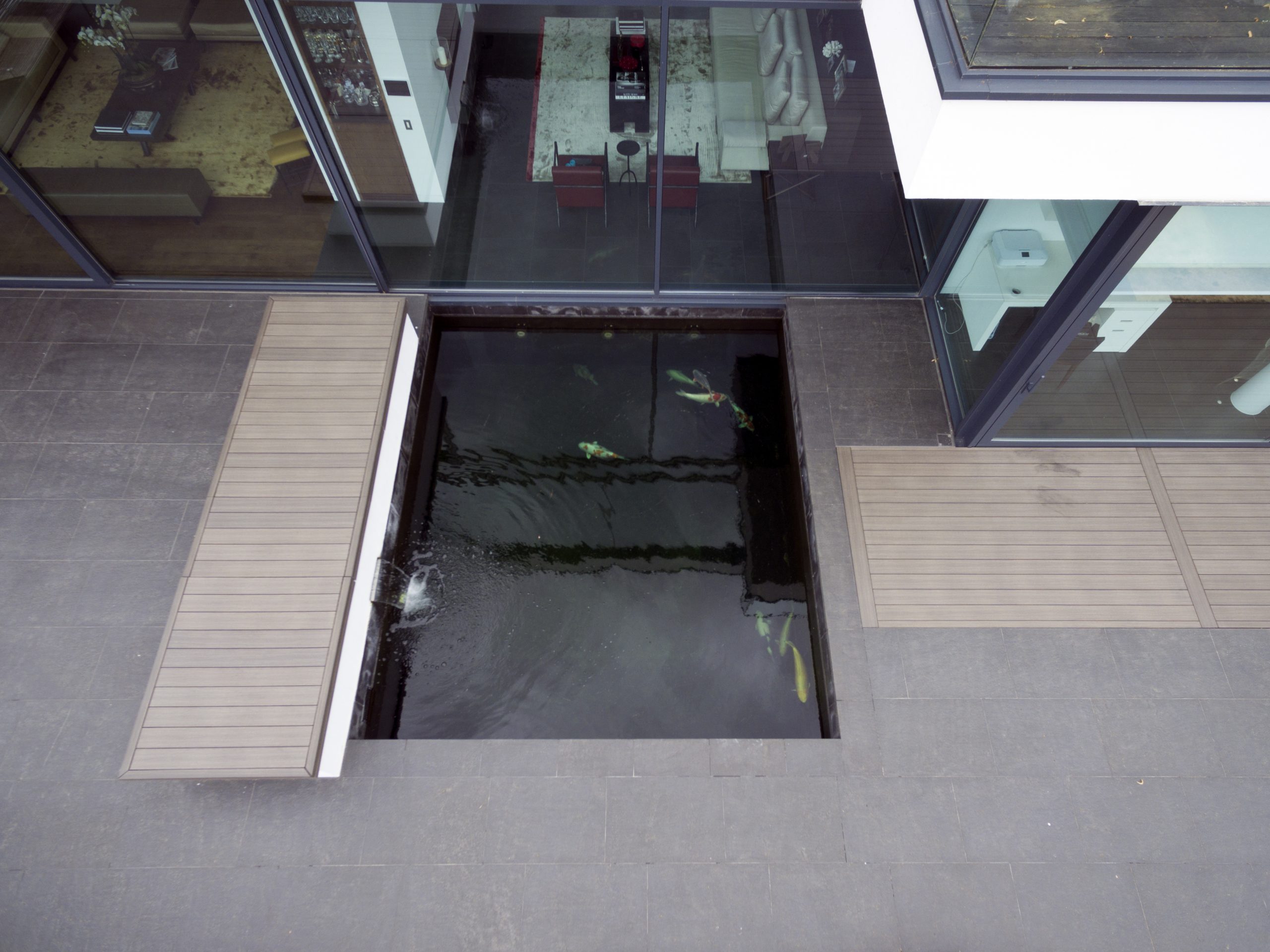 How does it work?
Double aluminium rail substructure system
Profiled rail clicks into headpiece of adjustable height pedestals without need for mechanical fixings
Aluminium rail with integrated clips to secure and opposition boards
Boards extruded with special profiles to fit into clips
Self-aligning system drastically reduces errors
Faster installation
No top fixings mean no surface holes, splits or lifting
> See the speed and strength advantages of EasyClick here and here
Bamboo Elegance
Bamboo Elegance is a premium quality, ultra-hard bamboo fibre decking material with a 25-year performance warranty. It has an attractive, aged grey appearance and superior UV resistance.
Bamboo Elegance is manufactured with a patented heat treatment which produces a high density decking board. An additional process gives it an improved finish and exceptional hardness and dimensional stability.
> View the Bamboo Elegance gallery
Brushing, grey oiling and smoothing the bamboo fibres during the thermo production process and additional hardening techniques gives the deck boards a greyish, more natural look and a high performance with greater resistance to staining.
It has superior resistance to weathering than standard thermo bamboo boards, is highly resistant to water absorption, has fire resistance of Euroclasse B1 fire – Bf1-s1 (DIN EN 13501-1:2010).
Bamboo Elegance is a truly sustainable decking product with low impact on the environment in terms of production and a far longer life span than timber decking materials.
Why is Bamboo Elegance sustainable?
It is made from fast growing bamboo, grass, not wood. The stems are not cut down but shorn down to the roots. Therefore, the bamboo remains alive and can grow back immediately after harvesting. Bamboo can grow up to 1 metre per day, so fully replenish extremely quickly. This means higher yield from a smaller jungle footprint and no deforestation making Bamboo Elegance an environmentally friendly raw material.
Because Bamboo Elegance is a grass, not a wood, it is not included in the category of products regulated by UNI 11538-1.
Bamboo Elegance is also rated as CO2 neutral and is available with FSC® certificate.
Why is Bamboo Elegance so strong?
Bamboo Elegance has an incredibly straight grain without knots so is unlikely to twist, shear or splinter over a prolonged period.
Bamboo Elegance is part manufactured and becomes harder than tropical hardwoods through the thermo process. It is steamed, rather than being dried in a kiln, which removes moisture and sugars from the fibres. This removes bacteria and fungi activity within the fibres, making Bamboo Elegance denser, drier and more rot-proof than tropical hardwoods.
The bamboo fibres are pressed and glued under heavy to produce a dense, super hard, stable decking board with a specific gravity of 1,200kg/m3. This means Bamboo Elegance has long term resistance to traffic damage, weathering and fading.
Bamboo Elegance is rated "Very Durable – Class 1" for biological durability test EN350 / CEN/TS 15083-2, Class 0 for Blue Stain fungal resistance – test EN152 and Class 4 for use – test EN335.
It has a higher mass density than almost all tropical hardwoods.
Bamboo Elegance is suitable for domestic and commercial decking projects including areas subject to high levels of foot traffic. It is ideal for low environmental impact and sustainable projects.
Board lengths are 1,850mm x 140mm wide.
Etherno bamboo
Etherno bamboo is a beautiful, dark, natural, durable and truly sustainable decking product. It is extremely hard and contains superior fire resistance meeting B1 fire rating.
Made from fast growing bamboo grown in plantations which fully renew within 5 years. The plants are cut back to the roots and not killed, so regrow almost immediately. This means there is no deforestation after harvesting and no removal of top soil.
Therefore, a greater amount of wood fibre raw material is produced on a smaller footprint in a quicker time period and less disturbance to the forest floor, making Etherno Bamboo the most eco-friendly decking material.
Bamboo has a very straight grain without knots which results in a stable board that does not bend, split or twist. It also does not absorb moisture and swell.
Etherno Bamboo is rated: Bf1-s1 (DIN EN 13501-1:2010) for fire resistance.
Etherno bamboo becomes an ultra-hardwood through the thermo process. Instead of being kiln dried, the fibres are steam treated which removes moisture from the fibres and also removes sugar from inside the bamboo. This removes bacteria and fungi activity within the fibres, creating a superior rot-proof material.
The bamboo fibres are then pressed under ultra-high weights to bind the fibres together extremely tightly to produce a dense, hard, stable decking board with superior resistance to weathering.
The finished material is extremely hard and durable. It is rated Durability Class 1 Class 1 according to test EN350 / CEN/TS 15083-2, Class 0 for test EN152 and Class 4 for test EN335. It's fungal resistance is rated exceptional according to test EN152.
It has a very high Janka hardness and is stronger than Ipë, ebony and most tropical hardwoods.
Etherno bamboo offers a completely different appearance and texture and is therefore quite unique as a decking product.
Boards are available in lengths of 1,850mm and 140mm wide.
DURO 2.0
Our DURO 2.0 boards are a high performance, durable, solid composite decking board.
> See our choice of colours here.
DURO 2.0 is made from recycled rice husk, bamboo and virgin PVC provides and covered with a hard-wearing protective surface. It has a textured grain effect and can withstand heavy traffic in the long-term.
Unlike hollow composite boards, DURO 2.0 is densely packed, solid and uniform throughout. The textured upper surface has slip resistance qualities and movement is vastly reduced.
Solid composite material
Wood grain effect – available in four colours
Eco-Friendly – 100% recyclable
Low maintenance
Extremely stable and durable
Splinter-free
Slip-resistant
Weatherproof & waterproof
Insect-resistant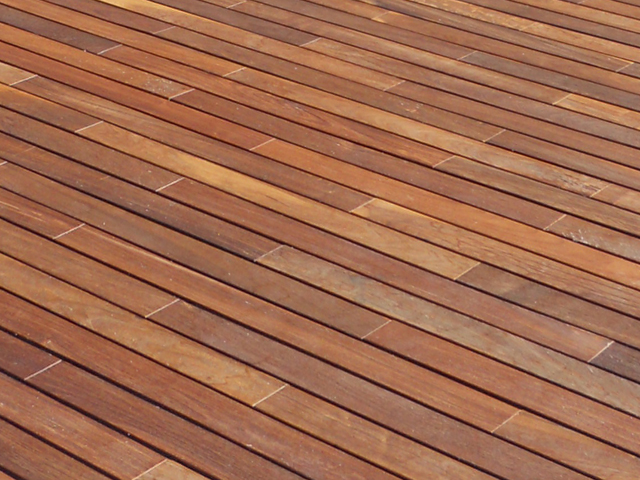 Tropical Hardwood
All of our real wood species are of the highest quality and stability
All species are sourced following the most stringent sustainability protocols
They are available in lengths of 1200mm and 1800mm
We supply the following species of Tropical Hardwood boards:
Ipe
Lapacho or Brazilian Walnut – a tropical hardwood originating from South America. Widely regarded as one of the best species of timber for decking.
Boards available in lengths of 1200mm and 1800mm and either 90mm wide or 140mm wide giving a great deal of flexibility.
FAQ
What is iDecking?
A revolutionary way to install decking that has no visible fixings. There are 2 varieties, EasyClick and Easy Change
What materials is it made from?
The boards are made from either composite or wood, the rails are made of aluminium, the clips are made of nylon
What are the advantages of iDecking over traditional decks?
Speed and ease of installation: 52mm high (board & rail);
Does iDecking need to sit on pedestals?
Whilst we would recommend sitting it on pedestals it can also sit on a primary bearer framework.
What level of maintenance is require?
Very little, cleaning is the only maintenance that's required
What is the cost of iDecking?
Please contact us for costs.
Can iDecking be used for cladding walls?
Yes
Does iDecking have a warranty?
Yes, iDecking has a warranty of 15 years
Will the colours fade over time?
A maximum 5% fade will take place over it's life (all happens in the first 6 weeks)
Are the boards slippery when wet?
Not particularly, there is a low slip risk according to UK standards.
What is the weight per m2?
28kg
NBS Plus
BIM Library
EasyClick CAD Drawings
EasyChange CAD Drawings
We have a variety of accessories for iDecking including:
Step profile
Framing profile
iJack (board connectors)
Support pedestals
Aftercare products
Speak to a member of the team.
For more information or to place an order