BALANCE Self-levelling Pedestals for paving & decking
Our BALANCE adjustable pedestals with self-levelling headpieces have been specially designed to give installers extra scope and flexibility to accommodate differences in the deck surface below the pedestal.
Sometimes blemishes and ridges in the sub-deck can make the upper surfaces uneven. The BALANCE adjustable pedestal alleviates these issues.
headpiece comprises four separate parts which allow up to a 5% or 2.86° slope correction
the mechanism at the bottom of the headpiece allows smooth movement and positioning of the paving slab
headpiece section attached to this moving mechanism is 120mm in diameter with integrated positioning lugs moulded into it
slips and sharp tilting are avoided owing to the superior design and solid manufacture
this unique design is robust, stable and durable
A rubber anti-shock pad slots onto the headpiece over a series of ridges to give a better grip to the slab and to help insulate against vibration and noise travelling through the pedestal to the deck beneath. A fixing plug is set in the centre of the headpiece to lock all parts together.
These headpieces are substantial in size and 15mm thick, so the heights of the pedestals are different from the ASP range. A full table of the heights of the new BALANCE range is given below.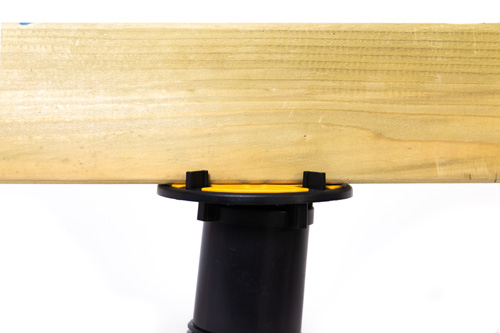 25-50mm BALANCE ADJUSTABLE PEDESTALS
The BALANCE 25-50mm pedestal is a newly designed pedestal, which has been developed to make paving at low height thresholds easier for installers. The unique design incorporates a series of steps and notches moulded into the centre of the unit.
A small "PULL" tab on the side enables installers to open up the pedestal and set a different heights, depending on which sized notch they decide to connect together. Each setting is 5mm higher at each step. By changing the setting of the notches installers can create a 25-30mm pedestal, a 30-35mm pedestal and a 35-40mm pedestal.
STEP BY STEP BUILD-UP
A telescopic thread is moulded into the centre of the unit to give very fine alteration in the height. The thread will give an addional 5mm of height range and users can be millimetre precise when turning the pedestal.
By adding special 5mm thick extension plates at the base, users can further increase the size, to 40-45mm and 45-50mm.
The standard lug height is 10mm, to reflect the lower height threshold of the actual pedestal and the fact that often very thin tiles are used with these products. Alternative higher and thicker lugs can be used if required.
BALANCE EXTRA
BALANCE pedestals are also available to accompany the EXTRA range. Again, the heights are different to those of the ASP EXTRA range, but if installers wish to have a greater height range for each pedestal and have a additional option of self levelling headpieces for uneven sub-decks, they can have so with the BALANCE EXTRA range.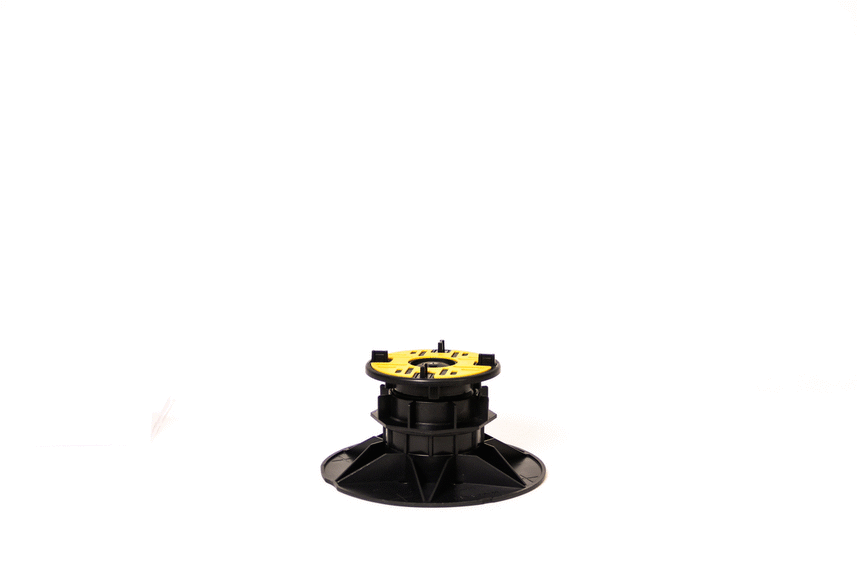 Technical Data
| | |
| --- | --- |
| Material | Virgin fibre injection moulded polypropylene |
| Weight Tolerance* | 683kg |
| Maximum Load* | 1,171kg |
| Max Temperature | Plus 75 ° C |
| Min Temperature | Minus 40 °C |
| Base Plate Diameter | 200mm or 150mm |
| Extension Plate size | 5mm thick x 150mm diameter – for BAL-025 only |
| Headpiece Diameter | 120mm |
| Lug Height | 10mm |
| Lug width / thickness | 2.2mm (4mm available) |
| Degree of slope on head | 5% – approx. 2.86° |
* Weight tolerance = the point at which the pedestal ends its normal behaviour and starts to deform (according to CATAS test 179112/1)
Maximum load = the point at which pedestals start to collapse in laboratory tests (according to CATAS test 179112/1)
Balance Pedestals
| | |
| --- | --- |
| CODE | DESCRIPTION / SIZE |
| SP-BAL-025 | 25-50mm BALANCE adjustable pedestal |
| SP-BAL-047 | 47-62mm BALANCE Pedestal |
| SP-BAL-062 | 62-82mm BALANCE Pedestal |
| SP-BAL-077 | 77-112mm BALANCE Pedestal |
| SP-BAL-107 | 107-142mm BALANCE Pedestal |
| SP-BAL-137 | 137-172mm BALANCE Pedestal |
| SP- BAL-167 | 167-202mm BALANCE Pedestal |
| SP- BAL-197 | 197-232mm BALANCE Pedestal |
| SP- BAL-222 | 222-257mm BALANCE Pedestal |
| SP- BAL-252 | 252-287mm BALANCE Pedestal |
| SP- BAL-282 | 282-317mm BALANCE Pedestal |
| SP- BAL-312 | 312-347mm BALANCE Pedestal |
| SP- BAL-342 | 342-377mm BALANCE Pedestal |
Balance Extra
| | |
| --- | --- |
| CODE | DESCRIPTION / SIZE |
| SP-BAL-EXTRA-97 | 97-147mm BALANCE EXTRA Pedestal |
| SP-BAL-EXTRA-137 | 137-227mm BALANCE EXTRA Pedestal |
| SP-BAL-EXTRA-222 | 222-392mm BALANCE EXTRA Pedestal |